Big 12 Previews
Kansas State at Texas Tech: Preview, Prediction, and Game Odds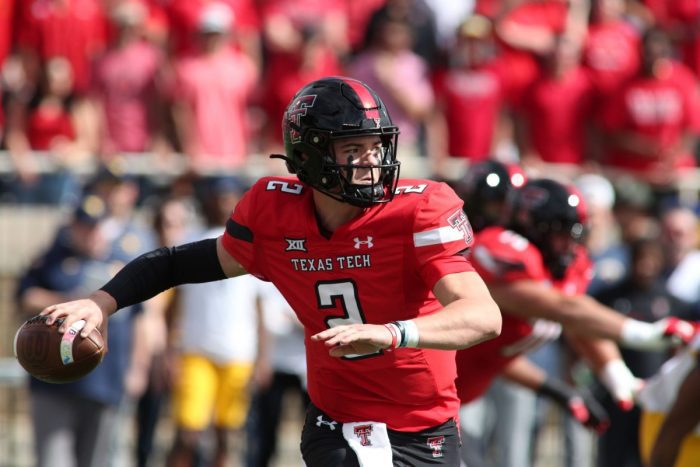 Here is everything you need to know ahead of the matchup between the Texas Tech Red Raiders and the Kansas State Wildcats.
GAME INFO
Saturday, October 14; 6:00 PM CT; Jones AT&T Stadium; Lubbock, Texas
TV: FS1
Radio: Texas Tech Sports Network (Brian Jensen, John Harris, Chris Level); K-State Sports Network (Wyatt Thompson, Stan Webber)
Record: Texas Tech (3-3); Kansas State (3-2)
Rankings: N/A
Series History: Kansas State leads, 14-9
Last Meeting: Kansas State 37, Texas Tech 28 (2022)
Line: Texas Tech (-1)
Fun Fact: K-State has owned the series over the last seven games with a perfect 7-0 record in that stretch. The Red Raiders have two wins against K-State dating back to 2015 and before then 2009.
KEY PLAYERS
TEXAS TECH RED RAIDERS
RB TAHJ BROOKS
Senior running back Tahj Brooks has been incredible over the last few games and currently ranks fifth in the nation in total rushing yards. Brooks is averaging an impressive six yards per carry and with Texas Tech relying on Brooks and the run game more than they did in the previous weeks, the Red Raiders have reclaimed some of their offensive firepower. Kansas State has been good against the run this season with the exception of a few plays but will face a tough task on Saturday attempting to corral Tahj Brooks.
LB BEN ROBERTS
While the Red Raiders have suffered some setbacks at the linebacker position this season, freshman linebacker Ben Roberts has stepped up in a big way for Texas Tech's defense. The Texas native currently leads the team in total tackles with 45 stops. He also has recorded 0.5 sacks, two forced fumbles, and an interception in 2023. Roberts steps into the middle of the defense in hopes of containing a Kansas State offense in limbo due to some turnover problems and holes in the offensive line.
KANSAS STATE WILDCATS
QB WILL HOWARD
What happened to Will Howard this season? The senior quarterback generated some major praise from league representatives this offseason but has had a significant regression to start off 2023. Howard currently boasts a touchdown to interception ratio of 9-7 and while that may not look terrible on paper, Kansas State's offense turned the ball over four times on Saturday against Oklahoma State including three interceptions from Howard. If the Wildcats still hope to contend for a Big 12 title, Howard will have to hit his stride against Texas Tech.
CB JACOB PARRISH
Kansas State's secondary is riddled with injuries at the moment after both Parrish and Will Lee missed time in Saturday's matchup. Lee was able to start and play before being sidelined with an injury while K-State's top corner Jacob Parrish missed the event completely. Texas Tech's passing attack has not been the strong point of the team this season but with Kansas State's defense giving up some massive passing plays in each game of the season so far, Parrish will have to step up alongside some young corners.
KEY STORYLINES
TEXAS TECH RED RAIDERS
Can you finally overcome the Kansas State roadblock? For the past seven years, the Red Raiders have ended their season with a purple blemish on their record thanks to the Wildcats. The last time Texas Tech took down Kansas State was in 2015 in a 59-44 shootout against Bill Synder and company, and before that, the last win came in 2009. If Joey McGuire wants to prove that his team can remain in the conversation as a dark horse candidate in the Big 12, he absolutely has to find a way to beat Chris Klieman this weekend.
KANSAS STATE WILDCATS
Are there bigger problems at hand? Kansas State has been one of the most perplexing teams to watch after multiple members of the media expected them to become one of the front runners in the new Big 12. K-State lost a ton of production to the NFL Draft last season with multiple starters moving on but with a ton of pressure on Chris Klieman to bounce back after a terrible loss to Oklahoma State, how will the Wildcats respond?
PREDICTION: KANSAS STATE 31, TEXAS TECH 27
I have gone back and forth on this pick all weekend long. The seven games in a row record will be tested by McGuire's group but the Wildcats will find a way to get the job done. Will Howard bounces back with a career day against a solid Texas Tech defense and gets things back on track for Chris Klieman's team. Expect this to be a close contest to the wire with each team trading body shots, but the Wildcats' defense will get the last laugh, and end the game late.