Baylor Bears
Tuesday Takes: The Seven Big 12 Contenders, OU-Texas Pt. 2, Injuries Piling Up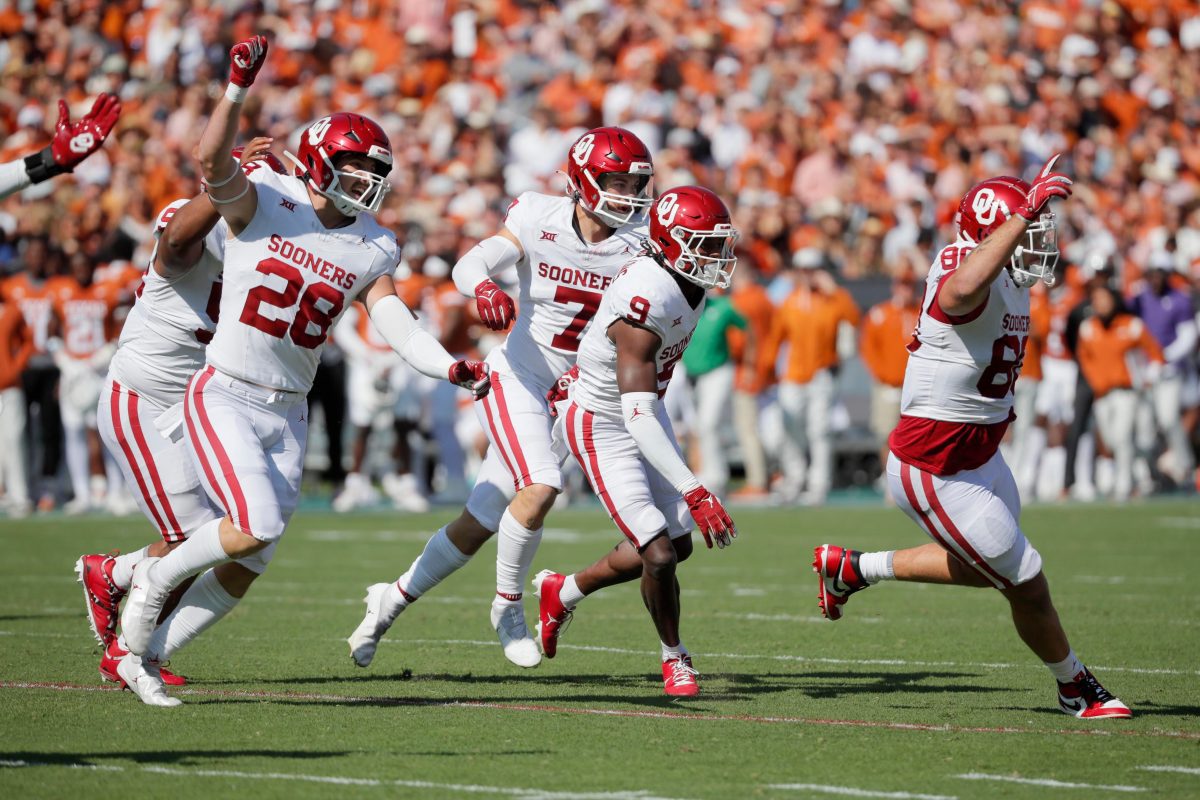 Tuesday is the final day of the week during the college football season in which it is acceptable to look back on the previous week's action and draw conclusions. When the clock hits midnight and Wednesday is officially here, it is your responsibility as a fan to start the countdown to Saturday and start getting prepared for what comes next.
But for the time being, we are going to finish up relishing, or loathing, what happened on the most recent Saturday of action, and that is just what we will do on Tuesday Takes.
Each week, I will give you three definitive facts (otherwise known as my opinions) that I've formed over the last couple of days. So without further ado, here we go.
Texas vs. Oklahoma Pt. 2 Will be a CFP Play-In Game
If you've somehow managed to miss what happened this weekend in Dallas, I've got some serious questions about your social life. In the game of the year to this point, Oklahoma outlasted Texas for a 34-30 victory after Dillon Gabriel and the Sooners offense took the ball with 1:17 left to score a game-winning touchdown, a three-yard connection with redshirt freshman wide receiver, Nic Anderson. The win moves Oklahoma to 6-0 (3-0 Big 12) on the season and leaves Texas at 5-1 (2-1 Big 12).
This won't be the last time that these two teams meet in 2023 though, as I am very confident that we will see this matchup again in Jerry's World come December. In order for Oklahoma to miss the Big 12 Championship Game, they'd likely need to lose two of their last six. For Texas to miss it, they'd need to lose one more, at least.
When you look at these schedules, side-by-side, tell me where you feel confident in picking losses for the Sooners and Longhorns:
Oklahoma's Remaining Schedule
vs. UCF (10/21)
at Kansas (10/28)
at Oklahoma State (11/4)
vs. West Virginia (11/11)
at BYU (11/18)
vs. TCU (11/24)
Texas' Remaining Schedule
at Houston (10/21)
vs. BYU (10/28)
vs. Kansas State (11/4)
at TCU (11/11)
at Iowa State (11/18)
vs. Texas Tech (11/24)
Now, I'm not guaranteeing anything, as we all know that things rarely go how we think they will in the Big 12. However, I can't remember a time when I believed there to be such a substantial gap between the top two teams and the rest of the conference. Sure, there's a chance for either one of these teams to drop a game that they shouldn't, but Texas' lowest chance of victory is 81.9% against TCU and Oklahoma's is 89.3% against Kansas, according to ESPN's matchup predictor. Simply put, we'd be looking at some of the biggest upsets in Big 12 history, and there would likely need to be more than one of them.
If things go the way I'd expect them to, Oklahoma should be 12-0 and Texas should be 11-1 heading into Championship weekend. If that's the case, not only will the Big 12 Championship be a play-in game for the College Football Playoff, but it will also likely be a top-five matchup and the biggest conference championship game of the week.
Only Seven Big 12 Contenders Remain
Speaking of the Big 12 Championship, the list of contenders to make the conference title game has been cut in half as we head into Week 7. Sure, everyone is still in the race mathematically, but teams like Houston and UCF aren't going to Arlington. Love it or hate it, they just aren't.
The list of contenders, in no particular order, is as follows: Oklahoma, West Virginia, Texas, Kansas, Texas Tech, Kansas State, and BYU.
OU and Texas were discussed above, so let's talk about the rest of the list. West Virginia is 4-1 (2-0 Big 12) and is the only team not named Oklahoma that hasn't taken a loss in Big 12 play. In fact, only the OU, WVU, and Texas Tech have gone each of their past two games without a loss. At 2-0, and a game against Houston coming up on Thursday, West Virginia is in the hunt.
Kansas finds itself at 5-1 (2-1 Big 12) and will head to Stillwater this weekend to take on Oklahoma State. If the Jayhawks can win that game, they'll be 6-1 (3-1 Big 12) heading into their bye week and will have a massive ranked matchup vs. Oklahoma in Week 9.
Texas Tech got off to a rough start and is 3-3 (2-1 Big 12) through six games, but there's still hope for them to make a run. Their game against Kansas State (3-2, 1-1) this weekend is supremely important because the loser is likely eliminated from my list of contenders. Both Tech and K-State are dealing with big injuries that give me pause about their chances, but they still deserve to be on the list.
BYU is on the list because they're 4-1 (1-1) and they deserve the respect. However, they have the toughest test of the remaining teams as they'll face both Oklahoma and Texas in the back half of their schedule and will probably need to win at least one of those to get in.
Injuries Are Starting to Take Their Toll
Injuries have always played a major factor in college football, and that will always be the case. With violence and high intensity being natural parts of the game, there's a propensity for players to get hurt, hence the helmet and shoulder pads. However, we've already seen a large number of injuries that will affect the Big 12 race, some of them more than others.
Texas Tech, Baylor, UCF, Kansas, TCU, and West Virginia have already had to see their starting quarterbacks miss time due to injury this season, and some of the losses they've suffered can be directly attributed to them being unavailable.
K-State is missing two starting linebackers and a starting defensive back, and just lost to Oklahoma State who scored a season-high 29 points on Friday night. BYU has several key players missing right now, with RB Aidan Robbins, LB Ben Bywater, and WR Kody Epps all missing time. Oklahoma State WR De'Zhaun Stribling is out for the season.
Chandler Morris is expected to miss significant time for TCU, which likely hamstrings them from being a serious contender and has already likely cost them a chance to come back against Iowa State last week.
Without John Rhys Plumlee, UCF has fallen to 0-3 in Big 12 play and looked helpless against Kansas last week. Meanwhile, without Jalon Daniels, the Jayhawks couldn't keep pace with Texas in Week 5.
The injuries hurt even more this season than in normal years too, because it appears that the conference is in a down year. The teams that can manage to stay healthy are going to have a distinct advantage as we press into mid-October and approach November.