Kansas Jayhawks
Kansas Can Stake Claim as Big 12 Contender Heading into Bye Week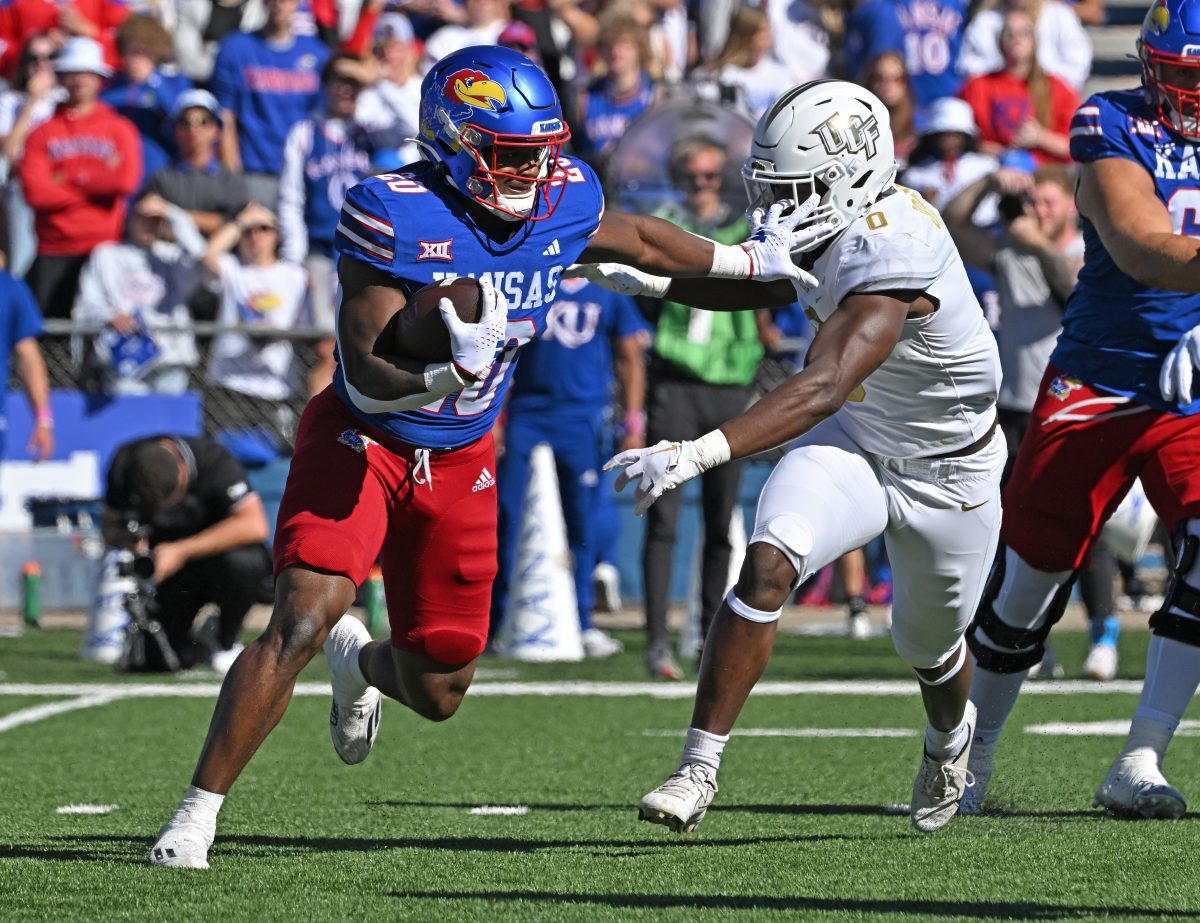 The Kansas Jayhawks are coming off an impressive 51-22 win over the UCF Knights this past Saturday when the Jayhawks rushed for 399 yards, something that hadn't happened since before the turn of the century. They moved to 5-1 for a second consecutive season, the first time that has happened since the 2008-2009 seasons. Trevor Wilson won Big 12 Special Teams Player of the Week honors after returning a punt for a touchdown, the first time a Kansas player returned a punt for a touchdown since 2014. It was KU's 16th player to win the award, and the first since Pooka Williams Jr. won the award in 2020.
Once again, it was Jason Bean who started at quarterback for the Jayhawks while Jalon Daniels was out again with a back injury. This will continue to be a week-to-week and day-to-day situation, but Bean showed he is capable of leading Kansas to victory. Leipold will give Bean what he needs to succeed throughout the week and having a rushing attack like the Jayhawks do certainly helps.
Now the Jayhawks go into a Week 6 battle against the Oklahoma State Cowboys (2-3, 1-1). This is an Oklahoma State team coming off a big win over Kansas State in Stillwater last weekend. They've been an up-and-down team this year to this point, having a couple of crushing losses in back-to-back weeks. Kansas needs to attack early and often in this one. They are a -3.5 point favorite and a win over the Cowboys would make the Jayhawks bowl-eligible in back-to-back seasons for the first time since the 2008-2009 seasons.
With a win over Oklahoma State, Kansas would claim a stake to being the third-best team in the Big 12. At this point, Texas and Oklahoma are the top two teams in the conference. Texas beat Kansas by a large margin and then Oklahoma just beat Texas in the Red River Rivalry game last weekend. After those two, it's an open race for the third spot and KU might be the best of the bunch.
West Virginia has probably been the most surprising team so far this season. The Mountaineers are 4-1, and 2-0 in the Big 12. They play Oklahoma but avoid Kansas, Kansas State, and Texas on the schedule. The Jayhawks will get the Sooners at home after the bye and then might be favored in every game after that. Check out the upcoming schedule after Oklahoma State and the bye:
Oklahoma (Sat, Oct 28)
@ Iowa State (Sat, Nov 4)
Texas Tech (Sat, Nov 11)
Kansas State (Sat, Nov 18)
@ Cincinnati (Sat, Nov 25)
All of those games are winnable for the Jayhawks. This team could finish 10-2 overall and 7-2 in conference play. That would make for a remarkable season for the Jayhawks, but might not even get them a trip to the Big 12 Championship game unless they got help along the way. There are still plenty of games to be played, and wild things can happen in college football. For KU fans, it's fine to dream big in year three of the Lance Leipold era. Going from two wins to six wins and then to ten wins would be such an impressive turnaround. Many people were just hoping the Jayhawks would be able to get back to a bowl game for a second consecutive year. This team could do that and more.
It all starts this Saturday in Stillwater where the Jayhawks can clinch bowl eligibility before the bye week. From there, they can control their own destiny when it comes to making it to the Big 12 Championship game. Dream big, Jayhawk fans. This team can do something special this year.