Big 12 News
Kansas Receives Slap on the Wrist in NCAA Infractions Investigation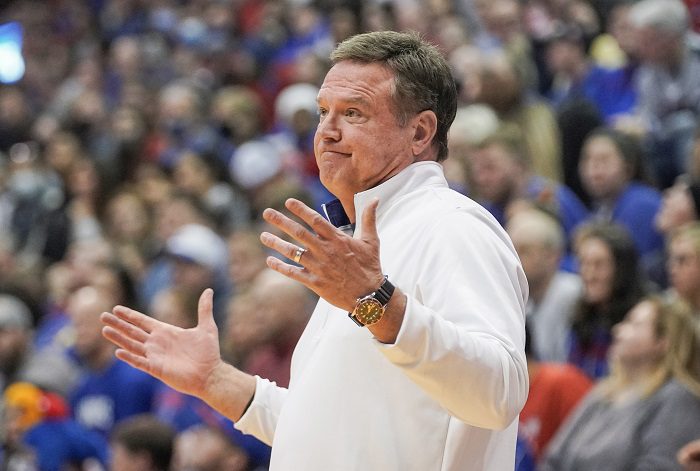 After an investigation that stretched over a six-year span, the Kansas Jayhawks have learned their fate after the Independent Accountability Resolution Process (IARP) handed down their ruling on a case from 2017 that resulted in federal investigations at multiple programs across the nation.
According to Sports Illustrated's Pat Forde, who also reported the ruling coming on Wednesday, the IARP has led to a downgrade in the severity of the five Level I allegations against the program, ultimately judging Kansas' infractions as a Level II case.
As a result of the downgrade in severity, the IARP gave Kansas a three-year probation with no effect on the program's postseason eligibilty.
KU head coach Bill Self, who was originally charged with a Level I violation, and was suspended for the first four games of the 2022-23 season, was instead charged with a Level III violation and no additional penalties.
Jayhawks' assistant coach Kurtis Townsend, who was also suspended for four games last season, also had his charges reduced from Level I to a Level II and a Level III violation, with no additional penalties.
With Kansas' investigation now closed, the 2017 investigation into the corruption of college basketball is now history, as the saga in Lawrence was the last its order in this case. The ruling also signifies the final act of the IARP, which was created solely in response to the scandal, but is now being retired for its cost and inefficiency, according to Forde.
With this investigation now finally behind them, and with nothing more than a slap on the wrist, the Kansas Jayhawks can focus solely on pursuing their second national championship in three years and will enter the 2023-24 season as the favorite to do just that.
The Jayhawks will face NC Central (Nov. 6) and Manhattan (Nov. 10) at 7:00 p.m. CT in the Phog before taking on Kentucky in the State Farm Champions Classic in Chicago (IL) on November 14.