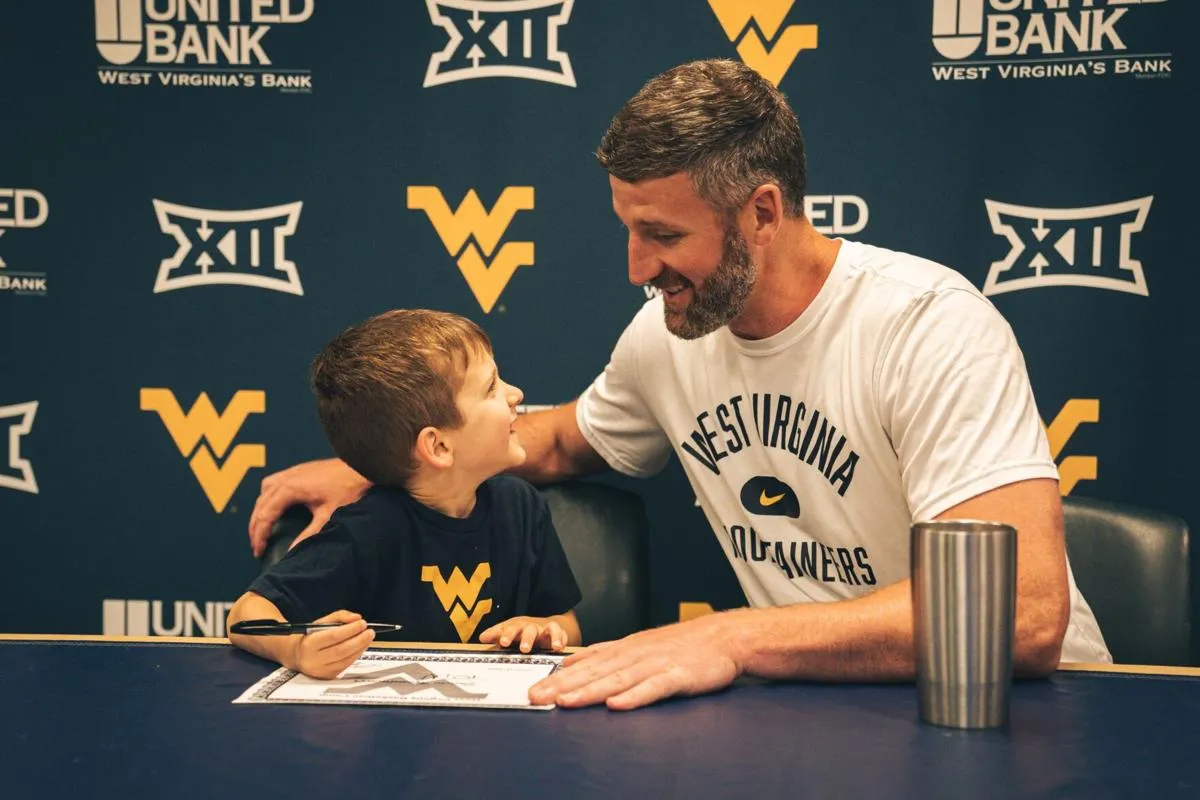 The West Virginia Mountaineers are preparing for the 2023-24 men's basketball roster and below is a preview of every player on the roster entering November's opening game.
Below are the returning players, the transfers and the freshmen that will play a role in West Virginia's upcoming season.
Expected to Return
Josiah Harris
The 6-foot-7 sophomore barely played last season, but he's one of the few players returning from last year's team. He played in 17 games, averaged 6.5 minutes, 1.8 points and 0.9 rebounds per game. How he fits into the rotation is anyone's guess, but at least he has chance under new coach Josh Eliert, who was a part of last year's staff under Bob Huggins.
Kobe Johnson
The 6-foot-3 guard is now a junior and is coming off a season in which he played in 29 games and started four, but only averaged 2.0 points and 1.0 rebound per game. Still, the coaching staff knows Johnson's skill set and he'll have a chance to get more playing time this season.
Patrick Suemnick
The 6-foot-8 junior forward transferred in from Triton College before last season and played 5.4 minutes per game, averaging 1.4 points and 1.3 rebounds per game. He gets a fresh start with a coaching staff that watched him develop last season.
Seth Wilson
The 6-foot-2 junior guard played in all 34 games, averaging 13.2 minutes, 4.2 points and 0.9 rebounds per game. He hit 34 3-point field goals last season and shot 41.5 percent from distance. That's a recipe for more playing time.
Arrivals Via Transfer
The 6-foot-5 guard could be a huge point producer for the Mountaineers this season. At Montana State last season he averaged 17.7 points and 2.9 rebounds, earning First Team All-Big Sky honors. The problem is that as of this writing, Battle hasn't received a waiver from the NCAA, and he needs one as he has transferred multiple times. WVU has not had good luck with waivers this offseason.
Akok Akok
The 6-foot-10 forward was at Georgetown last season, and he started his college career at UConn. He comes to WVU as a fifth-year player who averaged 6.5 points and 6.2 rebounds per game for the Hoyas, starting all but two of their games. Production inside was an issue for the Mountaineers last year, and Akok could provide that this season. He also blocked 62 shots for the Hoyas, so the rim protection is there, too.
Kerr Kriisa
The 6-foot-3 guard played his first three collegiate season at Arizona and is coming off a 2022-23 in which he averaged 10 points per game. Last season he led the Pac-12 in assists per game (5.14) for the second straight season, becoming the first Pac-12 player to lead the conference in assists in back-to-back years since Brandon Granville (USC) in 2000 and 2001. He also made 83 3-pointers, and the Mountaineers will utilize that offensively. He'll be their starting point guard.
The 6-foot-11 fifth-year center played for Syracuse last season and averaged a double-double of 14.5 points and 10.3 rebounds, to go along with an ACC-leading 2.9 blocks per game. Interior offense and rim protection was an issue for WVU last season, and Edwards figures to be a starter right away for the Mountaineers.
Jeremiah Bembry
The 6-foot-5 guard transferred in from Florida State as a redshirt freshman after spending his first season at Florida State. He didn't play in a game for the Seminoles. During his prep career at Executive Education Academy in Allentown, Pa., he averaged 13.9 points per game over his two-year career. Given the state of WVU's roster and offseason, he'll get a chance to compete for a rotation role.
Quinn Slazinski
The 6-foot-9 forward comes to the Mountaineers from Iona, where he played for Rick Pitino. Last season with the Gaels he averaged 11.3 points and 5.7 rebounds per game, shooting 42.6 percent from the field. But he only played in seven games before a season-ending injury. As a full-time player in 2021-22, he started 22 games while averaging 8.4 points per game.
Noah Farrakhan
The 6-foot-1 guard is a senior transfer from Eastern Michigan, where he was a full-time starter who averaged 12.1 points, 2.8 rebounds, 2.7 assists and 0.7 steals per game. In the Mid-American Conference he ranked 25th in field goal percentage (43.2), 19th in free throw percentage (75.3) and 23rd in assists (2.3). He also dropped a season-high 26 points on Northern Illinois. So he can score and WVU needs that out of the backcourt. He should compete for a starting job.
Ali Ragab
The 7-foot center is transferring to the Mountaineers from Division II Gannon, which is in Pennsylvania. With Gannon, he averaged 2.8 points and 2.8 rebounds per game with 15 blocked shots while shooting 73.9 percent from the field. He'll likely need time to adjust to Division I basketball and has a redshirt available.
Class of 2023 Recruits
Ofri Naveh
The 6-foot-6 forward is from Israel and played for his country in the FIBA U18 European Championship this summer, where he averaged 11.0 points, 7.1 rebounds, 1.4 assists, 1.9 steals and 1.0 blocks per game. During that tournament he shot 47 percent from the 3-point line. He'll be an interesting stretch forward his freshman season.
Starting Five: Edwards, Kriisa, Battle, Farrakhan, Slazinski
First Four off Bench: Akok, Wilson, Johnson, Harris
You can find Matthew Postins on Twitter @PostinsPostcard