Big 12 Basketball
West Virginia Mountaineers Women's Basketball 2023-24 Roster Preview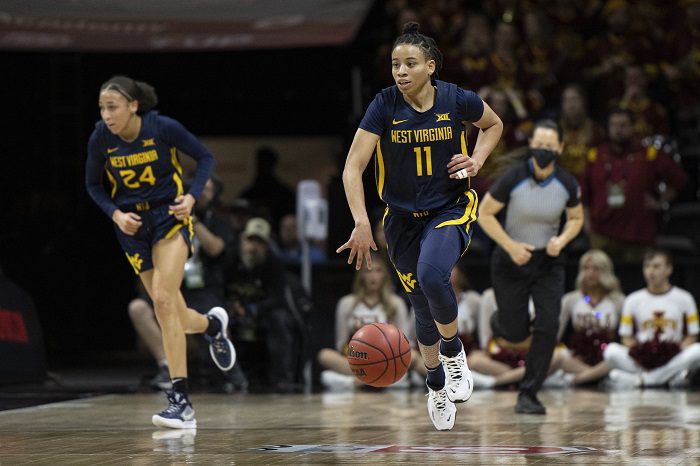 The West Virginia Mountaineers are preparing for the 2023-24 women's basketball roster and below is a preview of every player on the roster entering November's opening game.
Below are the returning players, the transfers and the freshmen that will play a role in West Virginia's upcoming season.
Expected to Return
Jayla Hemingway
The 5-foot-11 fifth year guard decided to use her COVID year to return to the Mountaineers for one more season, in spite of the coaching change for the second straight offseason. That's good news for the Mountaineers. Hemingway is one of those glue players that coaches love because she can score and play defense. Last season she averaged 9.4 points and 5.9 rebounds. The points were a career high and the rebounds were a team high.
JJ Quinerly
The 5-foot-8 senior could have bolted, but she decided to stay with the Mountaineers after the coaching change. She returns as WVU's leading returning scorer, averaging 14.5 points and 4.2 rebounds last season. She was named to the All-Big 12 First Team and the Big 12 All-Defensive Team. She'll start from the jump and is one of the best guards in the conference.
Kyah Watson
The 5-foot-10 redshirt junior guard emerged as a starter in her first season with WVU. She averaged 7.3 points and 5.1 rebounds and helped WVU return to the NCAA Tournament. With the influx of talent from the transfer portal, she'll have to fight off some players to keep her starting job.
Kylee Blacksten
The 6-foot-3 senior joined the Mountaineers a year ago after transferring from Colorado. She ended up becoming their starter inside and she averaged 6.0 points and 3.1 rebounds per game. She's capable of big games, as she had 20 points against Kansas in early January. She also has NCAA Tournament experience at both WVU and CU.
Tavy Diggs
The 6-foot-1 fifth-year player transferred to WVU from TCU before last season and played in 31 games last season but only started one. She averaged 2.2 points and 2.5 rebounds. She'll get a fresh start with the new coaching staff.
Messiah Hunter
The 6-foot-2 redshirt sophomore got on the floor last season, as he played in 14 games on the season averaging 3.9 minutes per game. She gets a fresh start under the new coaching staff. But, she was a former Top 100 recruit coming out of high school.
Arrivals Via Transfer
Danelle Arigbabu
The 6-foot-4 forward is a junior who transferred in from Northeastern Oklahoma A&M, which sounds like a four-year school but in reality is a junior college. There she averaged 8.0 points and 5.1 rebounds a year ago. The transition from junior college to Division I ball can be tough, but she possesses something the Mountaineers need — height. The Berlin, Germany, native has experience playing for the German national team.
Jordan Harrison
The 5-foot-6 sophomore guard is of two Stephen F. Austin players to follow new coach Mark Kellogg to Morgantown. Harrison was the WAC Newcomer of the Year last season. She committed to join the Mountaineers on April 13. She averaged 12.1 points, 5.0 assists, 3.7 rebounds and 2.1 steals per game. She could be Madisen Smith's replacement at point guard.
Lauren Fields
The 5-foot-9 fifth-year guard transfers in from Arizona, but she comes to the program with Big 12 experience, as she started her college career at Oklahoma State, where she was the Cowgirls' leading scorer in her final season and averaged 15.4 points, 4.1 rebounds and 2.5 steals per game, as she earned All-Big 12 Second Team honors. She was a starter at Arizona but didn't quite click with the Wildcats offensively. But she averaged 24 minutes, had more than two assists per game and was seventh in the Pac-12 with 1.7 steals per game.
Ainhoa Holzer
The 5-foot-9 redshirt freshman guard was at Purdue last season but didn't play due to injury. The Martigny, Switzerland, native was named the 2022 Swiss Basketball League Sixth Woman of the Year and Most Improved Player and has extensive European experience at the junior and national levels in Switzerland and the United States,
Tirzah Moore
The 6-foot guard is a junior and played at Oral Roberts last season, where she averaged a double-double with 12.9 points and 10.1 rebounds. The All-First Team Summit League selection led the league in rebounding and her scoring was second-best for ORU. She also had a Summit League-leading 42 blocks. WVU likely won't need her to rebound and block shots, but she brings them needed scoring. As a freshman in 2021-22 she was the Summit League Freshman of the Year.
Ashala Moseberry
The 5-foot-10 junior guard transferred in from South Plains College, which is in Texas. She was a Western Junior College Athletic Association First-Team All-Conference selection as she averaged 11.1 points per game and 5.6 rebounds last season. The year before she helped South Plains reach the Elite Eight of the NJCAA Women's Basketball National Tournament.
Zya Nugent
The 5-foot-7 senior is the other SFA transfer to follow Kellogg. She didn't play last season as he suffered an injury and redshirted. But, in 2021-22 she averaged 12.9 points, 5.1 rebounds and 2.5 assists per game and helped the Ladyjacks win their conference tournament title and reach the NCAA Tournaments in two straight seasons. Note: Nugent will miss the season after a torn Achilles.
Starting Five: Hemingway, Quinerly, Harrison, Moore, Blacksten.
First Four off Bench: Fields, Watson, Holzer, Moseberry
You can find Matthew Postins on Twitter @PostinsPostcard