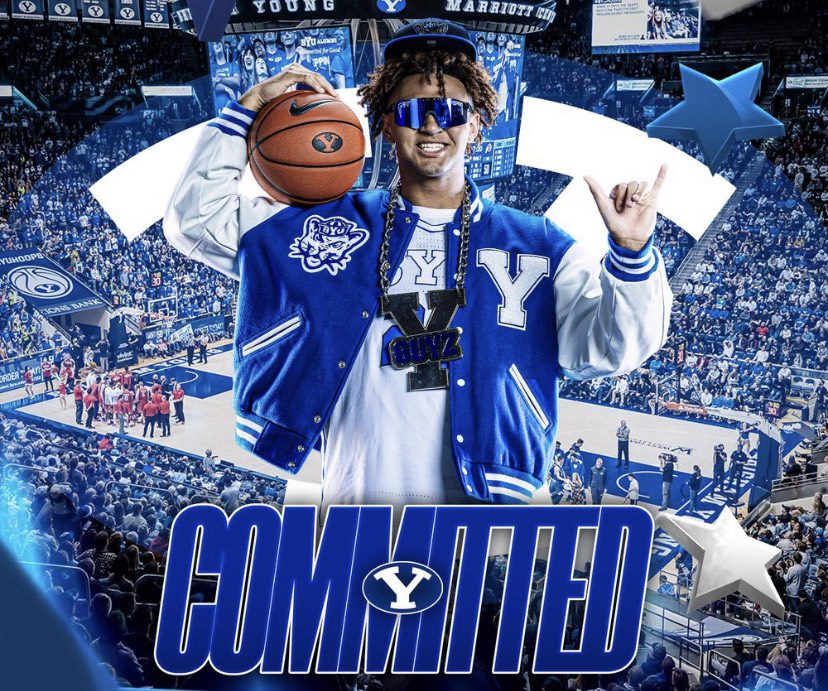 The 2023-24 BYU Cougars men's basketball schedule is complete and here is an analysis of the entire schedule as basketball season nears.
Season Opener
The Cougars will host Houston Christian on Nov. 6 at the Marriott Center. For those that don't know what Houston Christian is, you may know the Huskies better by their former name, Houston Baptist. If that doesn't work, well, it's in Houston.
Vegas, Baby
The Cougars will get in their MTE (Multi-Team Event) at the Vegas Showdown Nov. 23-24. The Nov. 23 game is a fun one, as the Cougars will face future Big 12 rival Arizona State. After that, the Cougars could get either NC State or Vanderbilt.
Best Non-Con Game
It's hard to argue with hosting the NCAA Tournament finalists on Nov. 10. The Cougars' second game will be against San Diego State, which lost to UConn in the national championship game. But, in getting there, the Aztecs fulfilled about a decade of program-building under coach Brian Dutcher and, before him, Steve Fisher.
But, Also
The Holy War on the hardwood will be Dec. 9 at Utah. After this season, that becomes a conference game and you best believe that game will be played twice a year.
Big EAST/Big 12 Battle
The Cougars did not draw a Big EAST/Big 12 Battle game this year. Better luck next year, BYU.
Mid-Major Danger Game
Eh … the Cougars did a really good job of avoiding any really significant tests among mid-major teams. All of their mid-major and low-major opponents were under-.500 last year, so the Cougars clearly hope to rack up the wins in non-conference. My eye is on the Dec. 5 game against Evansville. The Aces always seem to give high-major teams fits, even when they're not that good. And the Aces only won five games last season.
Big 12 Opener
BYU's Big 12 home football opener was against Cincinnati. Their Big 12 men's basketball opener will be at home against … Cincinnati on Jan. 6. That's the only real reason to mention the whole football thing.
Big 12 Home/Road Opener
The Cougars head to Waco, Texas, on Jan. 9 to face Baylor at its shiny new Foster Pavilion.
Brutal Big 12 Stretch
Did someone at BYU tick off someone at the Big 12? Yikes. Starting Feb. 20 it's Baylor at home, Kansas State on the road, Kansas on the road, TCU at home and then Iowa State on the road. That is what you call a gauntlet.
What Should Happen?
The Cougars are going to get introduced to the rough-and-tumble world of Big 12 basketball. They enter the league on a streak of four straight winning seasons under coach Mark Pope, three of which saw them rack up at least 20 wins. But, their league record in the West Coast Conference has gotten worse each of the last three seasons. The Cougars have a chance to win 20 games, and that would likely get them into some sort of postseason action.
2023-24 BYU Men's Basketball Schedule
Nov. 6 vs. Houston Christian, 7 p.m.
Nov. 10 vs. San Diego State, 7 p.m.
Nov. 15 vs. SE Louisiana, 7 p.m.
Nov. 18 vs. Morgan State, TBA
Nov. 23 vs. Arizona State@, 10 p.m.
Nov. 24 vs. NC State/Vanderbilt@, TBA
Dec. 1 vs. Fresno State#, 7 p.m.
Dec. 5 vs. Evansville, 7 p.m.
Dec. 9 at Utah, 5 p.m.
Dec. 13 Denver, 7 p.m.
Dec. 16 Georgia State, 7 p.m.
Dec. 22 Bellarmine, 7 p.m.
Dec. 30 Wyoming, 4 p.m.
Jan. 6 vs. Cincinnati*, 8 p.m.
Jan. 9 at Baylor*, 7 p.m.
Jan. 13 at UCF*, 2 p.m.
Jan. 16 vs. Iowa State*, 7 p.m.
Jan. 20 at Texas Tech*, TBA
Jan. 23 vs. Houston*, 7 p.m.
Jan. 27 vs. Texas*, noon
Feb. 3 at West Virginia*, 4 p.m.
Feb. 6 at Oklahoma*, 6 p.m.
Feb. 10 vs. Kansas State*, 8 p.m.
Feb. 13 vs. UCF*, 7 p.m.
Feb. 17 at Oklahoma State*, noon
Feb. 20 vs. Baylor*, 7 p.m.
Feb. 24 at Kansas State*, noon
Feb. 27 at Kansas*, 6 p.m.
March 2 vs. TCU*, 7 p.m.
March 6 at Iowa State*, 6 p.m.
March 9 vs. Oklahoma State*, 7 p.m.
Bold denotes home games; @-Vegas Showdown (Michelob ULTRA Arena), Las Vegas, Nev.;  #-at Delta Center, Salt Lake City, Utah. *-Big 12 games. All times local to Provo (Mountain). Home games at Marriott Center, Provo, Utah. Big 12 Tournament begins March 12 in Kansas City, Mo.