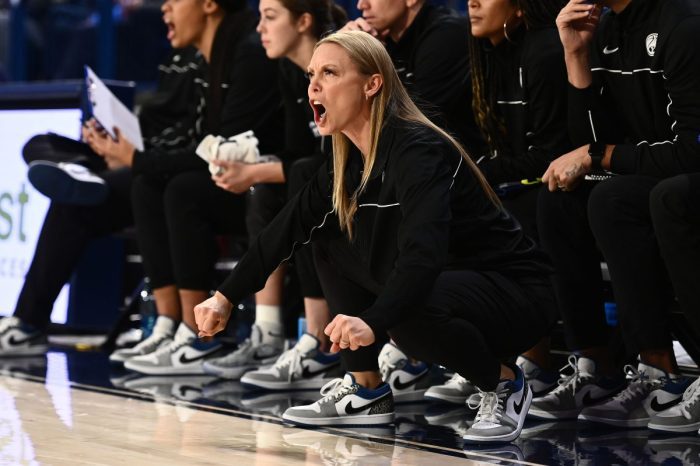 The 2023-24 BYU Cougars women's basketball schedule is complete and here is an analysis of the entire schedule as basketball season nears.
Season Opener
The Cougars will travel to Bozeman, Mont., to take on Montana State in their season opener on Nov. 7. They will be one of the few Big 12 teams, men's or women's, to open the season with a true road game. The Cougars host Weber State on Nov. 10 to start the home portion of their schedule.
Beach Time
The Cougars will get in their MTE (Multi-Team Event) at the North Shore Showcase in Laie, Hawaii, so basically this is just a great excuse to get some rays and, hopefully, a couple of wins. The Cougars face Wake Forest on Nov. 18 and then St. Louis on Nov. 21.
Best Non-Con Game
Well, Utah is the obvious standout. The women's basketball version of the "Holy War" and will pit the Cougars against the Utes on Dec. 2 in Salt Lake City. Utah shared the Pac-12 regular season title last season and reached the second weekend of the NCAA Tournament.
Mid-Major Danger Game
Keep an eye on Wyoming on Nov. 28, which is also a road game in Laramie, Wyo. Wyoming won 23 games last season and finished second in the Mountain West in the regular season. It reached the second round of the Women's Postseason NIT before falling to BYU's new Big 12 rival, Kansas State.
Big 12 Opener
Road trip, as BYU opens the league season on Dec. 30 at TCU in Fort Worth, Texas.
Big 12 Home Opener
Oklahoma helps the Cougars take their Big 12 bow at home on Jan. 3.
Brutal Big 12 Stretch
BYU has an uninviting four-game stretch starting on Jan. 27. It starts with a pair of back-to-back road games at Kansas State on Jan. 27 and Kansas on Jan. 31. After that, it's a pair of home games as they host West Virginia and then Baylor.
What Should Happen?
The Cougars are breaking in a new coach in Amber Whiting, so expectations are likely tempered as they make their Big 12 debut. BYU has one big thing going for it and that's Lauren Gustin, an All-Conference performer who is capable of getting a double-double every game and averaged that last season for the Cougars.
2023-24 BYU Women's Basketball Schedule
Nov. 7 at Montana State, 11 a.m.
Nov. 10 vs. Weber State, 11 a.m.
Nov. 14 vs. Utah Valley, 7 p.m.
Nov. 18 vs. Wake Forest@, 7:30 p.m.
Nov. 21 vs. Saint Louis@, 6 p.m.
Nov. 25 vs. Loyola Marymount, 2 p.m.
Nov. 28 at Wyoming, 6:30 p.m.
Dec. 2 at Utah, TBA
Dec. 5 vs. Utah State, 3 p.m.
Dec. 9 vs. Boise State, 2 p.m.
Dec. 16 vs. Idah State, 2 p.m.
Dec. 20 at Missouri State, TBA
Dec. 21 vs. Nevada#, TBA
Dec. 30 at TCU*, TBA
Jan. 3 vs. Oklahoma*, TBA
Jan. 6 vs. Iowa State*, TBA
Jan. 10 at Houston*, TBA
Jan. 13 vs. Cincinnati*, TBA
Jan. 17 at Oklahoma State*, TBA
Jan. 20 vs. Texas Tech*, TBA
Jan. 27 at Kansas State*, TBA
Jan. 31 at Kansas*, TBA
Feb. 3 vs. West Virginia*, TBA
Feb. 7 vs. Baylor*, TBA
Feb. 10 at Cincinnati*, TBA
Feb. 13 at UCF*, TBA
Feb. 17 vs. Kansas*, TBA
Feb. 21 vs. TCA*, TBA
Feb. 24 at Iowa State*, TBA
Feb. 27 vs. Houston*, TBA
March 2 at Texas*, TBA
Bold denotes home games; @-North Shore Showcase, Laie, HI, Nev.;  #-at Springfield, Mo (home of Missouri State University). *-Big 12 games. All times local to Provo (Mountain). Home games at Marriott Center, Provo, Utah. Big 12 Tournament begins March 7 in Kansas City, Mo.