Big 12 News
Kansas, Houston Lead 2023-24 Big 12 Basketball Preseason Poll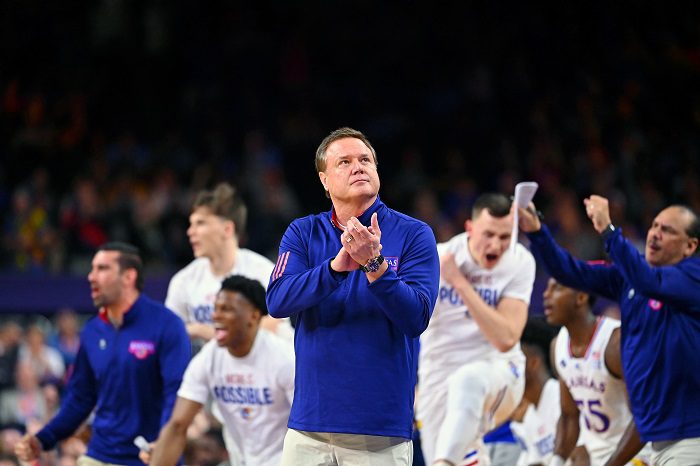 The Big 12 Conference has set the stage for the 2023-24 men's basketball season after releasing the preseason poll results on Friday, just a few weeks before the action gets underway.
It should come as no surprise that the Kansas Jayhawks, who can finally focus on just playing basketball, were picked atop the polls, receiving 12 of 13 possible first-place votes.
According to a Big 12 press release, KU has been picked outright or tied for first in 20 preseason ledgers and won or shared the regular season championship in 21 of the conference's 28 years.
The Houston Cougars, who are one of four newcomers to the Big 12 schedule this year, received the other two first-place votes and came in second in the poll to start the year. Cincinnati (11), BYU (13), and UCF (14) were all picked to finish among the bottom four spots in their inaugural year in the nation's toughest basketball conference.
Texas, last year's Big 12 Tournament Champions, comes in third place, just ahead of Baylor and TCU, who round out the top five. After a spectacular first year under head coach Jerome Tang, the Kansas State Wildcats are fifth in the preseason poll to start 2023-24 and will look to try and build off an Elite Eight run in 2022-23.
Iowa State, Texas Tech, West Virginia, and Oklahoma State round out the top 10, and Oklahoma was picked to finish 12th.
Here's a look at the poll, courtesy of the Big 12 Conference.
Coaches were not permitted to vote for their own team.
If you missed it on Thursday, the conference also released its Preseason All-Big 12 Team, highlighted by KU Center, Hunter Dickinson.