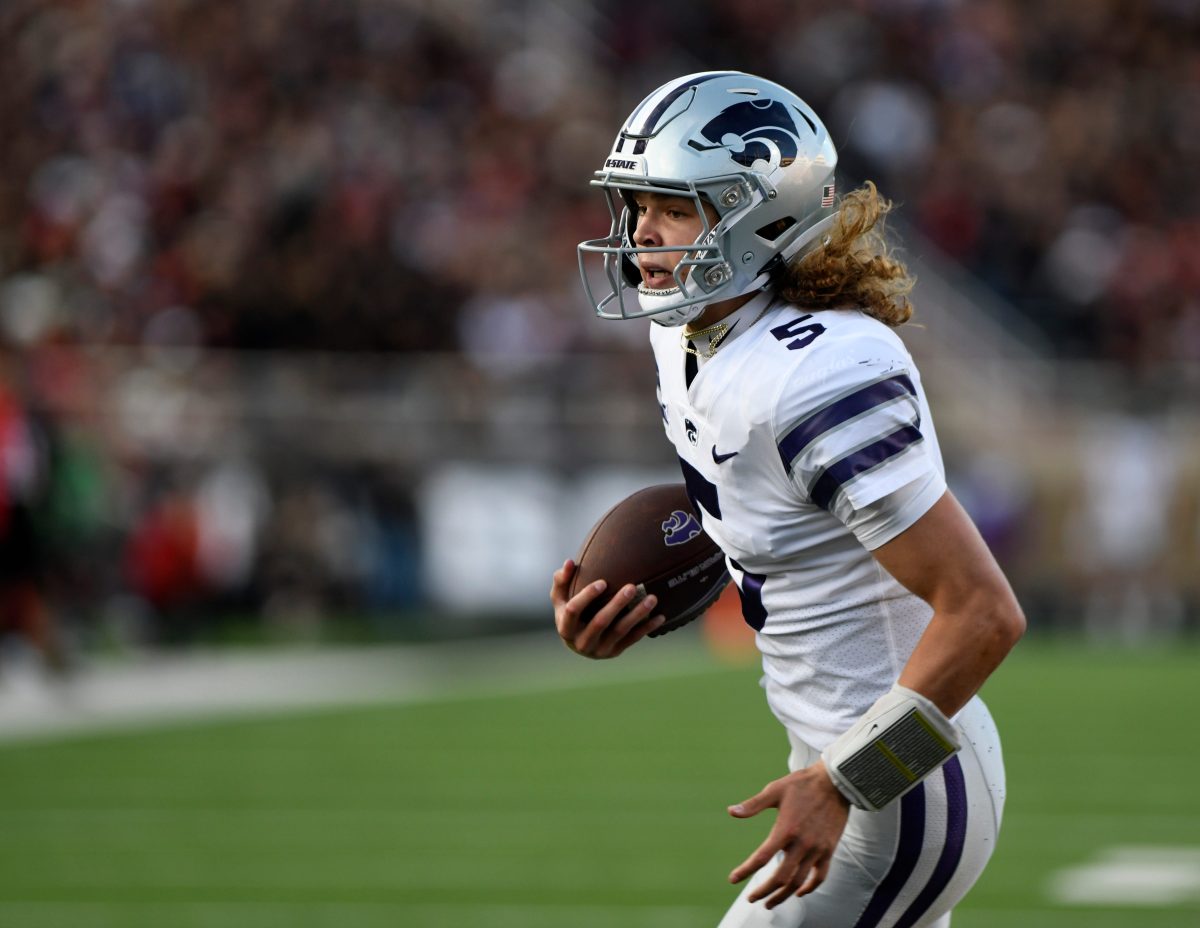 Even though there weren't many Big 12 games on Saturday, that doesn't mean that there was less action on the field. Houston got the week started on Thursday night with a miraculous Hail Mary to beat West Virginia and we still had four big games on the slate this weekend.
For the night cap, the Texas Tech hosted Kansas State in Lubbock. Both teams came into the day needing a win as Kansas State is coming off a bad loss to Oklahoma State while Texas Tech is fresh off their beatdown of Baylor last weekend. As always, night games in Lubbock are different. It was homecoming and the tortillas were flying high. Here are my three thoughts on Kansas State's win over Texas Tech.
Avery Johnson Says Hello to the Record Book
Coming into this game, Kansas State offensive coordinator Collin Klein said they had a good plan for quarterback Avery Johnson against Texas Tech. He did mention that Will Howard was still their starter, but that didn't last long in this one. On Kansas State's third possession of the game, Avery Johnson came in for Will Howard. While he went three and out on his first drive, Avery still got another chance later in the game. Both Howard and Johnson rotated series for a bit before Avery took the job and never let go.
While he only attempted nine passes in this game, he didn't need to use his arm at all. Avery Johnson was a man that could not be stopped on the ground as he went on to score five rushing touchdowns against a respectable Texas Tech defense. His five rushing touchdowns broke an FBS record as he became the first freshman to run for five touchdowns in a single game. He also tied Collin Klein (his offensive coordinator) and Jonathan Beasley for the most rushing touchdowns in a single game in Kansas State history. I don't think I have ever seen a rushing performance like this before and I am not sure if I ever will again. As great as his performance was, it now brings up a bigger question: Does he remain as Kansas State's starter moving forward?
It's Not Texas Tech's Year
Before the season started, many people had Texas Tech high on their Big 12 pecking order. Some even had Tech in the Big 12 title game in December. That is a lot of pressure for a program like Texas Tech who has not won eight games in the regular season since Mike Leach was roaming the sidelines. But I get it, Texas Tech had a lot of talent coming back to Lubbock this year.
Unfortunately, the Red Raiders got off to a rough start by losing to Wyoming in Week 1. That loss was followed by another loss to Oregon at home the next week. In their fourth game of the season, staring quarterback Tyler shough went down. Then tonight, backup quarterback Behren Morton got injured as well. That means that the Red Raiders were forced to play third string quarterback Jake Strong against Kansas State.
While Jake had a nice drive earlier in the game, he really struggled as he threw three interceptions. I admire the confidence that the coaching staff had in him, but I was a bit surprised to see him continue to throw the ball downfield despite making some bad mistakes. Although I am sure that many freshman quarterbacks would make some mistakes against a veteran Kansas State defense.
Is Kansas State the Third-Best Team in the Big 12?
In our Friday roundtable on Heartland College Sports, we were asked who the third best team in the Big 12 was. My answer was Kansas State and I feel a lot better about that after this weekend. West Virginia lost against Houston on Thursday night and Kansas fell short against Oklahoma State on Saturday afternoon. While Oklahoma and Texas remain the two clear favorites to make the conference title game, don't sleep on this Kansas State team. I know they lost to Oklahoma State last week, but they are still the reigning Big 12 champions. The Wildcats have the pieces in place and now they may have another key piece in Avery Johnson.