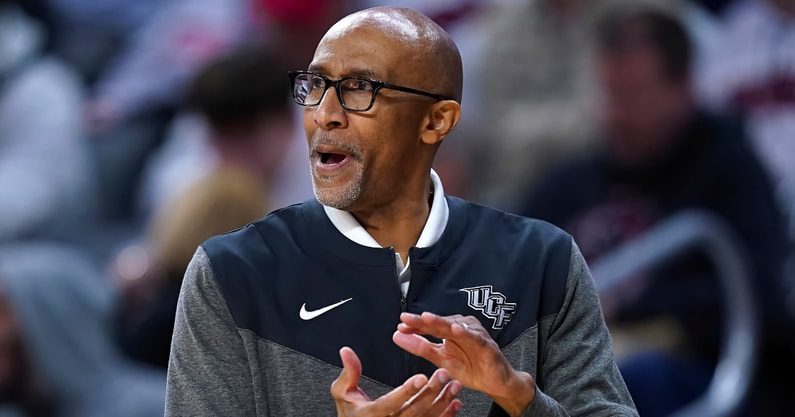 The 2023-24 UCF Knights men's basketball schedule is complete and here is an analysis of the entire schedule as basketball season nears.
Season Opener
The Knights will play their first non-conference game as a Big 12 program by hosting FIU on Nov. 6. That's NOT FAU, which went to the Final Four last year. FIU went 14-18 last year.
Close to Home
The Knights won't have to go far for their MTE (Multi-Team Event). The Knights will play at the Jacksonville Classic in St. Augustine, Fla., on Nov. 19-20. The Knights could play Charlotte, George Mason or South Dakota State, depending upon the matchups and the results of the first games.
By the way, the Knights will not leave the state of Florida during non-conference.
Best Non-Con Game
Easy — a road trip to Miami (FL) on Nov. 10. It's a great test against a Hurricanes team that reached the Final Four last season and the Elite Eight two seasons ago. Head coach Jim Larrañaga has built the program into a powerhouse.
Big EAST/Big 12 Battle
The Knights don't get a Big East opponent this season. But they do host Ole Miss. Does accidentally resurrecting the Big 12-SEC Challenge count?
Mid-Major Danger Game
Any of the opponents in the Jacksonville Classic would qualify, as all three are solid mid-majors. But there's no guarantee which ones UCF will play. In lieu of that, watch the Lipscomb game on Dec. 2 in Orlando. The Bisons won 20 games last year and as recently as 2019 went to the NIT Final before losing to Texas.
Big 12 Opener
The Knights will start their first Big 12 Conference slate in Manhattan, Kan., when they face Kansas State on Jan. 6.
Big 12 Home Opener
The Knights start the home slate of their Big 12 schedule with the league's blue blood, Kansas, on Jan. 10.
Brutal Big 12 Stretch
Um, that start to the league slate? Yikes. Kansas State, Kansas, BYU, Texas and Houston in the first five games. It's enough to ask what UCF might have done to tick someone off?
What Should Happen?
The Knights won 19 games last season under Johnny Dawkins. They were good enough to get into the NIT and beat Florida in the first round. UCF was a middling team in AAC action but played well in non-conference. They need to rack up the wins in non-conference to position themselves to absorb the punishment of Big 12 action and still have a chance at postseason action beyond the Big 12 Tournament.
2023-24 UCF Men's Basketball Schedule
Nov. 6 vs. FIU, 8 p.m.
Nov. 10 at Miami (FL), 7 p.m.
Nov. 16 vs. Cal State Fullerton, 7 p.m.
Nov. 19 vs. South Dakota State@, 8 p.m.
Nov. 20 vs. Charlotte or George Mason@, TBA
Nov. 26 vs. Stetson, 4 p.m.
Dec. 2 vs. Lipscomb, 4 p.m.
Dec. 6 vs. Jacksonville, 7 p.m.
Dec. 10 vs. Ole Miss, 4 p.m.
Dec. 18 vs. Maine, 7 p.m.
Dec. 21 vs. Florida A&M, 7 p.m.
Dec. 29 vs. Bethune-Cookman, 7 p.m.
Jan. 6 at Kansas State*, 6 p.m.
Jan. 10 vs. Kansas*, 7 p.m.
Jan. 13 vs. BYU*, 4 p.m.
Jan. 17 at Texas*, 8 p.m.
Jan. 20 at Houston*, 2 p.m.
Jan. 23 vs. West Virginia*, 7 p.m.
Jan. 27 at Cincinnati*, 7 p.m.
Jan. 31 vs. Baylor*, 7 p.m.
Feb. 3 vs. Oklahoma*, 4 p.m.
Feb. 10 at Texas Tech*, 4 p.m.
Feb. 13 at BYU*, 9 p.m.
Feb. 17 vs. Cincinnati*, 4 p.m.
Feb. 20 at West Virginia*, 7 p.m.
Feb. 24 vs. Texas Tech*, 4 p.m.
Feb. 28 at Oklahoma State*, 8 p.m.
March 2 vs. Iowa State*, 4 p.m.
March 6 vs. Houston*, 7 p.m.
March 9 at TCU*, 5 p.m.
Bold denotes home games; @-Jacksonville Classic, St. Augustine, Fla.; *-Big 12 games; Home games played at Addition Financial Arena. All times local to Orlando (Eastern). Big 12 Tournament begins March 12 in Kansas City, Mo.