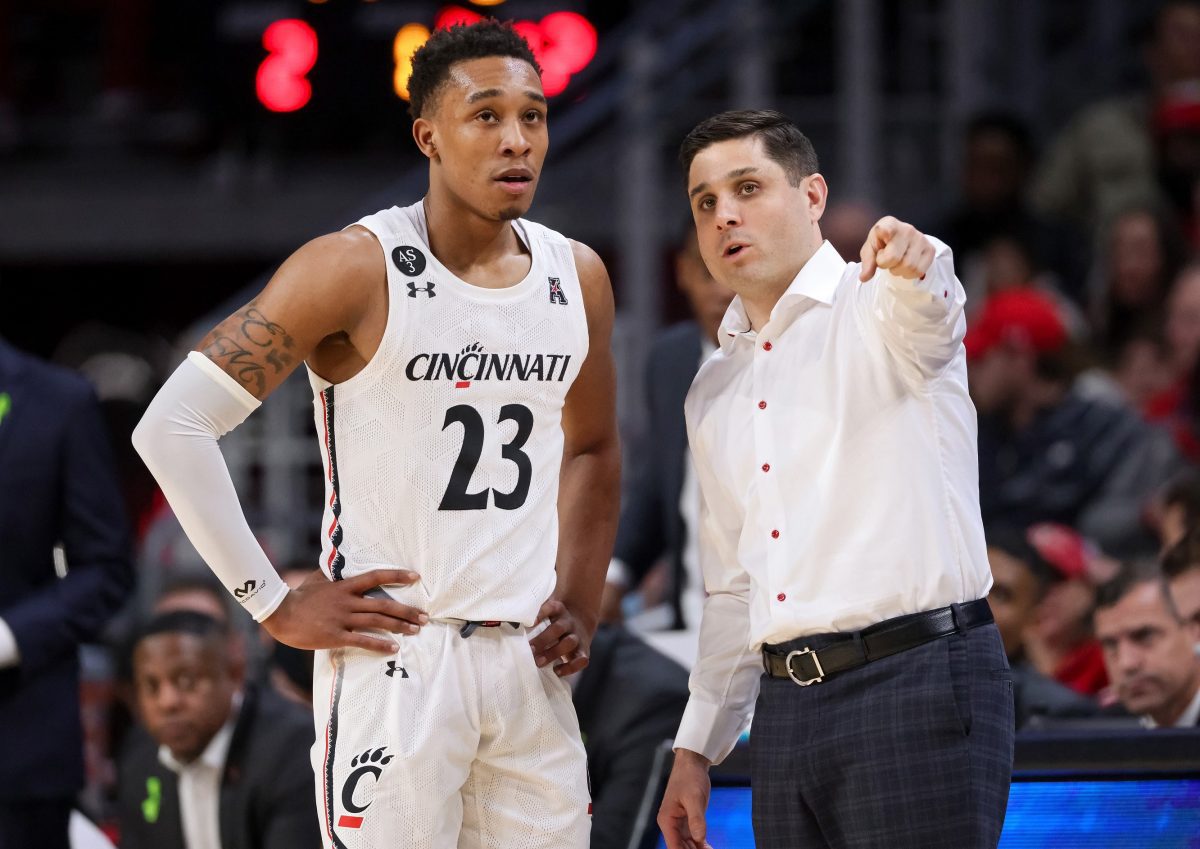 The 2023-24 Cincinnati Bearcats men's basketball schedule is complete and here is an analysis of the entire schedule as basketball season nears.
Season Opener
The Bearcats will open the season at home against UIC on Nov. 6. The Flames are coming off a 12-20 season and a next-to-last finish in the Missouri Valley Conference.
No Tournament?
No tournament, no multi-team event for the Bearcats this season.
Best Non-Con Game
Well, I mean it has to be the Crosstown Shootout, right? The Bearcats will face Xavier on Dec. 9 at the Musketeers' home arena. Xavier is coming off a 27-win season a year ago. Plus its Miller vs. Miller — Sean Miller at Xavier vs. Wes Miller at Cincinnati (though they're not related, but that's still fun). Wanna hear more? Let's let former Cincinnati coach Bob Huggins tell you more about this incredible rivalry … actually let's not.
Big EAST/Big 12 Battle
The Bearcats don't get a Big East opponent this season. But extra credit for getting into a game with Dayton on Dec. 16, even though they're not in the Big East. The Flyers won 22 games a year ago.
Mid-Major Danger Game
How about Merrimack on Dec. 19? The Warriors went 18-16 last season and won the Northeast Conference regular season title and tournament title. But, the Warriors couldn't participate in the NCAA Tournament because they're still wrapping up their transition from Division II to Division I. That is finally done and the Warriors could make a strong case for the NCAAs this season with wins over programs like Cincinnati.
Big 12 Opener
Seems like the Bearcats are always getting BYU early, no matter the sport. In this case, the Bearcats go to Provo to face the Cougars on Jan. 6.
Big 12 Home Opener
The Bearcats will host Texas on Jan. 9.
Brutal Big 12 Stretch
The Bearcats' didn't get a great draw for the first third of their Big 12 schedule. After BYU and Texas they face Baylor on the road, host TCU, host Oklahoma and then go to Kansas.
What Should Happen?
Cincinnati won 23 games last season and reached the third round of the NIT before losing to Utah Valley. They went 2-3 against their American Athletic Conference brothers that are migrating to the Big 12 (2-0 vs. UCF and 0-3 vs. Houston). It's clear they could be the second-best new team in the league and, with a quality non-conference record, set themselves up to compete for an at-large berth this season.
2023-24 Cincinnati Men's Basketball Schedule
Nov. 6 vs. UIC, 9 p.m.
Nov. 10 vs. Detroit Mercy, 7 p.m.
Nov. 12 vs. Eastern Washington, noon
Nov. 17 vs. Northern Kentucky, 2 p.m.
Nov. 22 vs. Georgia Tech, 7 p.m.
Nov. 28 at Howard, 7 p.m.
Dec. 3 vs. Florida Gulf Coast, 1 p.m.
Dec. 9 at Xavier, 6:30 p.m.
Dec. 12 vs. Bryant, 7 p.m.
Dec. 16 vs. Dayton#, TBD
Dec. 19 vs. Merrimack, 7 p.m.
Dec. 22 vs. Stetson, 7 p.m.
Dec. 29 vs. Evansville, 7 p.m.
Jan. 6 at BYU*, 10 p.m.
Jan. 9 vs. Texas*, 7 p.m.
Jan. 13 at Baylor*, 8 p.m.
Jan. 16 vs. TCU*, 7 p.m.
Jan. 20 vs. Oklahoma*, 1 p.m.
Jan. 22 at Kansas*, 9 p.m.
Jan. 27 vs. UCF*, 7 p.m.
Jan. 31 at West Virginia*, 7 p.m.
Feb. 3 at Texas Tech*, 6 p.m.
Feb. 10 vs. Houston*, 4 p.m.
Feb. 13 vs. Iowa State*, 7 p.m.
Feb. 17 at UCF*, 4 p.m.
Feb. 21 vs. Oklahoma State*, 7 p.m.
Feb. 24 at TCU*, 3 p.m.
Feb. 27 at Houston*, 7 p.m.
March 2 vs. Kansas State*, 7 p.m.
March 5 at Oklahoma*, 8 p.m.
March 9 vs. West Virginia*, 2 p.m.
Bold denotes home games; #-Hoops Classic, Heritage Bank Center, Cincinnati, Ohio; times local to Cincinnati (eastern); *-Big 12 games; Home games played at Fifth Third Arena. Big 12 Tournament, March 12-16 in Kansas City, Mo.