BYU Cougars
Five Biggest Takeaways From Week 7 of the Big 12 Football Season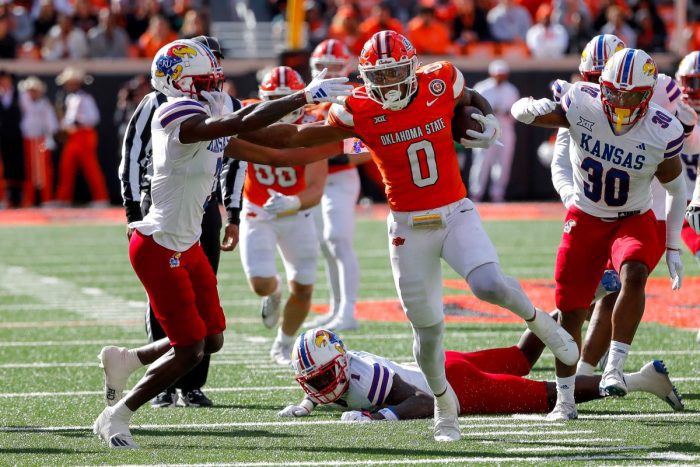 Week 7 of the Big 12 football season is in the books as the college football season reaches the halfway mark. How?! There were five games on the docket, and there were plenty of surprises across the league this week as the Big 12 continues to prove its the most unpredictable conference in college football.
So with another great week in the books, here are the five biggest takeaways from Week 7 in the Big 12 Conference.
Underdogs, Again!
As noted above, the Big 12 remains the most unpredictable league in college football.
Last week, the Big 12 played five games, and in four of them the underdogs won outright, while the other game included the team who began the week as the favorite ending up on the losing end.
This week, four of the five underdogs won outright, again. It started on Thursday night when Houston shocked West Virginia on a Hail Mary. Then on Saturday, Iowa State won by 20 as an underdog (Iowa State +5 was my "Lock of the Week", by the way. Go subscribe to our YouTube channel as we drop that video each Wednesday or Thursday evening.), then Oklahoma State upset Kansas and the night ended with K-State beating Texas Tech. All four of those teams were underdogs. TCU was the only favorite who won on Saturday.
Quarterback Controversies in Manhattan and Fort Worth?
Avery Johnson looked outstanding for Kansas State on Saturday night, rushing for five touchdowns and leading the Wildcats to a 38-21 win over Texas Tech. He also throws a pretty ball and the offense was clearly running better under him than Will Howard. The two QBs were exchanging drives, but eventually it became Johnson's game. The highly-touted recruit from Kansas is only a true freshman, but I'd be rolling with him next week.
Meantime, Josh Hoover put on quite a show for TCU against BYU, finishing 37/58 for 439 yards and four passing touchdowns. The situation is different in Fort Worth, as Hoover replaced an injured Chandler Morris, who is expected to miss multiple games. But Hoover deserves to keep playing, if he continues to look as sharp as he did on Saturday. TCU's offense had stalled the last two weeks vs. WVU and ISU. Let's see how it plays out, but Chandler Morris might have just been Wally Pipped for a second-straight season.
Coincidentally, these two teams play each other next week.
Don't Count Out Mike Gundy
During the bye week, some Oklahoma State fans wanted Mike Gundy's head. Since then, he's won two games as an underdog at home. By the way, the worst bet in Vegas is betting against Mike Gundy as a home dog: After the upset of No. 23 Kansas, Oklahoma State has won nine of its last 10 games when the Cowboys are a home underdog under Mike Gundy. That's incredible.
The offense is looking much better under Alan Bowman than it did under the three-man rotation. The fair criticism of Gundy is that he took too long to roll with Bowman. It's impossible to get a rhythm when you're playing once every three drives. Bowman was brought in for this moment and he's succeeded.
Suddenly, the Pokes are 4-2 overall and 2-1 in Big 12 play and in the thick of the conference race.
Speaking of the Conference Race, Iowa State, Anyone?
Like Gundy, there were some who wanted to put Matt Campbell on some sort of "hot seat", or at least one that was warming up, after a 1-2 start. Well, look at the conference standings and Iowa State is in sole possession of second place in the Big 12 at 3-1 as we approach the halfway mark of conference play.
This is a young team that is growing up before our eyes, led by quarterback Rocco Becht, who had key completions during critical parts of the game, while his two touchdown passes were perfectly placed. In fact, the Cyclones' drive that ended early in the fourth quarter to put ISU up 30-10 may have been the best drive Becht has led in his young career. There were multiple passes placed perfectly into the hands of his receivers, along with a well-executed 4th and short that ended with Cincinnati jumping offsides to continue the drive. That eventually led to ISU's touchdown that essentially clinched the victory.
Becht is using his tight ends effectively in the red zone, finding Benjamin Brahmer and Stevo Klotz for scores, which was reminiscent of what Brock Purdy used to do with Charlie Kolar and Chase Allen. I"m not making those direct comparisons yet, but it has been fun to watch the last couple of weeks.
New School Struggles Continue
Yes, kudos to Houston for its first Big 12 win. But had it not been for the Hail Mary, it would've been an 0-3 week for the new Big 12 schools. Thankfully for them, it was 1-2, but the two losses were by a combined 53 points.
There's going to be an adjustment period for these programs, that much is obvious. They are a combined 2-10, with the wins being the aforementioned Hail Mary and BYU beating… Cincinnati. In fact, of the nine Big 12 losses by the new teams to "old" Big 12 teams, they have been by an average of 18.3 points per game.
This isn't to knock those teams, as we knew this was possible. But what I would add is any anti-Big 12 talking heads who have spent time insisting the Big 12 is a weak league and/or on par with the AAC, clearly has been proven wrong.