BYU Cougars
HCS Roundtable: Biggest Winners and Losers In Week 7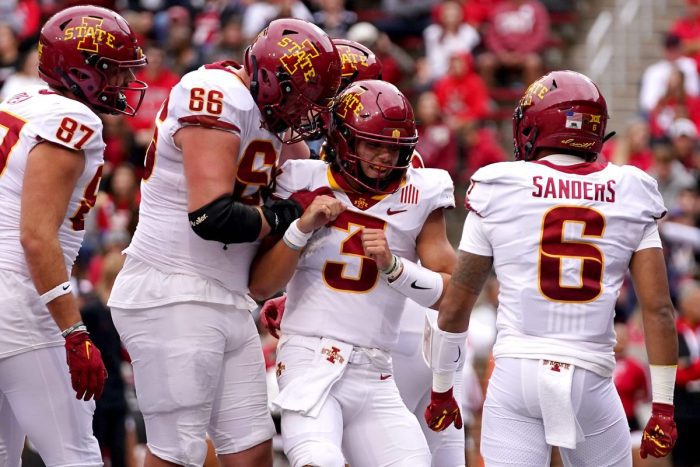 Another week has come and gone, and now we're heading into Week 8 of the 2023 college football season.
Everyone in the country has finished the first half of their regular season schedule, and we've got a better idea of what the conference hierarchy looks like in the Big 12. In Week 7, both Oklahoma and Texas were off, leaving folks to watch for other contenders to ascend in the conference race.
Then, after the dust settled, teams that had been pretty much left for dead made moves up the ladder this weekend and are set up for big runs in the back half of the season.
With that being said, the Heartland College Sports staff will take each week to name the week's biggest winner and loser. Here's a look at their answers for Week 7.
Pete Mundo
Biggest Winner: Mike Gundy and Matt Campbell
These two coaches were getting a ton of crap from a loud, yet small, percentage of their fan base, suggesting as of a couple of weeks ago both coaches might not be capable of leading their respective programs. Well both teams have turned it around the last couple of weeks and are now right in the thick of the Big 12 football race. I don't know if either can get to Arlington, but for now, both have silenced the doubters. And based on their respective resumes, they should be silenced for the rest of the season. At least.
Biggest Loser: New Four Teams
The struggles continue. Yes, Houston got its first win, but it came on a Hail Mary. Meantime, BYU and Cincinnati got blown out by a combined 53 points and UCF is 0-3 to start Big 12 play. There's a definitely learning curve for these four teams in stepping up to the Big 12. So for all the naysayers claiming the Big 12 is basically the AAC, well the eye test, and score test, has proven that's not the case. Not at all.
Bryan Clinton
Biggest Winner: Iowa State
I owe Matt Campbell and the Cyclones an apology. Last week, I named the remaining Big 12 contenders heading into Week 7. In my mind, there were seven contenders remaining, and Iowa State was not one of them. Then, after going to Cincinnati and drumming the Bearcats to the tune of 30-10 (as a five-point underdog, no less), Iowa State proved me wrong. The Cyclones are now 3-1 in Big 12 play, with their only loss coming to No. 6 Oklahoma in Norman. Despite their loss to Ohio earlier in the season, it appears that Rocco Becht and the Iowa State defense have become a winning combination. With Baylor, Kansas, BYU, Texas, and Kansas State still on their schedule, Iowa State controls its own destiny in the Big 12 race.
Biggest Loser: BYU
It finally happened. All season long I've watched BYU manage to win football games by narrow margins without any semblance of a run game. Now, it finally caught up to them, and I don't think it will be the last time they'll have to deal with it this year. The fact of the matter is, it's very hard to be one-dimensional offensively in the Big 12 and win games. The Cougars rank 129th out of 130 teams with 67.5 rushing yards per game. Despite being 4-1 coming into the weekend, it was apparent that there were tougher outing coming for this squad unless things changed, and it came this weekend. TCU held Kedon Slovis to 15-34 (44.1%) and 152 yards with one interception and a QBR of 9.1. The result? A 44-11 loss and a freshman quarterback dropping 439 yards and four scores on your head.
Joe Tillery
Biggest Winner: Collin Klein
The biggest winner of the weekend is actually someone who was not on the field on Saturday and that's Kansas State offensive coordinator Collin Klein. The Wildcats elected to learn on true freshman quarterback Avery Johnson on Saturday and he exploded for a performance reminiscent of prime Collin Klein. The Wildcats offensive coordinator now has the ability to scheme ways to get contributions from both his quarterbacks including the young gun Avery Johnson, and Big 12 Champion quarterback Will Howard. K-State's offense found some life on Saturday and that is going to be a scary sight for the rest of the league.
Biggest Loser: Kalani Sitake
While Saturday's loss to TCU does not fall solely on the shoulders of Kalani Sitake, his post-game comments confirmed what the world expected in the first year of Big 12 Conference play for BYU, Houston, Cincinnati, and UCF. The gap is real, and the gap is big. Sitake mentioned post-game that Sonny Dykes and the Horned Frogs "exposed [BYU] in a lot of different ways." He also mentioned an extensive process of reassessing multiple different things. If there was any hope for one of the four new additions to find their way into a title hunt, that program would have been BYU but seeing the massive gap between the old members and the new ones, that ship has completely sailed.
Derek Duke
Biggest Winner: Iowa State
As we sit here on Monday, October 16th, did anyone think that the Iowa State Cyclones would be in second place in the Big 12? Because I sure didn't. After their loss to Ohio, many people gave up on this team. Well, they shouldn't have because this team has now won three out of their first four Big 12 games after beating Cincinnati this past weekend. Iowa State is quietly playing good football right now as Rocco Becht has the offense rolling and the defense is doing what they do best (shutting down opposing offenses). This is not a football team that I would want to play right now.
Biggest Loser: BYU
I could have easily put Cincinnati in this spot but BYU takes the cake after their abysmal performance against TCU where they lost by over 30 points. They let a backup quarterback pick them apart for over 400 yards and four touchdowns which is completely unacceptable. As bad as the defense was, the offense was even worse. They had just 243 yards of offense and quarterback Kedon Slovis went 15/34 for 152 yards and an interception. Plus, this offense couldn't move the chains either as they went 3/17 on third and fourth down. If given the choice between re-watching this offense against TCU or dumping hot sauce in my eyes, give me the hot sauce.