BYU Cougars
Overreaction Monday: Avery Johnson is the New Sheriff in Manhattan, Kansas is Wile E. Coyote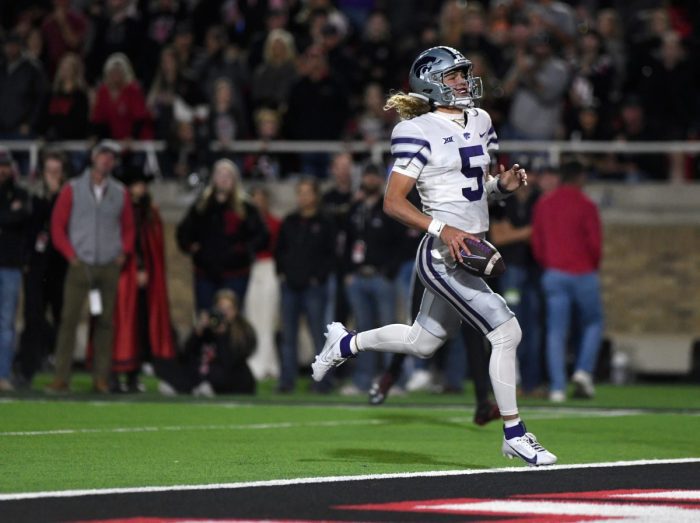 We're heading into Week 8 and that means everyone has played the first six games of their seasons, and in some cases, the first seven. With that being said, there's still half of October and the entire month of November to play and plenty more can happen at this point.
Is Oklahoma State back in the conference race after a slow start to begin the year? Is Iowa State a legit Big 12 contender? Will Avery Johnson be the starter in Manhattan by season's end?
There are a lot of questions that still need to be answered, but right now isn't the time to think logically.
Let's overreact to what we saw in Week 7.
Avery Johnson Will Supplant Will Howard in 2023
Not an Overreaction
It's not often that you see a freshman quarterback come into a football game on the road when the starter is still healthy, and it's even more rare that the young guy comes in and rips off five rushing touchdowns in a 38-21 win. What we just witnessed Avery Johnson do in Lubbock felt like more than just a one-off performance, it felt something like a changing of the guard.
Now, it might not happen immediately, but I do believe there's a time in the near future when Johnson overtakes Will Howard as the starting quarterback in Collin Klein's offense. Yes, Howard has a huge edge when it comes to experience, but the threat that Johnson brings with his legs is something that the incumbent starter just can't match.
While is anything but a statue in the pocket, Johnson brings next-level speed and acceleration to the field and once he's more up to speed with the passing concepts that Collin Klein likes to utilize in Manhattan, it'll be all downhill from there.
With Klein calling the shots, and an athlete like Johnson filling the role as a running quarterback in Manhattan, the future of the Kansas State offense is bright, and that future may come to fruition sooner rather than later.
Oklahoma State is Back in the Big 12 Race
Not an Overreaction
I'll be the first to say it: When South Alabama drug Oklahoma State all over the field inside Boone Pickens Stadium to the tune of a 33-7 beatdown, I wrote off the Cowboys as a Big 12 contender. When that game came to an end, I marked a bold line, in Sharpie, right through the words "Oklahoma State" in the list of Big 12 teams I thought capable of making their way to Arlington.
Now, after back-to-back upsets over Kansas State and Kansas, I was forced to tear that page out of my notebook and start over again. Let me be perfectly clear, it's unlikely that anyone outside of Oklahoma and Texas will end up inside Jerry's World on December 2, but I've at least learned to "never say never."
The team that we've seen in Stillwater over the last two weekends has been physical along the lines of scrimmage, it has won the time of possession with an effective run game, and it has won the turnover margin 5-0. That's winning football, and it doesn't a hell of a lot more than effort to do any of those things.
Oklahoma State held Kansas scoreless on its last five drives this week, turning the Jayhawks over via interception twice, on downs twice, and at the end of the game. Doing that, while handing the ball off to Ollie Gordon early and often, can win the Pokes enough games to keep them in the race with just one conference loss to this point.
Iowa State is Still the Same Team We Saw Against Ohio
Overreaction
Much like I did with Oklahoma State, Iowa State was pretty much ruled out of Big 12 contention when they dropped their first road game of the season to Ohio, 10-7. However, we've seen Matt Campbell football teams rebound from early losses to become a formidable late-season opponent to anyone in the conference, and that appears to be the case once again.
With wins over Oklahoma State (which looks better every week), TCU, and Cincinnati, the Cyclones find themselves at 4-3, but more importantly, 3-1 in Big 12 play. Their lone loss was a 50-20 mauling at the hands of Oklahoma, who appears to be a legitimate College Football Playoff contender at the halfway point of the season. Since that loss, Iowa State has outscored opponents 57-24 and held TCU to a season-low of 14 points, and Cincinnati to its second-lowest point total of the year.
Perhaps the bigger story though, has been the offense in Ames. Rocco Becht appears to have found his stride as the 'Clones starting quarterback, with 1,464 yards and 12 TDs (5 INTS) with a 60% completion rate. Additionally, the running game has exploded, and that's been the key.
In Iowa State's first four games, the offense averaged just 2.7 yards per carry and 333 yards total, including 38 yards on 27 carries against Ohio (1.7 ypc). However, in their last three games, the offensive line has paved the way for 478 yards on the ground and has averaged 4.7 yards per carry. The most impressive part about the turnaround is, that came against the Big 12's first (Cincinnati), fourth (Oklahoma), and sixth (TCU) best-rushing defenses, all of whom rank inside the Top 37 nationally.
The new-look run game at Iowa State changes the entire dynamic with which their offensive operates, and that makes them a dangerous team moving forward.
All Four Newcomers are Bottom-Five Big 12 Teams
Not an Overreaction
We've had seven weeks to see what the newcomers bring to the Big 12 in year one, and all they've provided is a notch in the win column for the existing programs.
Against preexisting Big 12 programs, the newcomers are a combined 1-9 on the year, with Houston's 41-39 win (via Hail Mary) in Week 7 being the first "W" for the group.
To make matters worse, it's not as if they've all been narrow losses. Sure, UCF's 36-35 heartbreaker to Baylor was as close as it gets, but outside of that, the rest of the losses have come by two or more scores. The results of each of the newcomer's most recent loss paints the picture:
In the 10 matchups between existing schools and the newcomers, the average score has been 38.7 to 22.4, making the average margin of defeat 16.3 points per game.
In other words, BYU, Cincinnati, Houston, and UCF appear to have some work to do before they're ready to compete for a Big 12 crown. Unfortunately, the attrition and depth issues that those schools are dealing with now, that they didn't have to worry about in previous years, is just a fact of life in playing in a Power Five conference. UCF's best 22 might be just as good as Kansas' best, but the depth behind that is still lopsided.
That won't always be the case, and before long the new guys will catch up, but for right now they appear to be the punching bags for most of the rest of the conference.
Kansas is About to "Wile E. Coyote" Themselves Again
Overreaction
What was Wile E. Coyote known for? Every time he'd get so close to catching that damned Road Runner, he'd blow himself up or fall off a cliff. He was always on the precipice of a breakthrough, but could never quite get it done.
That feels like what we saw from Kansas a season ago, and has a lot of folks wondering if it's going to happen again.
Last season, the Jayhawks soared to a 5-0 start before Jalon Daniels was hurt and limped to a 6-7 finish after losing six of its final eight games.
Kansas has lost two of its final three games heading into its bye week and now sits at 5-2 overall and 2-2 in Big 12 play. Star quarterback Jalon Daniels has missed each of the last three games and without him, the KU offense just isn't as potent, although Jason Bean has been more than serviceable in his stead.
So, is KU approaching the cliffside once again zooming out to a fast start?
I'm not ready to say that's the case, and there are a couple of reasons why.
First of all, the middle stretch of Kansas' schedule is tough. If Oklahoma takes care of business against UCF this week, the Jayhawks will have faced two top-six teams in the span of four games, with a trip to Stillwater, a place they haven't won since 2007, just sandwiched in between them.
After the home game against Oklahoma, Kansas will travel to Iowa State before back-to-back home games against Texas Tech and Kansas State before finishing their regular season on the road against Cincinnati. With five games left on the slate, I feel that two wins are attainable for this squad, and there could be even more than that if they can get Daniels back and get into a groove.