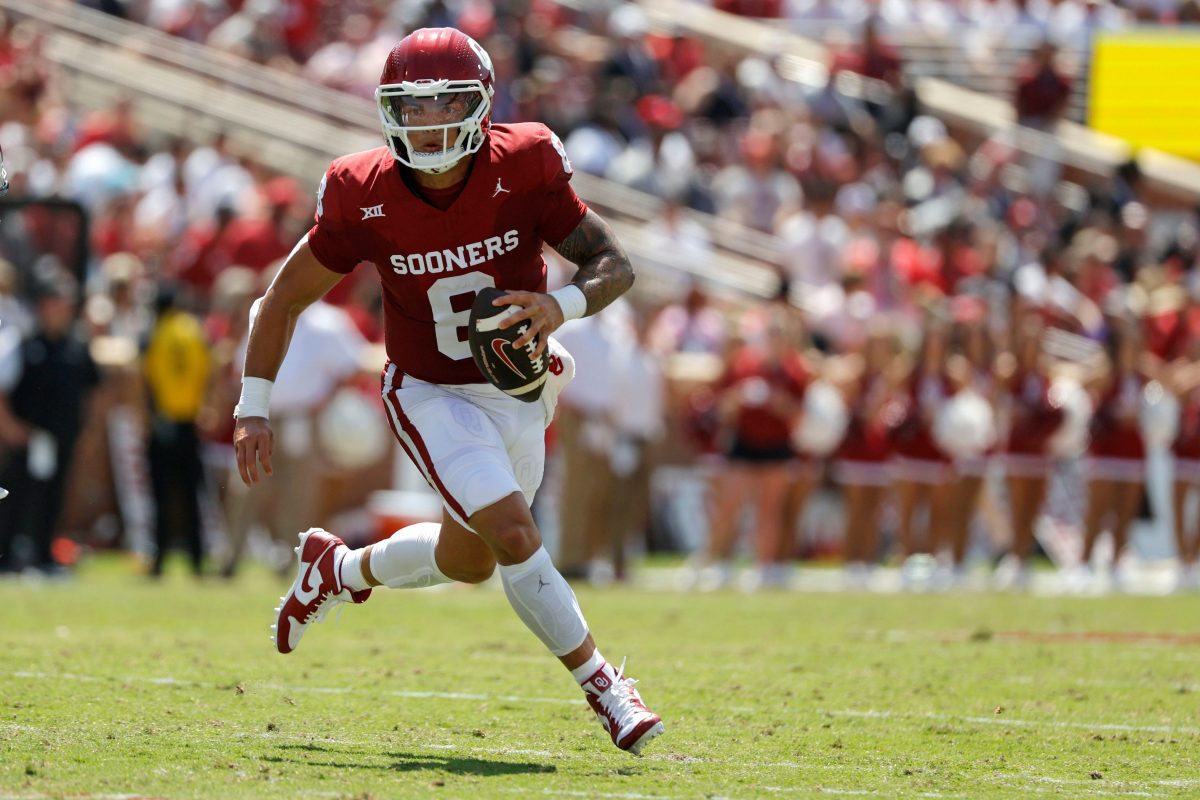 Here is everything you need to know ahead of the matchup between the UCF Knights and the Oklahoma Sooners.
GAME INFO
Saturday, October 21; 11:00 a.m. CT; Oklahoma Memorial Stadium; Norman, OK
TV: ABC
Radio: Sooner Sports Radio (Toby Rowland, Teddy Lehman, Gabe Ikard); AM 740/FM 96.9 The Game (Marc Daniels, Gary Parris, Scott Adams)
Records: Oklahoma 6-0 (3-0 Big 12); UCF 3-3 (0-3 Big 12)
Rankings: Oklahoma ranked No. 6 (AP); UCF unranked
Last Week: Both teams coming off bye week
Series History: First-ever meeting
Last Meeting: N/A
Line: Oklahoma (-19.5)
Fun Fact: Although it is UCF's first season as a "Power Five," the Knights are one of just seven P5 schools to never play Oklahoma. The other teams that OU has never faced in football are Michigan State, Purdue, Rutgers, Mississippi State, South Carolina, and Georgia Tech.
KEY PLAYERS
UCF KNIGHTS
QB John Rhys Plumlee
While he played sparingly in a loss against Kansas, John Rhys Plumlee has missed every game since suffering a knee injury against Boise State in Week 2. According to UCF head coach Gus Malzahn, Plumlee is "close to 100%" ahead of the Knights' road trip to Norman, which has to give them a boost of confidence. While his passing stats from the first two games won't blow you away, the 163 rushing yards on 19 carries (8.6 ypc) should tell the story about what kind of athlete UCF is getting back in the fold.
DE Tre'Mon Morris-Brash
While John Rhys Plumlee will get all the love from the fan base (he is the quarterback after all), the best player on the Knights' roster is Tre'Mon Morris-Brash. Through the first six games, Morris-Brash has 22 total tackles, which is tied for fifth on the team, but he's the Big 12 leader in tackles for loss (11.0) and sacks (5.0). If there is a "game-wrecker" on the UCF defense, which has struggled at times, it's No. 3.
OKLAHOMA SOONERS
QB Dillon Gabriel
After leading a game-winning drive against Texas in the Red River Rivalry in Week 6, Dillon Gabriel has emerged as a legitimate Heisman candidate. Through six games, Gabriel has completed 72.3% of his attempts for 1,878 yards for 16 touchdowns with just two interceptions, while also adding 208 yards and five touchdowns on the ground. Gabriel did lose one of his top targets for the year as Andrel Anthony is out with a knee injury. Despite that, the Sooners have a wide array of weapons for No. 8 to distribute the ball to, and he's showing that he can do that as well as anyone.
LB Danny Stutsman
Oklahoma linebacker Danny Stutsman has looked like the second coming of "The Boz," through the first six games of the 2023 season, both on and off the field. Stutsman leads the Big 12 in tackles (58), ranking second in tackles for loss (10.5), and has also logged two sacks, a pick-six, and a fumble recovery on the year. The unquestioned leader of the Oklahoma defense, Stutsman has had a monster season to this point and can solidify himself as a Butkus Award finalist with a strong finish to the year.
KEY STORYLINES
UCF KNIGHTS
Does the return of John Rhys Plumlee rekindle the fire for UCF? The Knights have gone 1-3 since his injury, and Timmy McClain has stepped in and played well in his absence. However, it's easy to see that this team is missing its leader and should have some more energy with him back on the field. The only issue is, he's coming back against an Oklahoma team that is playing very well in 2023. Even if this game doesn't end in a win for the Knights, a competitive showing against the Sooners would be positive considering what we've seen from them in Big 12 play thus far.
OKLAHOMA SOONERS
This game is all about Dillon Gabriel. The Sooners have a Heisman contender at quarterback (heard that before?) and he's been hearing that for almost two weeks now. Can he remain focused on the task at hand and keep playing top-notch football? On top of that, Gabriel is facing his former team. From 2019-21, Gabriel threw for 8,037 yards and 70 touchdowns in a UCF uniform, and will be seeing them for the first time since leaving. With his old team in town, the pressure of a Heisman campaign on his shoulders, and coming off an emotional win over Texas, Gabriel will need to control his nerves and keep the OU offense moving.
PREDICTION: Oklahoma 45, UCF 17
Oklahoma got a week to rest and get healthy after its 34-30 win over Texas in the Red River Rivalry, and the bye week could not have come at a better time. After an emotionally draining win like that, teams often have a "letdown" in the following week. The word out of Norman is that practice was "intense" in the bye week, something you'd expect from a Brent Venables-coached team, and that there was plenty to work on after the game against UT. With that, it's hard for me to imagine this team coming out flat at home following a bye. Oklahoma leads the nation in turnover margin (+11) while UCF ranks 117th in the same category (-5). With a few extra chances to put points on the board, I like Oklahoma to win and cover, moving to 7-0 on the year, and 7-0-0 ATS.