featured
HCS Mailbag: Joel Lanning Disrespect, Iowa State's Chances, and Will Texas Slip Up?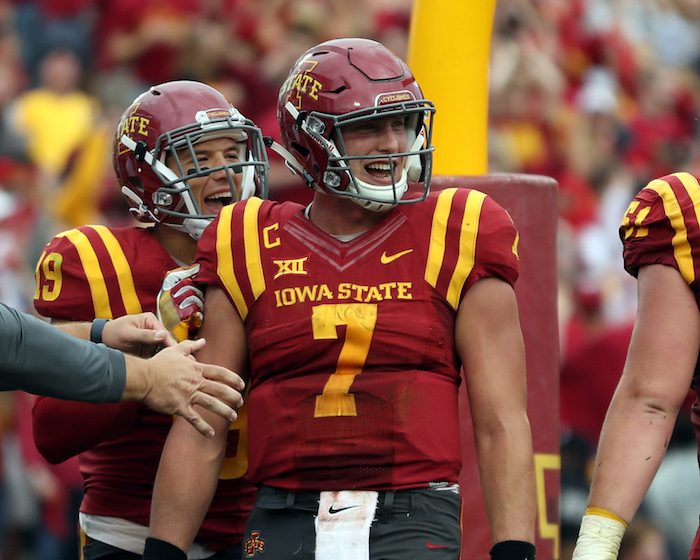 Welcome to the HCS Big 12 Football mailbag. This mailbag is for all you football junkies out there who root for a Big 12 school, and not only have questions about your team but other teams in the conference as well. So, join me, grab a cold brew or your favorite drink, and relax as I answer all your Big 12 questions. I want to thank each one of you who submitted a question this week and for tonight's drink of choice? You'll just have to see for yourself. Cheers!
@clonesjer asks: Why do you hate Joel Lanning?
Duke: I do not hate former Iowa State quarterback/linebacker Joel Lanning. In fact, he was probably my favorite Big 12 linebacker back in 2017 when he made the switch. For those who don't know the reason why I am talking about him it is because of something I said on Saturday. In the Texas Tech/Kansas State game, the broadcast team announced that Avery Johnson was the first Big 12 quarterback to have five rushing touchdowns in a single game since Collin Klein back in 2011. That was incorrect because Joel Lanning did it in 2016 against Texas Tech. I do apologize for forgetting about Joel Lanning.
@Justinlivy16 asks: Derek… are you aware the player in this GIF once had 5 rushing touchdowns in a game?
Duke: Yes, that is why I used the GIF of Joel Lanning. I felt like it was necessary to honor him today after forgetting about his legendary performance.
@HazzardCoEng asks: What from the first 7 weeks of the season has changed your opinion on the new B12 Football pecking order?
Duke: I think if anything it has confused me. Just when you think you have one of these teams figured out, things change faster than you can blink. Two weeks ago, everyone was writing off Oklahoma State and Iowa State. And here we are in mid-October and both of them are in the top five of the conference standings. I knew that the Big 12 was going to be chaotic this season but I had no idea it was going to be like this. Take a look at the past two weeks. The underdogs have dominated. Just this past weekend four of the five underdogs won outright. My takeaway is that this conference is unpredictable, and it has been entertaining as hell to watch.
@andyrosenberger asks: If you gave Avery Johnson a single training camp to learn the position of LB could he best Joel Lanning's career high of 20 tackles? ANSWER THE QUESTION DEREK
Duke: Why am I not shocked that I am still getting flack for the Joel Lanning tweet? As much as I like Kansas State quarterback Avery Johnson, I don't think he is linebacker material just yet. Maybe that can change but I think the Wildcats are going to need him at quarterback. And by the way, I love the passion from Iowa State fans regarding Joel Lanning.
@C_Boeckman asks: Iowa State is playing a ton of underclassmen, so is it out of the question to think in 2-3 years Iowa State could start being a threat for Arlington and finally get that 10-win monkey off its back?
Duke: With the way things are currently going for Iowa State, I don't think it is completely out of the question to say that they are in the title hunt this season. I mean I wouldn't bet my life savings on it but there is no doubt that this is a football team that is getting better each week. And yes, they are playing a ton of underclassmen right now and a lot of them have stepped up to the challenge. The experience that these guys are getting right now is going to help them down the road. I wouldn't be surprised to see this team make a trip to Arlington in the next few years.
@tracks182 asks: If Texas trips up before the CCG where would it be and why is it in Ames for a night game in sub-zero temps?
Duke: Let's take a look at the remaining schedule for the Texas Longhorns.
@ Houston
Vs BYU
Vs Kansas State
@ TCU
@ Iowa State
Vs Texas Tech
Jack Trice is a tough place to play, and I know Ames will be rocking even more than usual when the Longhorns come to town. However, I could see Texas maybe tripping up against Kansas State or maybe even TCU before then. But you are right, the toughest road game left on their schedule is Iowa State.
@KBehr68 asks: Which Big 12 team has surprised you on Offense and which one on Defense through this point in the season?
Duke: I will start with the defense, and it has to be Oklahoma for me. Last season, they couldn't stop a nosebleed and now in year two under Brent Venables, they have really turned the corner. Brent did a great job in the transfer portal and has used a more hands-on approach with this defense. The Sooners are first in the Big 12 in points allowed, second in interceptions, third in third down conversions, and fourth in rush defense. To me, they are the best defense in the Big 12.
Offensively I would say Iowa State has surprised me the most. Are they the best offense in the Big 12? No, but I didn't expect them to throw the football successfully like they have been lately. Rocco Becht is getting better each week, and the offensive line has done a good job of protecting him and opening up some running lanes. Plus, the Cyclones have some good young weapons as well.
@sameSchmitt says: Give your mid-season awards! Worst team/coach/starting player. Who do your project into the toilet bowl (championship of bad) and who loses?
Duke: If you are looking for the worst, I have some names in mind.
Worst Team: Cincinnati
Worst Coach: Scott Satterfield/Dana Holgorsen
Worst Starting QB: Emory Jones (Cincinnati)
Toilet Bowl: Houston vs Cincinnati