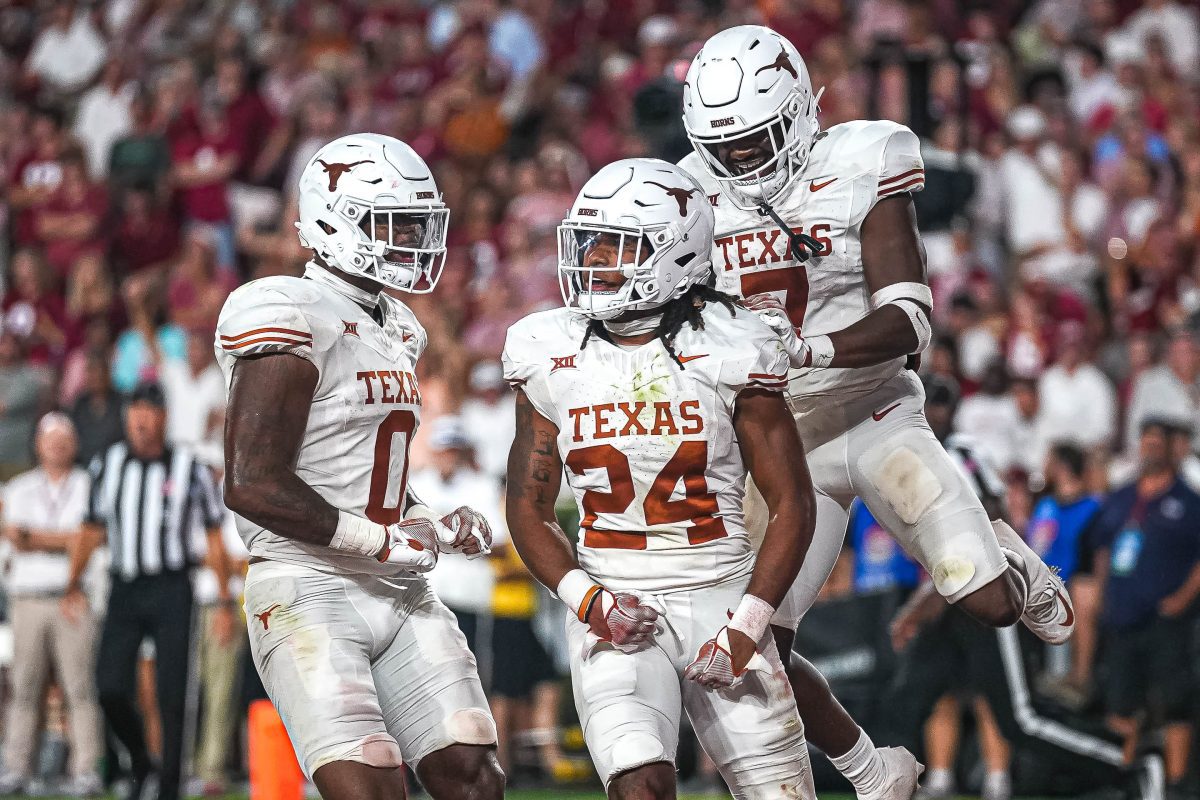 Here is everything you need to know ahead of the matchup between the Texas Longhorns and the Houston Cougars.
GAME INFO
Saturday, October 21; 3:00 p.m. CT; TDECU Stadium, Houston TX
TV: FOX
Radio: Longhorn Radio Network (Craig Way, Roger Wallace, Will Matthews); KPRC 950 AM (Kevin Eschenfelder, Ted Pardee, Jeremy Branham)
Records: Texas (5-1, 2-1); Houston (3-3, 1-2)
Last Week: Texas coming off bye week; Houston 41, West Virginia 39
Rankings: Texas No. 8 (AP); Houston not ranked
Series History: Texas leads series, 16-7-2
Last Meeting: Texas 41, Houston 11
Line: Texas (-23.5)
Fun Fact: Houston and Texas played every year from 1976 to 1995 as members of the Southwest Conference, with Texas going 12-7-2 in that span.
KEY PLAYERS
TEXAS LONGHORNS
QB Quinn Ewers
Despite a rough start in the Red River Rivalry, which included interceptions on his first two drives, Quinn Ewers closed out the game in excellent fashion. After going 6-10 for 27 yards and two INTs in the first quarter, Ewers completed his next 19 attempts and finished the day going 31-37 (84%) for 346 yards and a score. He'll need to be more effective from the start going forward, but Houston isn't the same threat defensively that Oklahoma presents.
LB Anthony Hill
Just as he did in the Alabama game earlier this season, freshman linebacker Anthony Hill flashed against Oklahoma, totaling eight tackles, a sack, and 1.5 tackles for loss. As one of the most naturally gifted pass rushers on Texas' roster, Hill will continue to develop as the season goes along. With the Longhorns likely to dial up the pressure on Donovan Smith, Hill will likely play a role.
HOUSTON COUGARS
QB Donovan Smith
After a rough start to the season, Donovan Smith has really turned things around for the Cougars' offense. In his last three games, Smith has completed 82 of 108 (75.9%) of his attempts for 882 yards and nine touchdowns through the air, adding 119 yards and a score on the ground. With him playing the best football of his career to this point, Smith is showing that he might be the quarterback of the future in H-Town.
DB Adari Haulcy
Against West Virginia last week, sophomore defensive back Adari Haulcy emerged for the biggest performance of his young career, totaling a career-high 15 tackles with a 0.5 tackle for loss and a PBU. With a wide-open offensive attack coming into town, Haulcy will likely be very busy with guys like Xavier Worthy and Adonai Mitchell looking to stretch the field against Houston.
KEY STORYLINES
TEXAS LONGHORNS
What does Texas look like after its first loss of the season? After their win over Alabama, Texas heard about how good they were and what they could do this season. Then, Oklahoma came into the Cotton Bowl and was the more physical team, leading to an upset victory. With everything still in front of them, Texas controls its own destiny to get into the Big 12 Championship game and the College Football Playoff after that. Their mindset and body language will tell the story, and if it's a good showing, the rest of the country will be back on notice.
HOUSTON COUGARS
Can Houston build off its first-ever Big 12 win? I doesn't get any more dramatic than a Hail Mary win as time expires, and we've seen emotional wins followed by letdowns before. This game against Texas is the single toughest game on Houston's schedule, and it will take the Cougars' best shot to even make this a game. If Texas makes enough mistakes to give Houston a chance to win this game, they'll have to take advantage of every opportunity.
PREDICTION: Texas 41 , Houston 13
The win over West Virginia was a nice story and a nice way for the Cougars to regain some confidence, but there's a big difference between the Mountaineers team that they outlasted last week and the Texas team that they will welcome on Saturday. Despite their loss two weeks ago, this is a legitimate College Football Playoff contender and a team that will be looking to prove a point this weekend. I think we will see a motivated and focused Longhorns squad this week, and a team that is primed to make a run at a Big 12 Championship appearance. Give me Texas, big.