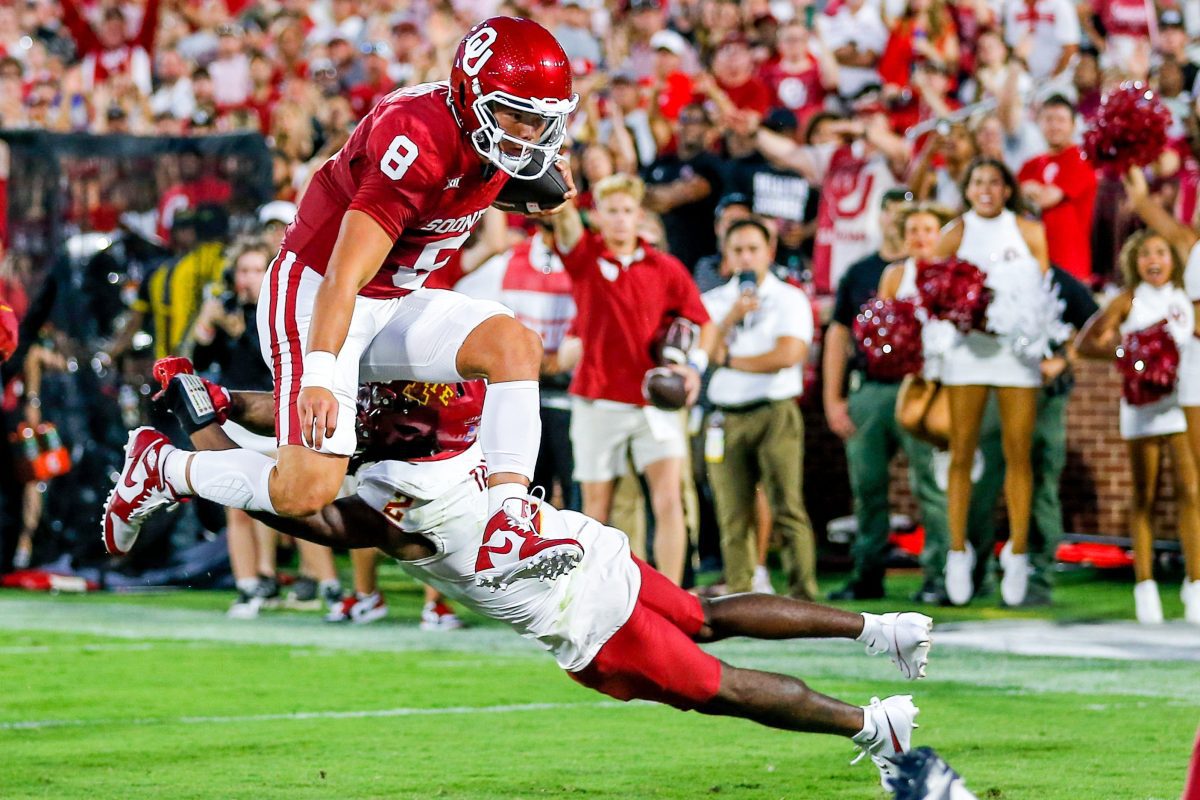 Week 8 approaches, and with it the back half of the 2023 schedule begins. Through the first half of the year, we've seen some incredible individual and team performances in the Big 12.
There's always top-level talent in this league, which means choosing the best player at each position can be challenging, but that's exactly what we intend to do here.
Take a look at Heartland College Sports' 2023 Midseason All-Big 12 Football Team.
Offense
QB: Dillon Gabriel, Oklahoma
RB: Jonathan Brooks, Texas
RB: Tahj Brooks, Texas Tech
WR: Samuel Brown, Houston
WR: Xavier Worthy, Texas
WR: Nic Anderson, Oklahoma
OT: Patrick Paul, Houston
OT: Christian Jones, Texas
OG: Cooper Beebe, Kansas State
OG: Luke Kandra, Cincinnati
C: Zach Frazier, West Virginia
Summary
Oklahoma quarterback Dillon Gabriel has been playing well enough to earn the second-best odds to win the Heisman Trophy after the first half of the season. His game-winning drive against Texas provides a Heisman moment, and his team sitting at 6-0 and No. 6 in the country helps his case as well.
Jonathan and Tahj Brooks rank fourth and sixth nationally in rushing yards through the first half of the season, with 121.0 (J. Brooks) yards per game and 112.3 (T. Brooks) yards per game, respectively. Statistically speaking, Samuel Brown is having one heck of a season for Houston, leading the Big 12 with 549 yards receiving, and 91.5 yards per game. Xavier Worthy is third in the Buiig 12 with 453 yards per game, while Nick Anderson leads the conference with six receiving touchdowns despite just 11 receptions all year. With the Sooners leading receiver, Andrel Anthony, going down, Anderson will see an uptick in touches.
Defense
DL: T'Vondre Sweat, Texas
DL: Dontay Corleone, Cincinnati
DE: Tre'Mon Morris-Brash, UCF
DE: Austin Booker, Kansas
LB: Danny Stutsman, Oklahoma
LB: Collin Oliver, Oklahoma State
LB: Jaylan Ford, Texas
DB: T.J. Tampa, Iowa State
DB: Josh Newton, TCU
S: Peyton Bowen, Oklahoma
S: Jeremiah Cooper, Iowa State
Summary
T'Vondre Sweat has been one of the most dominant defensive linemen in the country through the first half of the season and is looking like an early-round draft pick at this point. Danny Stutsman, Collin Oliver, and Jaylen Ford give the Big 12 one of the best linebacker trios in any conference.
Despite not playing on great overall units, Austin Booker and Tre'Mon Morris-Brash are some of the most productive pass rushers in the country thus far.
Iowa State grabs two of the spots in the secondary with T.J. Tampa and Jeremiah Cooper both playing at a high level this season. Meanwhile, Josh Newton continues to play at a high level for the Horned Frogs, and true freshman Peyton Bowen is finding ways to make a difference all over the field for OU.