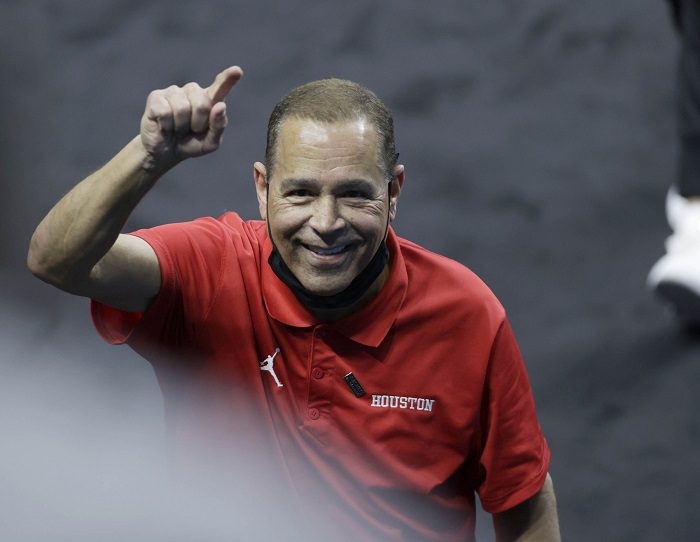 Houston Cougars men's basketball coach Kelvin Sampson isn't new to the Big 12. After all he was a coach in the league previously at Oklahoma.
He's back in the Big 12 leading the Cougars back into the world of high-major basketball, along with the other three newcomers — the BYU Cougars, the Cincinnati Bearcats and the UCF Knights.
Of course, Sampson and his Cougars have returned to the national landscape in a big way the past few years. In 2021 they reached the Final Four for the first time since the days of Phi Slama Jama in the 1980s. Last year the Cougars got to the tournament's second weekend.
Since the Cougars joined the league in July, Sampson has been getting to know former colleagues like Kansas coach Bill Self and Baylor coach Scott Drew, along with new ones like Kansas State's Jerome Tang.
The quality of the coaching and the play, he said, is incredible. But, during Big 12 Media Days, he likened a recent coaches meeting as a dog park, with the biggest, baddest dogs out there.
And that's the difference between then and now.
"We had a head coaches' meeting a while ago," Sampson said. "It was kind of like in a dog park. You've got two dogs walk by each other, kind of side eye or little one starts yapping at the big one and they start sizing each other up.
"I was kind of sizing them all up. I said, 'It used to be you could look at a few of those little dogs and go, I can get that one, I can get that one, I can get that one.' I ain't seen nobody I can get in this conference. That's the difference. They're all German Shepherds, man. Where's the Shi Tsus? Where's the Chihuahuas at? Oh, that's a Rottweiler. Oh, my God, that's a Pit Bull.
"This is a tough dog park, man. So what it's going to take is — I think, number one, you'd better stay healthy because in this league you're a sprained ankle away from mediocrity, and then don't worry about it. I don't spend one minute worrying about what league I'm in. I really don't."
The Houston Cougars were picked to finish second in the Big 12 Conference in the preseason poll, which means the coaches think Sampson and his Cougars can be contenders in this dog park this season.
You can find Matthew Postins on Twitter @PostinsPostcard.