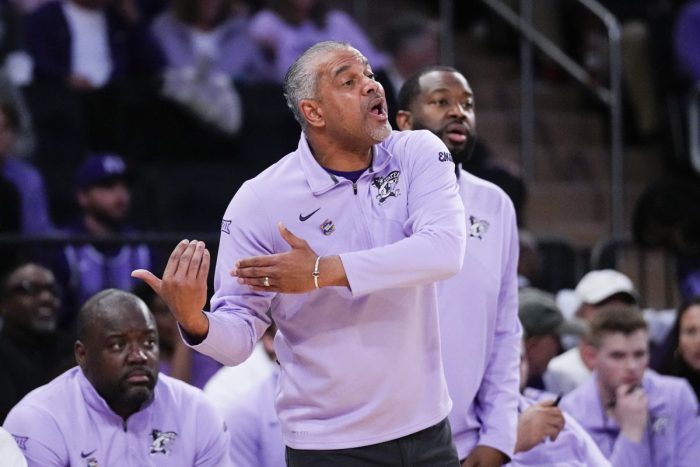 Kansas State men's basketball coach Jerome Tang has quickly become one of the most high-profile names in the conference after leading the Wildcats to an Elite Eight finish in his inaugural season at the helm.
Recently, Tang met with the most viral college coach in the country, Deion Sanders, the first-year head football coach at Colorado.
A former college and NFL star, Sanders has made an immediate impact on viewership after becoming the Buffs' head coach. The Hall of Fame defensive back once said, "If you look good, you feel good, and if you feel good, you play good," giving life to "Primetime," Sanders' well-known alias.
So, when Coach Tang broke out the sunglasses that Deion Sanders gifted him during their recent meeting, it was only right that he use the phrase that Primetime coined during his time as one of the most dominant players in the NFL.
Tang went on to say during his time at the podium that he met with Coach Sanders to learn how to expand K-State's basketball brand. Sanders is, after all, one of the most successful brand ambassadors in all of sports.
While Coach Prime and Coach Tang may reside in different sports in college athletics, their first year at the helm was somewhat similar. Sanders made headlines by undergoing a complete overhaul of the roster through the transfer portal with more than 50 players heading to Colorado.
Things looked bleak at Kansas State when Jerome Tang inherited the roster with two active scholarship players remaining in Markquis Nowell, and Ish Massoud. Tang added a roster of 11 different players in the transfer portal and led the Wildcats through March Madness all the way to the Elite Eight.
Now, with yet another retooled roster at his disposal, Tang hopes to take the Wildcats back to the tournament in 2024, and perhaps a step further to the Final Four.