BYU Cougars
What-If Wednesday: Big 12 Tournament Location, Avery Johnson's Future and Four New Teams Struggle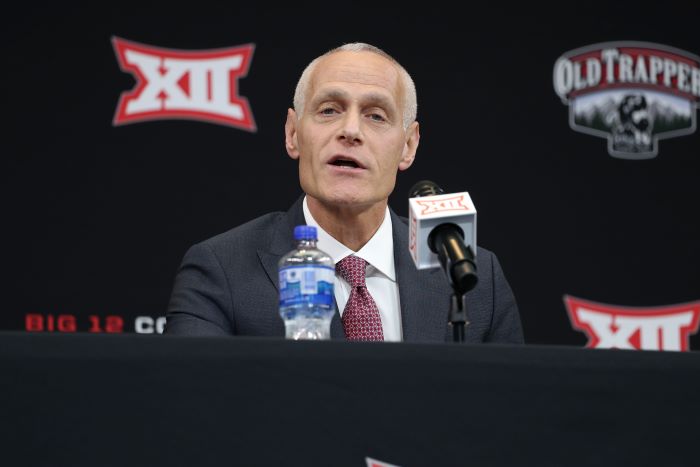 Welcome in to our newest feature we're calling, "What-If Wednesday". In this column, I'll propose a handful of questions that, at this point, have not come to fruition. But IF they do, what will come out of it? What's the end game?
Join us for this one and let's have some fun.
What if the Big 12 Basketball Tournament left Kansas City?
The conference would undoubtedly regret it.
That's why Brett Yormark is smart enough to want to keep it in Kansas City, which he announced on Tuesday was part of his future plans. Brett Yormark stated he'd like to keep it in KC until at least 2031.
Yormark was initially a bit of a Kansas City skeptic. Then he came to town and experienced the energy around Kansas City and the Power and Light District for himself. And after one Big 12 Tournament, he was convinced.
There was social media chatter on Tuesday ripping Yormark for keeping it in Kansas City. Most of those folks have never experienced the tournament. But it is, by far, the best experience of any conference tournament in the country. The Big East at Madison Square Garden might be close (I've experienced both), but since the Big East lost some of its powerhouse teams like Syracuse, Notre Dame, and others, it hasn't had the same juice.
Kansas City is unmatched for this scene. Yormark knows it. And for you doubters, just like Yormark, come to Kansas City, experience it, and then get back to me.
What if Avery Johnson is the answer at quarterback for Kansas State?
Then their season just turned around in Lubbock, Texas.
Avery Johnson looked great against Tech, finishing 8/9 for 77 yards, along with 13 carries for 90 yards and five rushing touchdowns. I look at Johnson and don't see only a guy who can run the ball, I see a guy with a good arm, quick release, and solid pocket awareness.
Now he's a true freshman, so he will struggle if he's the guy the rest of the way. But Will Howard does not look like the 2022 version, but rather the 2021 version. He's not seeing the field as well and he's been more careless with the ball. If he's going to regain his spot as the starter, he needs to start there with ball protection.
But if Johnson takes over the starting job from Howard, that will mean he's performing incredibly well, and in turn means Kansas State is back in the thick of the Big 12 Championship race, which was looking highly unlikely after the loss in Stillwater two Fridays ago.
What if the three new Big 12 schools go 0 for 4 this weekend?
Then it will be another sign that the jump from the AAC to the Big 12 is much greater than any national media outlets will give this league credit for.
How many clowns on social media basically said the Big 12 was a Group of 5 conference the last few seasons? You know who they are.
Well, the four new Big 12 schools (BYU, Cincinnati, UCF, Houston) are a combined 2-10. And the two wins? BYU beating Cincinnati (so one of the new four beating another one of the new four) and then Houston's Hail Mary win vs. West Virginia.
This isn't meant to knock the new four schools, but there's a big curve here, likely larger than many of us realized. It's not that these schools can't beat a Big 12 team on any given Saturday, it's that the week-in, week-out grind that never ends in the league is different from getting up for one out-of-conference opponent or one bowl game.