featured
2023 Heartland College Sports Big 12 Football Midseason Awards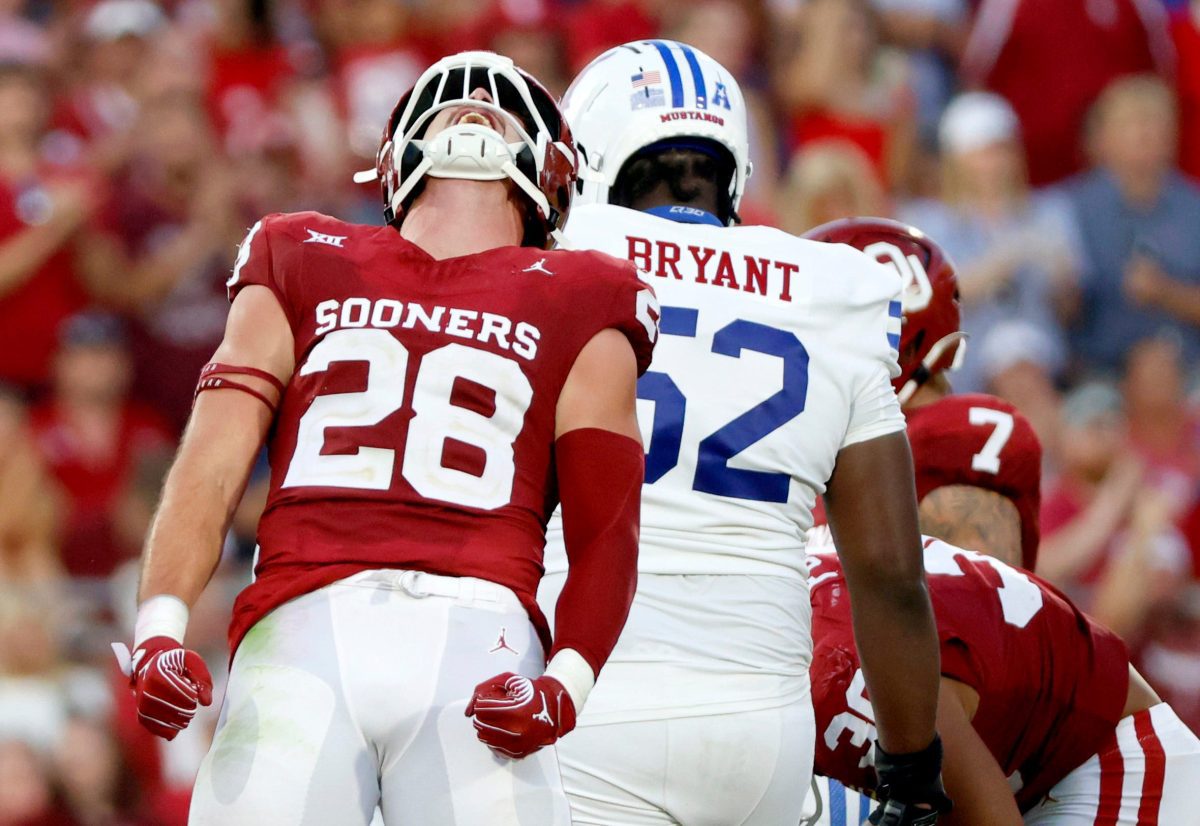 We're heading into the back half of the 2023 college football season and we've got six or seven games worth of data to go off of in the Big 12.
At this point, there are some things that can be taken as fact, whether fan bases are ready to admit it or not. In the same vein, there also some things that we need more data on.
However, at this point, we've got enough to hand out some distinguishments for the first half of the year. On Wednesday, we released the 2023 Midseason All-Big 12 Team, and now here's a look at our Midseason Awards.
Midseason Big 12 Offensive Player of the Year
Dillon Gabriel, Quarterback, Oklahoma
There's one legitimate Heisman Trophy contender out of the Big 12 in the first half of the season, and that's Oklahoma quarterback Dillon Gabriel. Through his first six games, Gabriel has completed 72.3% of his passing attempts with 2,086 total yards and 21 total touchdowns. His QBR of 91.2 ranks third nationally and with just two interceptions on the year, he's taking great care of the football.
Honorable Mention: Jonathan Brooks, RB, Texas
Midseason Big 12 Defensive Player of the Year
Danny Stutsman, Linebacker, Oklahoma
The only Big 12 defender selected to the midseason All-American teams from ESPN, AP, The Athletic, and CBS, Danny Stutsman has been one of the most dominant defenders in the country through the first six weeks. With a Big 12-leading 58 tackles, Stutsman has been all over the field for a much-improved Oklahoma defense. Stutsman ranks fifth nationally with 10.5 tackles for loss, while also tallying two sacks, a fumble recovery, and a pick-six. If he maintains his current pace, Stutsman might have one of the best defensive seasons in Big 12 history.
Honorable Mention: Nickolas Martin, LB, Oklahoma State
Midseason Big 12 Freshman of the Year
Peyton Bowen, Defensive Back, Oklahoma
Through the first six games of his career, Peyton Bowen has already established himself as a key playmaker for the Sooners. Playing primarily in the OU secondary, Bowen has 23 tackles, four pass breakups, and a forced fumble as a defender, but his role on special teams has been extraordinary thus far. With a nation-leading two punt blocks, Bowen's speed and football IQ have been on display for the football world to see, and it's clear that he's going to be a force for Oklahoma in the years to come.
Honorable Mention: Anthony Hill, LB, Texas
Midseason Big 12 Newcomer of the Year
Austin Booker, Defensive End, Kansas
Kansas' defense has shown some improvement from last season, and a lot of that has to do with Minnesota transfer defensive end, Austin Booker. With 31 total tackles on the year, Booker is a regular playmaker for the Jayhawks' defense as the Big 12 co-leader in sacks (5.0), and is tied for third in the conference with 8.0 tackles for loss. As an emerging playmaker, and just a redshirt sophomore, Booker will be a key cog in Lawrence going forward.
Honorable Mention: Beanie Bishop Jr., CB, West Virginia; Adonai Mitchell, WR, Texas
Midseason Big 12 Coach of the Year
Brent Venables, Oklahoma
There were all kinds of questions concerning Brent Venables' ability to perform as a head coach after going 6-7 in his inaugural year as a head coach. However, Venables has corrected things and has Oklahoma off to a 6-0 start and up to the No. 6 ranking in the latest AP Poll. The back half of the Sooners' schedule is manageable, and if they can navigate that to an 11-1, or even a 12-0 finish to the regular season, there's a great chance that he'll be the recipient of some national Coach of the Year awards after such a dramatic turnaround.
Honorable Mention: Neal Brown, West Virginia
Best Team
Oklahoma Sooners
After seeing the awards above, this should come as no surprise. Oklahoma controls its own destiny when it comes to making the Big 12 Championship and the College Football Playoff. The Sooner have outscored opponents 271-84 on the season and have the top scoring offense (45.2 ppg) and defense (14.00 ppg) in the Big 12, and rank fourth and seventh nationally in those statistics, respectively. Until further notice, it appears that the Big 12 race runs through Norman in 2023.
Worst Team
Baylor Bears
Baylor had better be glad that the newcomers have all stumbled out the gate in their first year in the Big 12, because if they hadn't been here in 2023, the Bears would be the worst team in the conference by a wide margin. Sitting at 2-4 and 1-2 in Big 12 play, Dave Aranda's squad has been awful along the line of scrimmage and likely isn't headed to a bowl game for the first time since 2020, when he took over the program.
Most Surprising Team
West Virginia Mountaineers
Teams that are picked to finish last in the conference in a preseason poll are never happy about it, but very rarely are they able to do much about it to make the pollsters look silly. Sure, they might find a way to finish two or three spots higher than they were picked, but Neal Brown's West Virginia Mountaineers are in a four-way tie for third place in the Big 12 standings through seven weeks. If not for a hail-mary loss to Houston last week, they'd be 5-1, likely ranked, and sitting at 3-0 and tied with OU atop the Big 12 standings. West Virginia looks to be in prime position to make a bowl game and help Neal Brown keep his job, against all odds.
Honorable Mention: Iowa State Cyclones
Most Disappointing Team
Texas Tech Red Raiders
While the injury situation at quarterback certainly doesn't help, Texas Tech has been the biggest disappointment in the Big 12 through the first half of the season, and it's not close. This is the same team that was predicted to be a top-four team in the conference and a dark horse contender to make the College Football Playoff after Joey McGuire led them to eight wins in 2022. This team has been a mess and hard to get a read on from week to week given how unpredictable they've been. Sitting at 3-4 through seven games, Texas Tech is the most disappointing team in the Big 12.