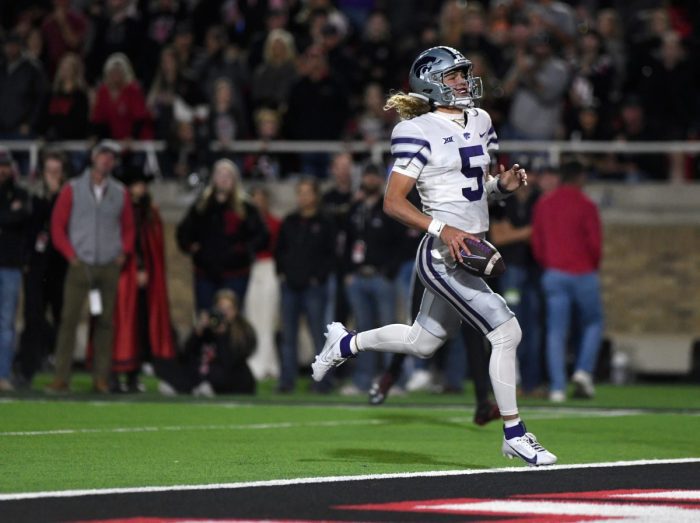 Have we witnessed the beginning of the Avery Johnson era at K-State, or did Johnson simply take advantage of his opportunity to play against Texas Tech's weak rushing defense? It sure was exciting watching the true freshman quarterback carve up the Red Raider defense for 94 yards rushing and five touchdown runs in K-State's 38-21 victory. And he did not only do it on the ground. He was eight of nine, passing for 77 yards with a 160.8 quarterback rating. K-State fans clamored for Johnson to be K-State's new starting quarterback after the dazzling performance, and it is hard to argue against that. But as Lee Corso so famously says, "not so fast."
Texas Tech's rushing defense has not been great of late. K-State rushed for 272 yards against the Red Raiders on Saturday, highlighted by Avery Johnson's 13 carries for 94 yards, a 6.9 yard per carry average, and five touchdowns. But K-State performed very well against Texas Tech in 2022 as well. Last year, the Wildcats rushed for 343 yards against the Red Raider defense, which was led by the same defensive coordinator. K-State quarterback Adrian Martinez rushed for 171 yards on 12 carries with three touchdowns, averaging 14.3 yards per carry. Deuce Vaughn added 170 rushing yards to K-State's total that day. K-State's rushing attack had an even better day a year ago against Texas Tech.
Avery Johnson was spectacular on Saturday, especially considering he is a true freshman, but his production may have been a product of the defense K-State was playing against. That being said, Johnson has all the tangibles needed to be a great quarterback. He is fast, athletic, has a strong arm, and has a calm, cool, and collected command of the offense one would normally see from a senior signal caller. The future is bright, but is he ready to be the full-time starter right now, or should Chris Klieman stick with Will Howard as the starting quarterback?
It is a good problem to have. Both quarterbacks are capable of running the offense and winning games. Johnson is primarily a running quarterback right now, while Will Howard is primarily a passing quarterback. Don't get me wrong. Johnson can also pass the ball, and Howard can run it, but their primary strengths right now are vastly different. K-State head coach Chris Klieman will likely play both quarterbacks this Saturday against TCU, but it remains to be seen who the starter will be and which of the two quarterbacks will get the majority of the snaps.
Looking at college football team defense statistical rankings, Texas Tech has the 73rd-best run defense in the country, giving up 146.9 yards per game. TCU's defense is ranked as a much better unit at 38th in the country, giving up 121.0 yards per game. Avery Johnson may not find as much success running the ball against TCU as he did against Texas Tech. Therefore, it may be better to have an experienced passer on the field against TCU. That is why I would, and I believe Chris Klieman will start Will Howard on Saturday. He should give Avery Johnson a couple of series during the game to come in as a change of pace and then go with the quarterback that is most successful moving the offense.
Will Howard is still a good quarterback. Don't forget that he led the Wildcats to the Big 12 championship just 10 months ago. He is a senior and, as of right now, gives K-State the best chance to win based on his abilities and experience running the offense. Avery Johnson is the future at K-State, but the present belongs to Will Howard.