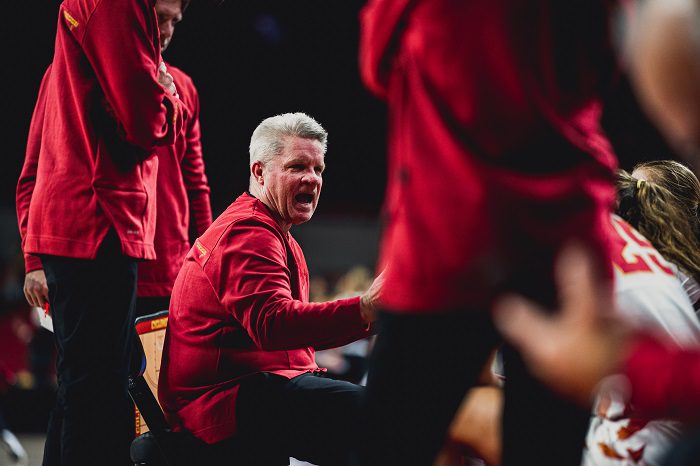 The 2023-24 Iowa State Cyclones women's basketball schedule is complete and here is an analysis of the entire schedule as basketball season nears.
Season Opener
The Iowa State Cyclones will start the season with a late-morning game against Butler at Hilton Coliseum on Nov. 6. Butler, which plays in the Big East, won 11 games last season.  
Vegas, Baby
The Cyclones will head to Las Vegas for a Multi-Team Event, the South Point Shootout, on Nov. 24-25. On Nov. 24 Iowa State will face Vanderbilt and on Nov. 25 it will face Syracuse.
Best Non-Con Game
Well, it's Iowa, right? It's the natural rivalry game for the Cyclones, set for Dec. 6 in Iowa City. Expect a prime-time slot as the Hawkeyes have guard Caitlin Clark and they are coming off reaching the NCAA Tournament Championship Game last April before falling to LSU.
Mid-Major Danger Game
The Cyclones' yearly game with Northern Iowa is also a dangerous one for the Cyclones. They'll host the Panthers on Dec. 20, right before the holiday break and in their last game before Big 12 action begins. The Panthers won 24 games last season and finished third in the Missouri Valley Conference.
Big 12 Opener
The Iowa State women have a road trip to Stillwater, Okla., to tip off Big 12 action against the Oklahoma State Cowgirls on Dec. 30.
Big 12 Home Opener
The Cyclones host Kansas at Hilton Coliseum on Jan. 3, which tips off a stretch of three home games in a two-week span.
Brutal Big 12 Stretch
Iowa State's Big 12 Tournament seeding may be determined by a three-game pocket in an eight-game span in which they host Oklahoma on Feb. 10, Kansas State on Feb. 14 and then travel to Texas on Feb. 17.
What Should Happen?
It will be a season of transition for the Cyclones as they bring in a highly-regarded recruiting class, a couple of solid transfers and hand the keys to the offense fully to point guard Emily Ryan, who will be counted on to score more with the departures of Ashley Joens and Lexi Donarski. Head coach Bill Fennelly sees this recruiting class as the foundation for the next stage of Iowa State basketball, and there may be some bumps along the way this season.
2023-24 Iowa State Women's Basketball Schedule
Nov. 6 vs. Butler, 11 a.m.
Nov. 12 at Drake, 2 p.m.
Nov. 20 vs. Southern, 6:30 p.m.
Nov. 24 vs. Vanderbilt#, 3:30 p.m.
Nov. 25 vs. Syracuse#, 1 p.m.
Nov. 29 at St. Thomas, 7 p.m.
Dec. 3 vs. UNCW, 1 p.m.
Dec. 6 at Iowa, TBA
Dec. 10 vs. North Dakota State, 5 p.m.
Dec. 17 vs. Troy, noon
Dec. 20 vs. UNI, 6:30 p.m.
Dec. 30 at Oklahoma State*, TBA
Jan. 3 vs. Kansas*, 6:30 p.m.
Jan. 6 at BYU*, TBA
Jan. 10 vs. West Virginia*, 6:30 p.m.
Jan. 13 vs. Baylor*, noon
Jan. 17 at Texas Tech*, TBA
Jan. 20 vs. TCU*, 1 p.m.
Jan. 24 at Kansas*, TBA
Jan. 27 at West Virginia*, 1 p.m.
Jan. 31 vs. Oklahoma State*, 6:30 p.m.
Feb. 3 at UCF*, TBA
Feb. 10 vs. Oklahoma*, 6 p.m.
Feb. 14 vs. Kansas State*, 6:30 p.m.
Feb. 17 at Texas*, TBA
Feb. 21 at Houston*, TBA
Feb. 24 vs. BYU*, 6 p.m.
Feb. 28 at Kansas State*, TBA
March 2 vs. Cincinnati*, 1 p.m.
Bold denotes home games; #-South Point Shootout, Las Vegas, Nev.; *-Big 12 games; Game times local to Iowa State (central)l; Home games played at Hilton Coliseum; Big 12 Tournament, March 7-12, Kansas City, Mo.