featured
Fact or Fiction Friday: Iowa State Wins Out, Big 12 Coaches on the Hot Seat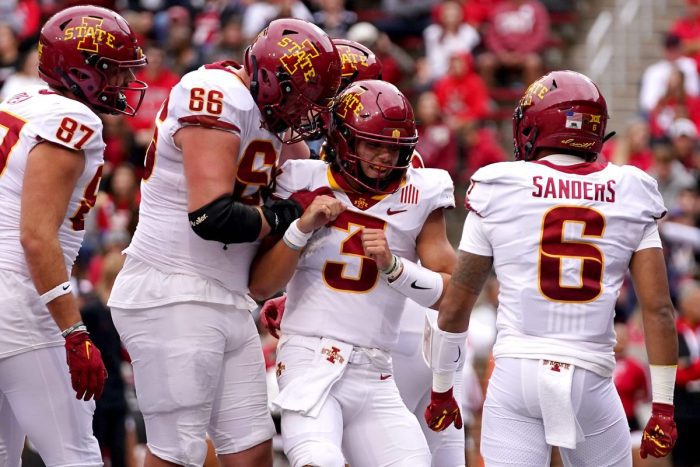 Welcome to Fact or Fiction Friday. Each Friday, I give our Facebook fans an opportunity to ask the most intriguing questions in the Big 12 Conference, and I will tell you whether they come true or if they are set to fail. Let's crack it open and see what we have in store this week.
Iowa State Wins Out
Fiction: I love how Iowa State is playing right now. They look like a completely different team compared to the one I saw against Ohio. Rocco Becht is gaining confidence running the offense and the offensive line is starting to gel. Of course, their defense has been playing great as well. Looking at their schedule, I can see them winning three in a row, however, I cannot say for sure that they will beat Texas or Kansas State.
West Virginia Won't Have Another Win Over a Team Above .500
Fact: West Virginia will win at least three or four more games this season. But those three wins will come against teams that aren't very good. I can see the Mountaineers beating BYU, Cincinnati, Baylor, and UCF. While that is great news for West Virginia fans, it's not like any of those teams are good right now. I just wonder how many wins Neal Brown needs this season to keep his job.
Texas Tech Offensive Coordinator Zach Kittley is on the Hot Seat
False: If Tyler Shough was healthy then I could see some truth to this but right now the Red Raiders are on their third-string quarterback. There aren't many (if any) offensive coordinators that can win with a third-stringer throwing the football. I get it the question though because Kittley has totally underutilized running back Tahj Brooks. The guy simply isn't getting enough touches which is crazy because he is one of the best running backs in the Big 12. At some point, this offense is going to have to lean on him to help out these young quarterbacks.
Avery Johnson Will Start for Kansas State
Fact: It would be crazy for Kansas State not to start Avery Johnson after he scored five touchdowns last week against Texas Tech. I know I have been a Will Howard supporter in the past, but after watching Avery play, I can see why everyone has raved about him. He's a playmaker and that is exactly what Kansas State needs right now on offense. I say that he starts this weekend against TCU.
Kansas State Will Beat TCU
Fact: This wasn't even a tough one for me to answer. I think it would be crazy to pick against Kansas State at home. I know Josh Hoover looked good last week for TCU, but this isn't BYU he is going up against. I expect the Wildcats to slow him down and for Avery Johnson to provide another spark for this offense like he did last week. I like Kansas State by at least a touchdown in this one.
Dana Holgorsen is on the Hot Seat
Fiction: Personally, I think he should be. Outside of the 2021 season, Dana has an 18-23 record at Houston. Is that good enough considering all but six of those games I just mentioned were played in the American Athletic Conference? I don't think it is, but I am not the one calling the shots in H-Town. Since this is Houston's first year in the Big 12, I do expect them to have an adjustment period and I can see them letting Dana have a little more time getting used to the new conference.  
Texas Tech's Season is Over
Fact: Joey McGuire would never say the season is over, but I will. Texas Tech came into the season with high expectations. They were picked to finish fourth in the conference and some people had them playing for a Big 12 title in December. While I was never in that camp, I did expect this team to win nine games which has already gone out the window.
Injuries at quarterback have decimated this team once again and they will be lucky to finish 6-6 this season. At some point, it is time for this program to take the next step because they haven't won eight games in the regular season since 2009.