Big 12 News
Jonathon Brooks, Cooper Beebe Headlines Big 12 Players in the Midseason Top 101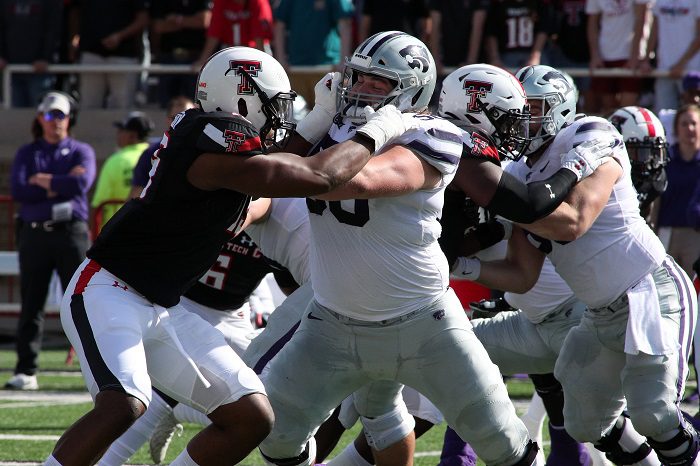 The Big 12 Conference has some of the top athletes in the country each season and this year is no different.
While it may feel like we're only just getting started in the 2023 season, Week 8 will cross fans over into the back half of the year as we start looking towards conference championships and bowl games. 247Sports' Blake Brockermeyer elected to rank the top 101 athletes in CFB through the first half of the season and ranked 16 members from the Big 12 Conference.
Each player and their placement are listed below.
15. Jonathon Brooks, RB, Texas
24. Cooper Beebe, OL, Kansas State
27. Patrick Paul, OT, Houston
28. T'Vondre Sweat, DT, Texas
31. Dillon Gabriel, QB, Oklahoma
33. Danny Stutsman, LB, Oklahoma
51. Xavier Worthy, WR, Texas
55. Quinn Ewers, QB, Texas
58. Josh Newton, CB, TCU
62. Kelvin Banks, OT, Texas
69. Jaylan Ford, LB, Texas
79. Tyler Guyton, RT, Oklahoma
81. Austin Booker, Edge, Kansas
85. Ja'Tavion Sanders, TE, Texas
88. Zach Frazier, C, West Virginia
100. Collin Oliver, Edge, Oklahoma State
The Big 12 Conference continues to produce top NFL talent on a consistent basis with multiple first-round draft picks each year, and it looks like the 2024 NFL Draft will be no different.
Week 8 of the college football season kicks off in the Big 12 with Saturday morning's matchup between Dillon Gabriel and the sixth-ranked Oklahoma Sooners taking oh his former team in the UCF Knights on Saturday, October 21st, at 11 AM CT.