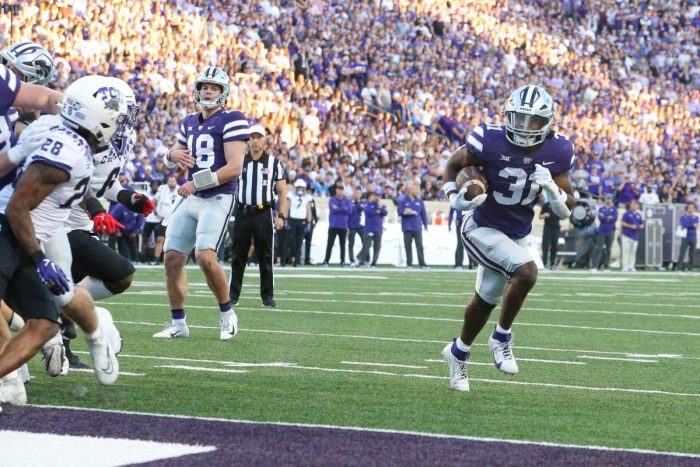 The Kansas State Wildcats defeated the TCU Horned Frogs, 41-3, in a Big 12 Conference game in Manhattan, Kan., on Saturday.
The Wildcats (5-2, 3-1 in Big 12) won their second straight game in Big 12 play and remained in a tie for second place with several other teams as the league season rolls into late October.
TCU (4-4, 2-3) fell after clobbering BYU last week as the Horned Frogs now have four more games to win two and reach bowl eligibility, one season after reaching the College Football Playoff National Championship Game.
Here are three thoughts on the game.
Is This QB Tandem Thing Gonna Work?
All the talk this week was about who was going to start at quarterback for Kansas State — veteran Will Howard or freshman Avery Johnson?
If you're wondering, Howard started. But it really didn't matter. Between the two of them they put TCU's defense in an offensive chokehold in the first half.
By halftime Howard rushed for 41 yards and Johnson rushed for a team-leading 78 yards. Neither rushed for a touchdown. They had to leave something for running back DJ Giddens to do. He had the lone rushing score of the game.
Meanwhile, Howard threw for 96 yards and Johnson threw for 72 yards. Each threw a touchdown and avoided interceptions. As a pair they weren't that efficient in the first half (8-of-19), but with 238 yards rushing there was more than enough to occupy the TCU defense.
By game's end Howard had 62 yards rushing and 154 yards passing, while Johnson had 73 yards rushing and 90 yards passing. They combined for four passing touchdowns and didn't throw an interception.
This is the first game in which the pair truly shared the workload and that was the plan going in (Johnson's performance against Texas Tech was the Wildcats riding the momentum of the moment).
If this is what the pair can do together, then the rumors of Kansas State's demise after its loss to Oklahoma State may have been greatly exaggerated.
Where is TCU's Defense?
Going into the season the word was that TCU's defense was probably better off than its offense due to the number of returning starters and the losses on offensive side, including quarterback Max Duggan, running back Kendre Miller and offensive lineman Steve Avila.
Coming off a solid performance against BYU last weekend, the Horned Frogs were looking to build on that against the Wildcats.
Well, the Horned Frogs gave up 416 yards. In Big 12 football, that's not so bad. In fact, in modern college football 416 yards allowed isn't so bad.
Did I mention that was at the end of the first half?
Yeah, that's not good.
At times TCU's defense didn't look like it watched game film. At least Texas Tech had a bit of an excuse after getting roasted by K-State and Johnson. The freshman hadn't played much this season.
TCU didn't have that excuse. There was a whole game film of Johnson treating Tech's defense as nothing more than a nuisance. He and Howard did the same to the Horned Frogs, putting the game in their back pocket by halftime (or as in your back pocket as a 24-point halftime lead can be in college football).
It wasn't just the quarterbacks. K-State was effective on third down, owned time of possession and averaged enough yardage per play to avoid too many third-and-long situations.
And the Horned Frogs couldn't stop it from happening.
=
The Future for Kansas State
The talk on this week's HCS Roundtable was "Which team was going to be eliminated from Big 12 contention this week." For the record, none of us picked Kansas State, but two of us did pick TCU. Sorry, Horned Frogs.
But the ranks of those teams that can truly challenge either Oklahoma or Texas for the top two spots is starting to thin. With its win, Kansas State remained among the one-loss teams that can still slip into the Big 12 Championship Game in Arlington, Texas, in December. This is a good opportunity to remind you that the Wildcats won that game, beating TCU last year.
After taking care of TCU, it gives one a chance to look at Kansas State's remaining schedule. And that Texas game on Nov. 4 is starting to loom large.
The Longhorns managed to avert disaster and beat Houston. So Texas still has just the one loss. Kansas State has to tangle with some ticked-off Cougars next week, while Texas hosts BYU.
If both teams win next week, and if K-State were to beat Texas in two weeks, the Wildcats would have Baylor, Kansas and Iowa State remaining on their schedule. Win out, and the Wildcats can keep themselves in the chase.
That's why that loss to Oklahoma State hurts. The Cowboys remain a one-loss team, and as long as they do it doesn't matter what the Wildcats do.
But OSU has its own big game left against Oklahoma. But that might be OSU's only remaining loss, as it faces the four new Big 12 teams in its remaining games.
Kansas State shouldn't get ahead of itself. That's our job. We're just saying there's a path for K-State to get to Arlington with each passing win.
iframe src="https://app.e2ma.net/app2/audience/signup/1986400/1964875/" width="510″ height="500″ frameborder="0″>
You can find Matthew Postins on Twitter @PostinsPostcard.