Baylor Bears
Three Thoughts on Baylor's 32-29 Win Over Cincinnati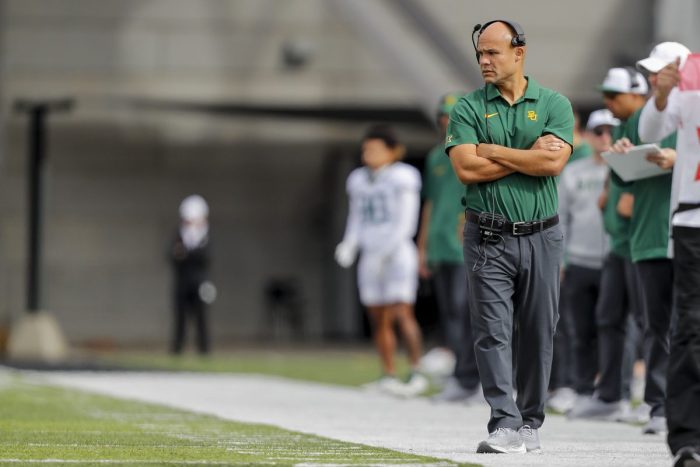 The Baylor Bears hit the road after a bye week to take on the Cincinnati Bearcats on Saturday for their Week 8 Big 12 match up. Both teams came into the game struggling, with each holding 2-4 records, while Baylor was 1-2 in conference play and Cincinnati was 0-3.
And on Saturday, the two teams were able to put plenty of points on the board, but it was Baylor coming out with a 32-29 win.
Here are three thoughts on the game.
Special Teams Were Special for Baylor
The Bears won this game thanks to their special teams play. It was the difference in the game. First, Isaiah Hankins had himself a great afternoon, hitting four field goals from 54, 43, 46 and 43 yards. Then, there was game-changing play of the first half when on a kick off by Baylor was muffed by the Bearcats, picked up and then fumbled again right to Byron Vaughns who caught in and strolled in for a score to give Baylor a 17-7 lead. This gave Baylor a nice cushion that they would need the rest of the afternoon.
Dave Aranda Needed That One
Dave Aranda is only two seasons removed from winning the Big 12, but after last year's disappointing finish after being picked at the top of the Big 12, and now the 2-4 start to the season, a loss to Cincinnati, who was winless in league play, would have been a bad loss. But Aranda and the Bears got it done, to keep their hopes of a bowl game alive and well, which will keep the heat off of Aranda for the offseason, if he gets to a bowl, which is still far from a guarantee.
Blake Shapen had himself a strong game, going 25-42 for 316 yards and one touchdown pass, while Arkansas transfer wide receiver Ketron Jackson Jr. had himself a great day with five catches for 130 yards to lead the Bears. The running game and defense (especially against the run) remain concerns, but for now a win is a win. Onto Iowa State next week.
Cincinnati's Front is a Bright Spot
Cincinnati's bright spot was its defensive front, which spent a lot of time in the Baylor backfield. Cincinnati had three sacks and 10 tackles for loss against the Bears, while also holding them to 80 rushing yards and 2.9 yards per carry.
Meantime, their offensive line was also strong, paving the way for the Bearcats to rush for 288 yards on the afternoon. Corey Kiner had himself 129 rushing yards on only 15 attempts, while Myles Montgomery had himself 10 carries for 103 yards and two touchdowns on the afternoon.
Cincinnati has reason to gain some confidence off of this one, but they're still in search of that first Big 12 win.