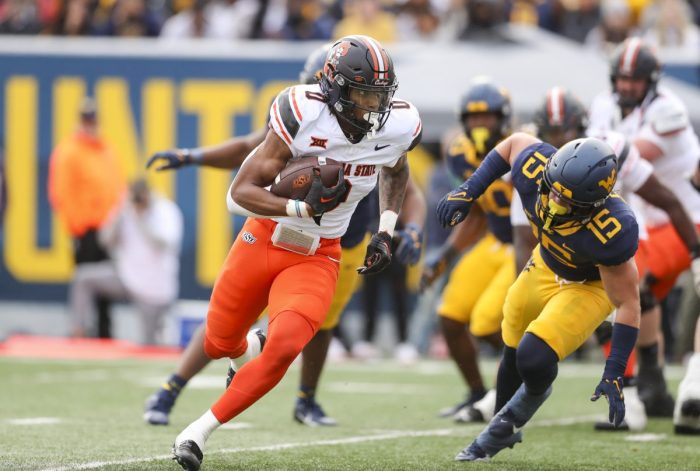 The weather in late October may be cooling down but the Big 12 title race is just heating up. There is still plenty at stake for everyone as teams are looking to remain in the hunt. In Morgantown, West Virginia, the Mountaineers were hosting the Oklahoma State Cowboys.
West Virginia is coming off a heartbreaking loss to Houston last week while Oklahoma State took care of Kansas. Each team already has a loss in conference play so another loss would be devastating to their Big 12 title hopes. In the end, Oklahoma State came out on top. Here are my three thoughts on the game.
Ollie Gordon is Not Human
What Oklahoma State did with running back Ollie Gordon earlier in the season was criminal. They barely let him touch the football and to nobody's surprise, Oklahoma State's offense struggled. Between the three-man quarterback rotation and the lack of touches for Ollie Gordon, this offense was lost.
It appears that over the last few games that this staff has realized just how good Ollie Gordon truly is. Every time they give him the ball, he makes things happen and most importantly over the last three weeks, Oklahoma State has won. Against West Virginia this offense did the same thing they did against Kansas State and Kansas which is feed this man the football.
Ollie got 29 carries and ran for a whopping 282 yards while scoring four touchdowns. He averaged almost ten yards per carry and showed no signs of slowing down. In fact, as the game went on Gordon got better. In the fourth quarter alone, he had 149 rushing yards and three touchdowns. If you are looking for the best running back in the Big 12 then Ollie Gordon may be your man.
West Virginia Was Sloppy Again
By no means is this West Virginia team sexy. If they are going to win football games, it would be because of their defense and the rushing attack. Controlling the game is key for this team because they are not equipped to handle shootouts. Last week against Houston, West Virginia played sloppy football. They had defensive breakdowns and made some bad mistakes between turnovers and penalties.
Against Oklahoma State, those same issues came up once again. Defensively, they had no answer for Ollie Gordon. The Mountaineers gave up nearly 300 yards on the ground and had some major breakdowns. While the offense managed to put up some points, they also had a rough start as they started their first two drives with turnovers. Plus, special teams had a muffed punt deep in their own territory that gave Oklahoma State great field position to score. If this team is going to get back in the win column, then they need to clean these types of things up.
Oklahoma State is For Real
Many people (including myself) gave up on this team earlier in the year. At one time they were sitting at 2-2 coming off back-to-back losses against South Alabama and Iowa State. Then this team got a much-needed bye week.
After that bye week, Oklahoma State looked like a completely different team. They settled on Alan Bowman at quarterback, gave Ollie Gordon more opportunities and tackled better. The Cowboys have now reeled off three straight conference wins against Kansas State, Kansas, and West Virginia. As I type this, there are now just five teams left in the Big 12 with less than two losses in conference play and Oklahoma State is one of those teams. Maybe it's time we start taking this team serious as a Big 12 title contender.