Baylor Bears
Big 12 Football Week 8: The Good, the Bad, and the Ugly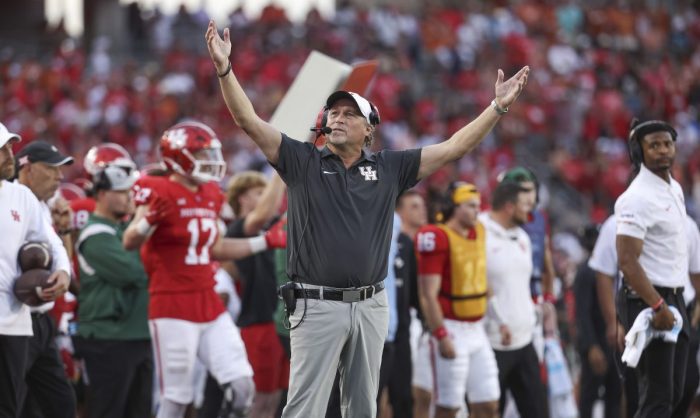 Week 8 is officially in the books as the Big 12 Conference had yet another exciting weekend. The action started on Saturday morning and ended Saturday night in Provo. Here is the good, bad, and ugly from Week 8 in the Big 12.
The Good
Oklahoma Escaped (Beat UCF 31-29)
It was fairly clear early on in this game that Oklahoma was going to have a tough time. It seemed like they were a little sluggish coming out of the bye and the big win over Texas two weeks ago. Neither the offense nor defense had their best performance but they somehow managed to get the job done. Dillon Gabriel threw for three touchdowns and when the Sooners needed a game winning drive, he was able to put one together just like he did against Texas. And when Oklahoma needed a late game stop, they kept UCF from converting the two-point conversion and recovered an onside kick. It doesn't matter how you win in the Big 12, as long as you get the job done which the Sooners did.
Baylor's Special Teams (Beat Cincinnati 32-29)
We don't talk about special teams much here, but I had to give Baylor some credit there. Isaiah Hankins had himself a great afternoon, hitting four field goals from 54, 43, 46 and 43 yards. Plus, Byron Vaughns picked up a muffed punt and took it in for a score that helped give Baylor a 17-7 lead and they never looked back. Cincinnati made things a little interesting late, but the Bears would not have won this game without great special teams play because the offense continuously stalled out and their defense wasn't up to par either.
Ollie Gordon Went Off (Oklahoma State Beat West Virginia 48-34)
On a day where the defense struggled, thankfully Oklahoma State had Ollie Gordon on offense. Ollie ran for 282 yards and four touchdowns against a good West Virginia defense. It seemed like as the game went on, he got better. In fact, in the fourth quarter alone, Gordon ran for 149 yards and three touchdowns. Some people don't even do that in eight quarters and this man did it in one. I am just glad that this staff finally realized to give him more touches because he is who the offense should run through.
Texas Held On (Beat Houston 24-21)
For a while there I thought this game was going to be a blowout. The Longhorns got out to a 21-0 lead within the first 20 minutes of the game. Quinn Ewers looked great early, and Houston showed no signs of slowing down the Texas offense. However, things changed after that missed fake field goal. There was a definite momentum swing after that. The defense allowed two drives that went for over 70 yards and gave up two touchdowns in the second quarter. Things went from bad to worse for Texas though because Quinn Ewers got hurt and Maalik Murphy had to come in. Somehow the offense did enough to win, and the defense almost let Houston tie the game late on that final drive. Much like their rival to the north, Texas escaped Houston with a win.
BYU's Defense (Beat Texas Tech 27-14)
After allowing 44 points to TCU last weekend, BYU's defense locked up against Texas Tech. The Cougars did a nice job of slowing down Tahj Brooks, but how about their ability to get some takeaways? BYU came up with five turnovers in this game which set up their offense to score some points. Sure, they left some points on the field, but I thought they did an outstanding job of controlling the game from start to finish.
Kansas State's Rushing Attack (Beat TCU 41-3)
Watch out because these Wildcats are on a tear. Kansas State ran for nearly 350 yards on the ground and had over 400 yards of offense in the first half. Kansas State got off to a 21-0 lead in the first quarter and never looked back. Both Will Howard and Avery Johnson looked good, and I was really impressed with the offensive line opening up some holes. While the offense was cooking, the defense was dominating. They held TCU to convert just 2/13 on third down and gave the offense plenty of chances. In fact, this offense held the ball for almost 40 minutes of the game. It truly was a dominating performance by Kansas State and this team should be taken as a serious threat.
The Bad
UCF Was Close (Lost 31-29 to Oklahoma)
I know there is no celebrating a loss, but this UCF should not hang their heads after a game like this. It was great to see John Rhys Plumlee back in action and this game showed me just how different this offense is with him in the lineup. He makes things happen and the offense seems to have a better flow. The defense still has a few issues to work out but overall, UCF put up one hell of a fight in Norman which is not something many teams can do. If I had to make one complaint it would be on the two-point conversion attempt, I don't understand taking the ball out of your best player's hands and trying to pull off a double pass from short distance.
Cincinnati is Still Looking for Their First Win (Lost 32-29 to Baylor)
There are only two teams in the Big 12 who have yet to win a conference game and Cincinnati is one of them. The Bearcats finally showed some life offensively as they rushed for 288 yards and Emory Jones didn't turn the ball over for once. Unfortunately, they were down early and couldn't quite get out of that hole. I know this was not the result Cincinnati wanted but this was their best effort in weeks.
West Virginia's Defense and Turnovers (Lost 48-34 to Oklahoma State)
Against Houston last week, the Mountaineers had some defensive breakdowns and that continued against Oklahoma State. West Virgina allowed Oklahoma State to run for over 280 yards on the ground and got worse as the game went on. And while the offense put up enough points to win, they had two turnovers to start the game. It also didn't help that special teams had a muffed punt that led to an Oklahoma State score. This team prided themselves on winning games by controlling the clock, playing good defense and penalty free. Right now, they aren't doing that, and it has cost them in back-to-back weeks.
Houston's Failed Comeback (Lost 31-24 to Texas)
I know it seems like there is a lot of positivity for these teams that lost, and I feel like Houston is in that same category. When they were down 21-0, I gave up on this team. Instead, they battled back and eventually tied the game at 21-0. Donovan Smith played a good game and when the run game wasn't working, he was able to make some things happen. The Cougars even had a chance late in the game to try and tie it but unfortunately fell short on a fourth down even though I thought they got the first down on the previous play (and so did Dana Holgorsen). I just wish I could see that same fight from Houston for four full quarters instead of two and a half.
The Ugly
Texas Tech's Turnovers (Lost 27-14 to BYU)
It feels like the same song and dance from last week for Texas Tech. They had to play third string true freshman quarterback Jake Strong on the road and they let him air it out. He ended up throwing three interceptions just like he did against Kansas State. And if not for a few drops by BYU's defense, he could have easily thrown two or three more. This team had a total of five turnovers which makes it nearly impossible to win on the road. Especially at a place like BYU. I hope Behren Morton gets healthy soon because this team needs a boost.
TCU (Lost 41-3 to Kansas State)
I am almost left speechless by this score, but I think I can find a way to tell you how I feel. TCU was pathetic and there is no other way to say it. This was the most embarrassing performance I have ever seen from a TCU football team. The offense went 2/13 on third down and held the ball for just 20 minutes because they couldn't move the chains. Josh Hoover was bad, and the defense was worse as they gave up nearly 350 rushing yards to Kansas State. They also allowed Kansas State to go 10/13 on third down which is insane. What happened to the team I saw against BYU? Because what I saw on Saturday was about as ugly as ugly can get.