Big 12 News
Chris Klieman Comments on if Two-Quarterback System is Permanent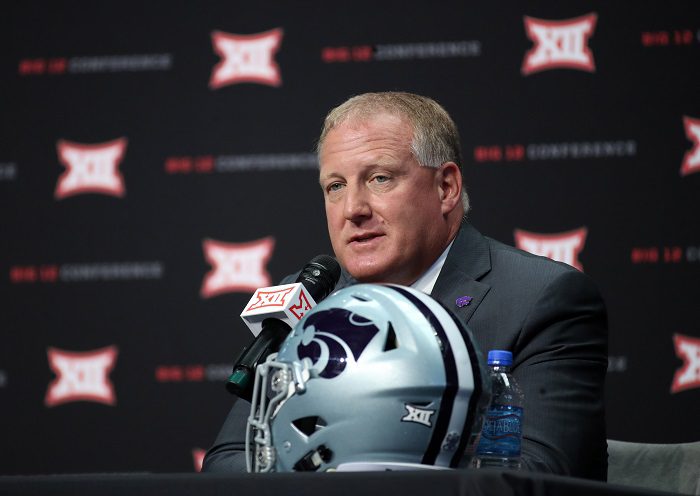 Chris Klieman and the Kansas State Wildcats dominated the TCU Horned Frogs for the full duration of Saturday's matchup all while switching quarterbacks on each drive.
While the quarterback rotation hasn't typically worked out for most teams, the Wildcats' combination of Will Howard and Avery Johnson has been thunder and lightning as a one-two punch. Klieman was asked post-game if that trend would continue and provided a relatively vague answer on the future approach.
Klieman took the stand following Saturday's 41-3 victory over TCU and was asked if the rotation would continue which prompted Klieman to say, "I don't know. I don't think so."
To Klieman's credit, the two quarterbacks under center are both special and it showed on Saturday night. Will Howard took the first drive of the game for the Cats and led the team down the field with ease followed by a similar second drive performance from true freshman Avery Johnson.
Howard finished his day with ten completions for 154 yards and three scores through the air and added four carries for 62 yards on the ground against TCU. Johnson hit on some big chunk plays through the air with five completions for 90 yards passing and a score, and toted the rock 16 times for 73 yards.
While the QB split may or may not continue to work its way through the regular season, Chris Klieman and the Wildcats have two very capable quarterbacks to lean on in their quest to get back to Arlington. K-State takes on Dana Holgorsen and the Houston Cougars at home in Manhattan on Saturday, October 28th at 11 AM CT.