Baylor Bears
Five Biggest Takeaways From Week 8 of the Big 12 Football Season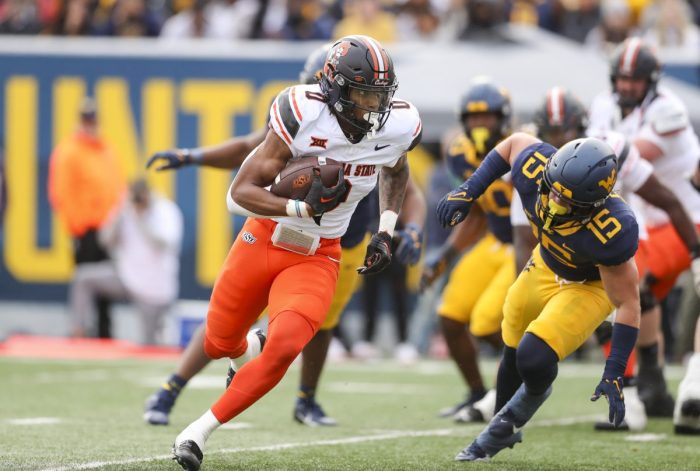 Week 8 of the Big 12 football season is in the books as the college football season crosses the halfway mark. How?! There were six games on the docket, and while there weren't as many stunning outcomes as the last couple of weeks, the Big 12, once again, proved to be the most entertaining conference in America.
So with another great week in the books, here are the five biggest takeaways from Week 8 in the Big 12 Conference.
The Oklahoma/Texas vs. Rest of the Big 12 Gap
Maybe, just maybe, the gap between Oklahoma and Texas, plus the rest of the Big 12, isn't as wide as we previously thought.
I'm not convinced that's the case, but after Saturday's results, I'm at least willing to consider it. Oklahoma had to come back in the fourth quarter to beat UCF on Saturday. And that included UCF being a two-point conversion away from likely forcing overtime in Norman. Meantime, the Longhorns also had to hold off Houston late in the fourth quarter. And that game ended with some controversy as well. Here's what Dana Holgorsen said about that.
Maybe both teams were just really hungover from an epic Red River Showdown. But regardless, they were off bye weeks, so that's inexcusable. There's more to learn next week as Oklahoma travels to Kansas and Texas hosts BYU.
Ollie Gordon, My Gosh
The Oklahoma State running back had himself a day. Ollie Gordon rushed the ball 29 times for 282 yards and four touchdowns as the Cowboys beat the Mountaineers 48-34. Gordon has been the most important player during Oklahoma State's three-game winning streak. Against Kansas State, he finished 21 carries for 136 yards and a score. Then, against Kansas, Gordon rushed for 168 yards, along with 116 receiving yards and two touchdowns.
He's been the best player in the Big 12 Conference during this three-week stretch as Oklahoma State's season has completely turned around. And don't look now, but Oklahoma State has five games remaining, with four of those against the four new Big 12 schools, who are now a combined 3-13 in league play. Of course, the one of the five that matters, Oklahoma, in the final Bedlam for who knows how long and suddenly becomes much more interesting than it seemed just three weeks ago.
Texas Tech is a Massive Disappointment
The Red Raiders are officially the most disappointing team in the Big 12 Conference this season. Tech is 3-5 overall and 2-3 in Big 12 play with their last two losses by a combined 30 points to K-State and BYU. This is a team that many of us thought could compete for a Big 12 Championship Game appearance, and frankly, Tech bought into, and sold its fan base, some of that hype. Well, it was nothing but smoke and mirrors.
Yes, being on a third-string quarterback makes life difficult for any team, but that then brings up OC Zach Kittley, who is getting put on blast by Tech fans. Many, understandably so, believe Kittley is asking too much of a freshman quarterback, Jake Strong, who threw three interceptions each of the past two weeks.
Now comes Texas Tech's bye week to try and figure out what the rest of this season is going to look like. At this point, even a bowl game isn't a guarantee.
Kansas State is Reformed
The Kansas State Wildcats have completely turned their season around with back-to-back dominant wins. And Saturday's 41-3 demolishing of TCU was the most complete game of the season for the Wildcats. The two-quarterback system is working much better than anyone could have predicted (somewhere Mike Gundy is yelling, "This is what I was trying to do!"), as both Will Howard and Avery Johnson are effective and efficient.
Big props to Howard, who is not sulking over losing half of his job. Instead, he's risen to the challenge and it seems like these two guys are effectively pushing each other. The defense has been suspect, especially the secondary, but on Saturday, that unit held QB Josh Hoover to a 26.9 QBR and kept the running game in check (113 yards).
This is the K-State team many of us thought could repeat as Big 12 champs. And the good news for them is that they still have those goals in front of them.
Underdogs Keep Covering, and Winning
The last two weeks, the underdogs won outright in eight of ten Big 12 games. This week, it wasn't as dramatic, but it clearly still proved the Big 12 is the most unpredictable conference in college football. The underdogs won three of the six games overall, and the underdogs covered in five of the six games this weekend. The only favorite to win and cover the spread was Kansas State, who crushed TCU 41-3. Meantime, the underdogs who won outright were BYU (vs. Texas Tech), Oklahoma State (vs. WVU) and Baylor (vs. Cincinnati). And then Houston (vs. Texas) and UCF (vs. Oklahoma) were the two dogs who covered the big spread, and nearly pulled out wins.
What another awesome Big 12 week. Please consider subscribing to our weekly newsletter below to never miss any of the action from Heartland College Sports! Have a great Sunday.