Oklahoma Sooners
Lincoln Riley was Full of Excuses Following Utah Loss: OU Fans Have Heard Them All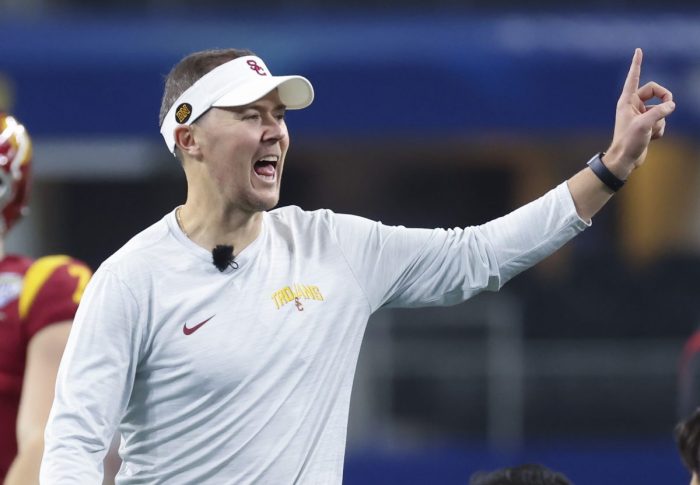 It was a scene all Oklahoma fans were likely all too familiar with. Following a loss, Lincoln Riley takes the podium and goes deep into his book of excuses.
This time, it was after the Trojans dropped a second-straight game, this one was against Utah in Week 8 of the college football season.
I'm not trying to give OU fans any PTSD here, but here's what Lincoln Riley said.
"Expectations were kind of all over the place [in 2022]. We come in and, by-and-large, and overachieve in a lot of ways. Year 2, this is a different step. Everyone expects you to be good. Everyone expects you to have a Championship caliber team. And when you're constantly trying to live up to those expectations, you can kind of fall away from what put you there in the first place. And you can let disappointment of not playing perfect… and all the outside noise, it can get to you. And I think it's fair to say, at times, it's gotten to this team. And I don't think in a negative way. We've had to really fight to keep things on our own terms… and I think that's part of our progression as a program. When you haven't been in this position in a while, it takes time. It's going to take some tough lessons to learn. These aren't lessons we could have learned last year. Like it wasn't, it wasn't like this. This is part of our progression. It sucks. It kills ya, but htis program will be better for it. Because for the first time in a while there are going to be championship expectations here. And those aren't going anywhere. We aren't going anywhere. We signed up to do this thing for a long time… in the big picture, this program will get ready to be back on the stage it was at for a long, long time. And I look forward to being a part of that. A lot of great memories ahead."
Incase you're an OU fan and really want all the feels, here's the video of that clip.
Lincoln Riley fumbles through excuses and sounds like a man trying to stay off the hot seat. pic.twitter.com/PXM8JDAL3G

— Jaben4Real (@Jaben4Real) October 22, 2023
As we noted last night on Twitter, rewind one year ago when USC was the toast of college football and OU was struggling, who would have predicted this one year later.
One year ago today…

Oklahoma was 4-3.

USC was 6-1 and ranked No. 12.

You know what the narrative was.

Today:

Oklahoma is 7-0. Ranked No. 6.

USC is 6-2. Barely holding on to a Top 25 by Sunday?

— Heartland College Sports (@Heartland_CS) October 22, 2023
Meantime, Oklahoma is No. 6 in the nation at 7-0 and finds itself with an incredibly bright future heading into the SEC next season.
I don't think OU fans would trade for anything right now.