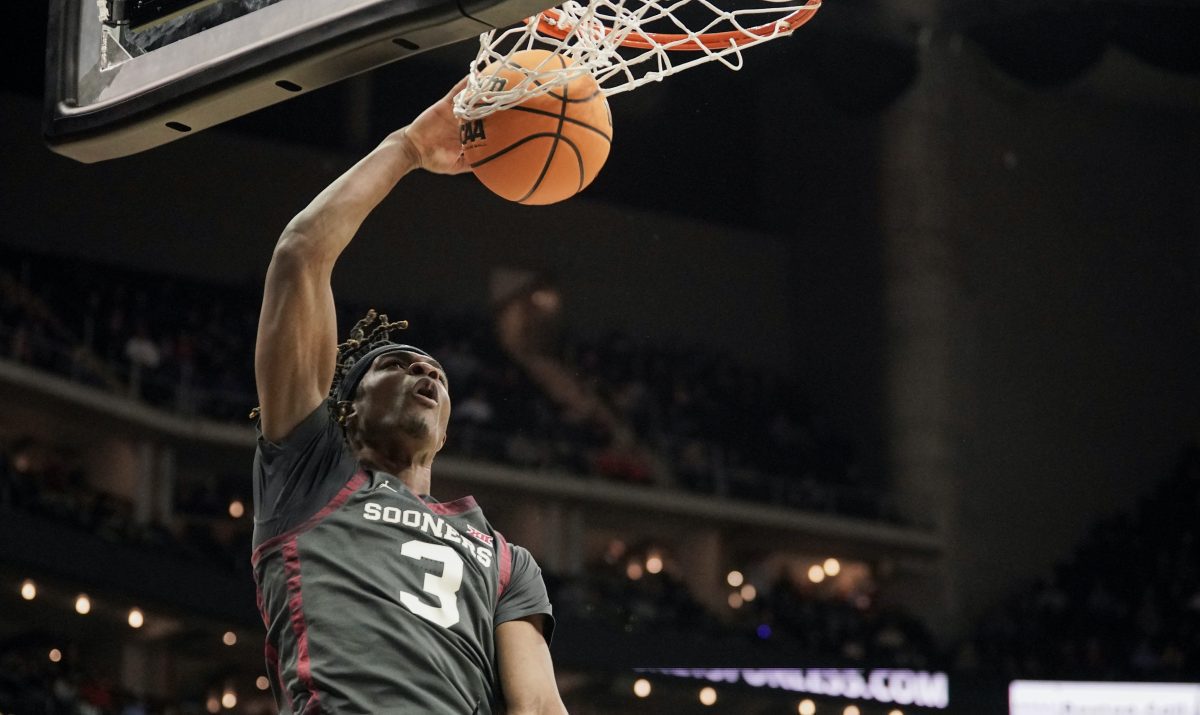 The 2023-24 Oklahoma Sooners men's basketball schedule is complete and here is an analysis of the entire schedule as Big 12 basketball season nears.
Season Opener
Fire up Chips, as they say in Mount Pleasant, Mich. The Central Michigan Chippewas will travel to Norman to face the Oklahoma Sooners on Nov. 6.
Going Back to Cali
The Sooners will play two games at the Rady Children's Invitational in San Diego, Calif., on Nov. 23-24. Oklahoma will start the two-day multi-team event with Iowa. Depending up what they do, the Sooner will then face either Seton Hall or USC on Nov. 24.
Best Non-Con Game
Oklahoma will play Arkansas on Dec. 9 in what they're billing as the Crimson and Cardinal Classic in Tulsa, Okla. This is a great measuring stick game for the Sooners as the Razorbacks went to the second weekend of the NCAA Tournament a season ago and the Sooners desperately want to get back to the NCAAs.
Big EAST/Big 12 Battle
The possibility exists for the Sooners to play two Big East teams this season. But the one Big East team they're guaranteed to play is Providence, as the Friars will visit the Lloyd Noble Center on Dec. 5. Last season Providence won 21 games, but their head coach, Ed Cooley, took over at Georgetown.
Mid-Major Danger Game
Funny thing. This schedule isn't exactly teeming with trap games with mid-major programs. In fact, every game the Sooners will play against a mid-major or low-major team this season is against a team that finished well under .500 a season ago. If the Sooners are in good shape, they should collect some easy wins sandwiched around a set of quality games against high-major opponents.
Big 12 Opener
Oklahoma will start its final Big 12 slate with a home game against Iowa State on Jan. 6.
Big 12 Road Opener
The Sooners visit TCU on Jan. 10 in a prime-time game, and that is followed by a trip to Kansas the following weekend.  
Brutal Big 12 Stretch
If you have questions about the Sooners, you're going to get answers fast. Their first six games are against Iowa State, TCU, Kansas, West Virginia, Cincinnati and Texas. There are two games in there the Sooners need to win — West Virginia and Cincinnati. In the rest they need to show they can be competitive and steal a win somewhere.
What Should Happen?
The Sooners endured a lot of turnover for the second straight offseason. With the returns of Otega Oweh and Milos Uzan, the Sooners have two good building blocks from last season. But there's a lot of chemistry that needs to be built and some more scoring has to emerge. Porter Moser's first two teams at OU have been slightly above average in comparison to the rest of the conference. This roster needs to be better if the Sooners want to get to the NCAA Tournament.
Oklahoma Sooners 2023-24 Men's Basketball Schedule
Nov. 6 vs. Central Michigan, 7 p.m.
Nov. 10 vs. Mississippi Valley State, 7 p.m.
Nov. 14 vs. Texas State, 7 p.m.
Nov. 17 vs. UTRGV, 7 p.m.
Nov. 23 vs. Iowa@, 2 p.m.
Nov. 24 vs. Seton Hall or USC@, 2:30 p.m.
Nov. 30 vs. Arkansas-Pine Bluff#, 7 p.m.
Dec. 5 vs. Providence$, 6 p.m.
Dec. 9 vs. Arkansas%, 3 p.m.
Dec. 16 vs. Green Bay, 8 p.m.
Dec. 20 vs. North Carolina&, 8 p.m.
Dec. 28 vs. Central Arkansas, 7 p.m.
Dec. 31 vs. Monmouth (NJ), 2 p.m.
Jan. 6 vs. Iowa State*, 5 p.m.
Jan. 10 at TCU*, 8 p.m.
Jan. 13 at Kansas*, 1 p.m.
Jan. 17 vs. West Virginia*, 7 p.m.
Jan. 20 at Cincinnati*, noon
Jan. 23 vs. Texas*, 6 p.m.
Jan. 27 vs. Texas Tech*, 1 p.m.
Jan. 30 at Kansas State*, 7 p.m.
Feb. 3 at UCF*, 3 p.m.
Feb. 6 vs. BYU*, 6 p.m.
Feb. 10 vs. Oklahoma State*, 6 p.m.
Feb. 13 at Baylor*, 8 p.m.
Feb. 17 vs. Kansas, 3 p.m.
Feb. 24 at Oklahoma State*, 3 p.m.
Feb. 28 at Iowa State*, 7 p.m.
March 2 vs. Houston*, 7 p.m.
March 5 vs. Cincinnati*, 7 p.m.
March 9 at Texas*, 1 p.m.
Bold denotes home games; @-Rady Children's Invitational, at San Diego, Calif.; #-at McCasland Field House, Norman, Okla; $-Big East/Big 12 Battle; %-Crimson and Cardinal Classic, Tulsa, Okla.; &-Jumpman Invitational, Charlotte, NC; *-Big 12 games; Home games played at Lloyd Noble Center, Norman, Okla. Game times local to Oklahoma (central); Big 12 Tournament, Nov. 12-16, Kansas City, Mo.