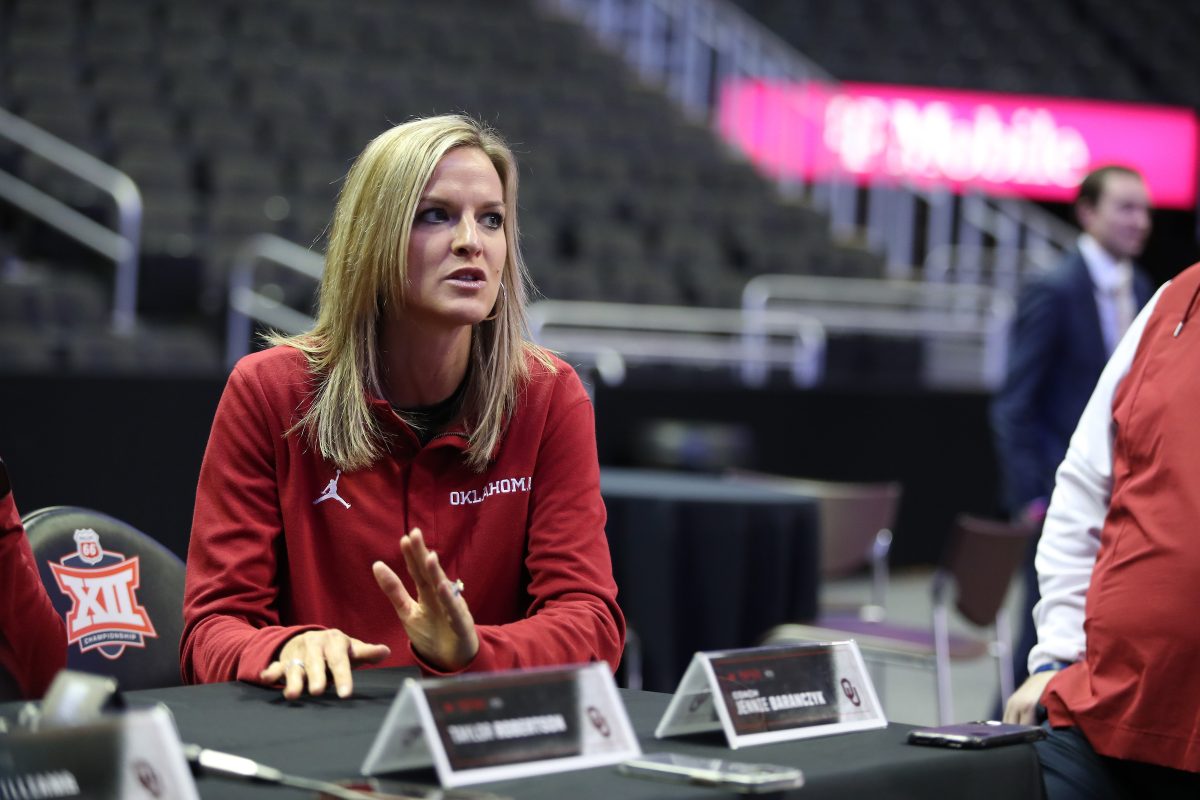 The 2023-24 Oklahoma Sooners women's basketball schedule is complete and here is an analysis of the entire schedule as basketball season nears.
Season Opener
The Sooners get off to a solid start on Nov. 6 when they host Wichita State at the Lloyd Noble Center.
Fun in the Sun
Down at the Fort Myers Tip-Off in Fort Myers, Fla., the Sooners will get in two games and one is a big one. On Nov. 23 Oklahoma will face a pesky Princeton team. Then, on Nov. 25, the Sooners will tangle with Tennessee. This should be a great measuring stick game for the Sooners as they figure out life without Madi Williams, Taylor Robertson and Ana Llanusa.
Best Non-Con Game
Well that Tennessee one certainly sticks out. But let's not overlook North Carolina on Dec. 19 when the return to Charlotte for the Jumpman Classic. North Carolina is coming off a 22-win season in 2022-23 and was nationally ranked. Between the Vols and the Tar Heels, the Sooners should know where they're at as a team going into Big 12 play.
Mid-Major Danger Game
UNLV on Dec. 9. Book it. This is the game that could give the Sooners some real trouble. You're closing in on final exams and the holidays and the Lady Rebels are coming off a 31-win season that saw them win the Mountain West and a trip to the NCAA Tournament. Of course, one of those three losses last season came at the hands of Oklahoma State. So there's that.
Big 12 Opener
The Sooners will open their final Big 12 season at home on Dec. 30 when they host the UCF Knights.
Big 12 Road Opener
Oklahoma goes on the road for a game on Jan. 3 against BYU. In fact, the Sooners open the season with three of the four new schools, as they return home on Jan. 6 to host Cincinnati.
Brutal Big 12 Stretch
The Sooners have a testy four-game stretch at the end of January, starting with a road game at rival Texas on Jan. 24. After that, the Sooners get two games at home but they're against both Kansas schools — the Jayhawks on Jan. 27 and the Wildcats on Jan. 31. As the calendar turns to February, the Sooners go to Stillwater for the first Bedlam game with Oklahoma State on Feb. 3.
What Should Happen?
In spite of the loss of the program's three super-seniors (Williams, Robertson and Llanusa), the Sooners are set up to be a contender again in their final Big 12 season. Skylar Vann should move into the starting lineup, the Sooners still have Neveah Tot and Liz Scott to lean on and a group of young players and transfers should get opportunities to shine. The NCAA Tournament should await the Sooners when the Big 12 Tournament concludes.
Oklahoma Sooners 2023-24 Women's Basketball Schedule
Nov. 6 vs. Wichita State, noon
No. 9 at Ole Miss, 6 p.m.
Nov. 12 vs. Oral Roberts, 2 p.m.
Nov. 15 vs. Alabama State, 10:30 a.m.
Nov. 19 at Virginia, 1 p.m.
Nov. 23 vs. Princeton@, 2 p.m.
Nov. 25 vs. Tennessee@, 12:30 p.m.
Dec. 1 vs. Grambling State, 6 p.m.
Dec. 9 vs. UNLV, 2 p.m.
Dec. 19 vs. North Carolina#, 8:30 p.m.
Dec. 22 vs. Southern, noon
Dec. 30 vs. UCF*, 2 p.m.
Jan. 3 at BYU*, 8 p.m.
Jan. 6 vs. Cincinnati*, noon
Jan. 10 at Kanas State*, 6 p.m.
Jan. 13 vs. Texas Tech*, 2 p.m.
Jan. 20 at Houston*, 6 p.m.
Jan. 24 at Texas*, 6 p.m.
Jan. 27 vs. Kansas*, 6 p.m.
Jan. 31 vs. Kansas State*, 6 p.m.
Feb. 3 at Oklahoma State*, 4 p.m.
Feb. 7 vs. TCU*, 6 p.m.
Feb. 10 at Iowa State, TBA
Feb. 14 vs. Baylor*, 6 p.m.
Feb. 17 at West Virginia*, noon
Feb. 20 at Cincinnati*, 5 p.m.
Feb. 24 vs. Oklahoma State*, 1 p.m.
Feb. 28 at Texas*, 6 p.m.
March 2 at Kansas*, TBA
Bold denotes home games; @-Fort Myers Tip-Off, at Fort Myers, Fla.; #-Jumpman Invitational, Charlotte, NC; *-Big 12 games; Home games played at Lloyd Noble Center, Norman, Okla. Game times local to Oklahoma (central); Big 12 Tournament, March 7-12, Kansas City, Mo.