Basketball
Postscripts: Big 12 Basketball Tournament Drama, Bill Self's Intense Recruiting Approach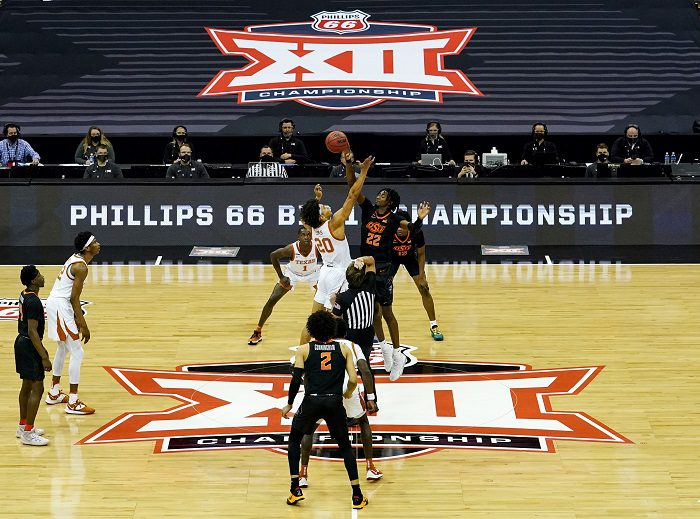 What's going on in the Big 12 and beyond? I expand and explain every Sunday in Postscripts at Heartland College Sports, your home for independent Big 12 coverage.
This week, we had a fun discussion about Big 12 Tournament locations, more Big 12 basketball coverage and Bill Self is ready to take some prisoners … on the recruiting trail.
A Big 12 Tournament Brouhaha
Never before has the location of a single basketball tournament caused so much, um, discourse, let's say?
On Tuesday I was in Kansas City for Big 12 Media Days when commissioner Brett Yormark announced that the conference is exploring a long-term deal with Kansas City to keep the tournament there through 2031.
That set of a Utah fan. Or a Utah troll. I couldn't tell which.
Brett Yormark is in the process of making his first mistake as Big 12 Commissioner.

I haven't been to Kansas City (yet), but in no world is that a more appealing destination for a conference tournament that spans several days than Las Vegas.

With Pac-12 gone, Vegas is open. https://t.co/S4VRnl4lyZ

— Glass Half Ute. (@GlassHalfUte) October 17, 2023
Oh, so it's the first bad decision of his tenure? That's a bold statement. He got roasted by just about every Big 12 fan account I keep up with. It also became clear that he did it for attention, as in his initial tweet he said that he had never been to the tournament before. It was hard to take his opinion serious, especially when an hour later he listed all the reasons Big 12 fans gave him for keeping the tournament in Kansas City.
Several other Utah accounts got in to it to get whatever traction they could out of it because I guess that's what we do these days. Utah fans now know their president helped destroy their current conference. Wanna be made at someone about having to join the 'Truck Stop Conference?' Track him down.
The idea of the Big 12 Tournament moving around was a legitimate news story last fall when we convened in Kansas City. Yormark had just taken over and he inherited a contract that would take the Big 12 Tournament in Kansas City through 2027. He wasn't sure what the league would do after that. He also made it clear that he had never experienced the tournament before and didn't want to make any decisions before being part of it.
After experiencing it once, he was apparently sold. He also made it clear that he needed Kansas City to make some improvements to T-Mobile Center that would help the league drive more revenue in future tournaments.
After the made-for-TV press conference, we usually get a few extra minutes with Yormark (we call it the scrum). I asked him that very question — should we take the idea of a long-term extension as a nod to what Yormark was hoping Kansas City would do to further support the tournament?
"I'm very satisfied," Yormark said. "We've had several strategic meetings since last year's championship on how do we re-invent the building for our championship experience, add clubs, add premium seating? How do we further activate the Power and Light District? How do we integrate ourselves further into the community?
"We're moving in a real positive direction."
What I think Yormark liked the most, and he has referenced this, was that the Big 12 Tournament is the only show in town that week. If, for instance, the tournament were moved to Las Vegas, it would be one of several tournaments. The Big 12 would also be competing with the entire city of Las Vegas for the entertainment dollar. There is no shortage of stuff to do there, if you haven't heard.
I've been to four Big 12 Tournaments. I've never seen a city support this tournament like Kansas City does. The only inconvenience I've suffered — aside from the COVID shutdown — is one day of snow on the first day of the men's tournament in 2022. So I just put on my boots and walked to the arena. It was still packed. Nothing keeps these Big 12 fans and the locals from basketball.
There are plenty of good reasons for the tournament to stay in Kansas City. Frankly, the only good reason I can think of to move the tournament is just for the sake of moving it. Having been to the tournament in Dallas, I can tell you that the DFW didn't support that tournament in the way Kansas City does.
But a better marriage of location, economic impact and basketball you're unlikely to find than the Big 12 Tournament in Kansas City.
Big 12 Basketball Preview
The 2023-24 Big 12 basketball season will be here before you know. Big 12 Media is now behind us and we're counting down the days until basketball season starts.
I know everyone is focused on football but I'm paying attention to basketball for you, and each week here in Postscripts I'll link to all of our preview material for the next season in the best basketball conference in the country.
Men's Roster Previews: Baylor | BYU | UCF | Cincinnati | Houston | Iowa State | Kansas | Kansas State | Oklahoma | Oklahoma State | TCU | Texas | Texas Tech | West Virginia
Women's Roster Previews: Baylor | BYU | UCF | Cincinnati | Houston | Iowa State | Kansas | Kansas State | Oklahoma | Oklahoma State | TCU | Texas | Texas Tech | West Virginia
Men's Schedule Analysis: Baylor | BYU | Cincinnati | UCF | Houston | Iowa State | Kansas | Kansas State |
Women's Schedule Analysis: Baylor | BYU | Cincinnati | UCF | Houston | Iowa State | Kansas | Kansas State |
The Bill Self that Should Scare You
I wasn't able to attend the men's portion of Big 12 Media Days. One of my other freelance jobs is covering the Texas Rangers for InsideTheRangers.com, so I had to return early to cover Games 3, 4 and 5 of that series.
But I kept up with Wednesday from Arlington and aside from Kansas coach Bill Self showing obvious relief after finally getting the NCAA stuff behind him, one thing became clear — recruiting is about to become his mission in life.
And he is taking no prisoners.
Bill Self, now that the case of infractions are over and they can go full go with recruiting: "We're going for people's throats." #kubball pic.twitter.com/yLtzjwDPEA

— Harold R. Kuntz (@HaroldRKuntz3) October 18, 2023
"We're going for people's throats," Self said.
And this is a program where earlier this week new Jayhawks center Hunter Dickinson said that three of the recruits that Self picked up for THIS class could play in the NBA one day.
Clearly, the epic duration of this investigation made it hard for Self to recruit and he has his eyes on making up for lost time.
That should worry everyone in the Big 12 and the rest of the country, especially in the NIL era.
You can find Matthew Postins on Twitter @PostinsPostcard.