Big 12 News
Quinn Ewers Suffers AC Joint Sprain and is Expected to Miss 'Some Time': Report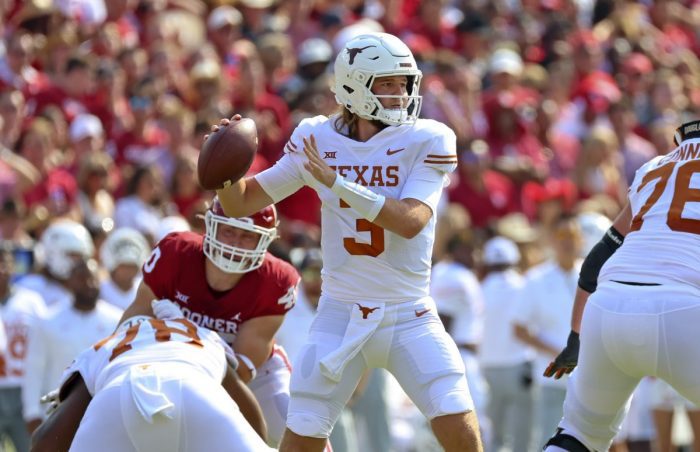 After suffering a shoulder injury vs. Houston on Saturday night, Texas quarterback Quinn Ewers is expected to miss "some time", according to a new report from ESPN's Pete Thamel.
Thamel added that the injury is a Grade 2 AC joint sprain, according to an MRI. The injury is not going to end his season, but it's not clear on how much time he will miss at this point. More details are expected throughout the week.
Ewers scrambled on a third down play in the second half and was popped by Houston linebacker David Ugwoegbu, which caused Ewers to abruptly head to the sideline. After the game, he was seen with a sling around the throwing arm.
Ewers finished the game with 211 yards passing (23-for-29) with two touchdowns and no interceptions as Texas held on to beat Houston 31-24. He has been the Longhorns' starting quarterback from the beginning of the season, despite the presence of Murphy and the nation's top quarterback recruit, Arch Manning.
This isn't the first time that Ewers has hurt his shoulder at Texas. During the Alabama game last season he suffered a shoulder injury in the first quarterback against the Crimson Tide and was replaced by Hudson Card.
Sarkisian won't speak to the media again until his normal media conference in Austin on Monday, as the Longhorns prepare to host BYU next week in Austin.