featured
HCS Roundtable: Biggest Winners and Losers In Week 8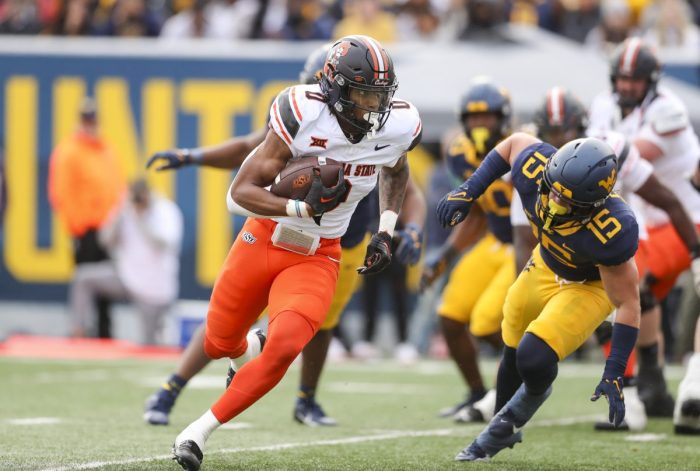 Another week has come and gone, and now we're heading into Week 9 of the 2023 college football season.
This past weekend, we saw the perceived leaders of the Big 12 race (Oklahoma and Texas) get taken to the wire by teams that have been near the bottom of the conference standings. We also saw a pair of teams emerge as legitimate contenders to make the Big 12 Championship Game, as both K-State and Oklahoma State won big over TCU and West Virginia, respectively.
There were several key outcomes this weekend and heading into Week 9, it's time to take stock of what things look like now that the dust has settled.
With that being said, the Heartland College Sports staff will take each week to name the week's biggest winner and loser. Here's a look at their answers for Week 8.
Pete Mundo
Biggest Winner: Kansas State
For the last two weeks, the Cats look like the team we all thought they would be, and that's having the ability to compete at the top of the Big 12 Conference. The two-QB system is working better than anyone could have ever expected with Will Howard and Avery Johnson. Kudos to Howard for handling this well and Johnson for being well ahead of most freshmen. The defense had its best performance of the season on Saturday against TCU, allowing just three points, one we after TCU scored over 40 against BYU. K-State is right back in the mix ahead of a huge showdown in two weeks against Texas.
Biggest Loser: West Virginia
The Mountaineers were the toast of the Big 12 two weeks ago. But now, they've lost two games in a row and their defense looks like it may be a paper tiger after giving up 89 points the last two weeks, and nearly 300 rushing yards to Ollie Gordon on Saturday. Neal Brown was off the hot seat two weeks ago, and while he still can reach the 8-win mark, it's safe to say it's warming back up a bit right now.
Bryan Clinton
Biggest Winner(s): The "Second Tier" of the Big 12
Kansas State officially threw their hat in the ring as Big 12 contenders with a 41-3 shellacking of TCU. Oklahoma State went to Morgantown and continued its newfound love of handing the ball to Ollie Gordon, which resulted in a 48-34 road victory. Iowa State finds itself at 3-1 in Big 12 play and gets Baylor off the bye week. Kansas and BYU both find themselves at 5-2 and 2-2 in the conference and well within the race. On top of that, both Oklahoma and Texas looked far from invincible in one-score wins over teams they were favored against by three or more scores. Furthermore, the Longhorns lost Quinn Ewers to an AC joint sprain and will miss some time. In one weekend, I went from being close to certain that the Big 12 Championship would be a Red River Rematch, to not knowing who the hell will be standing at the end of the regular season.
Biggest Loser(s): TCU, Texas Tech
While I just said that the second tier of the Big 12 was the biggest winner of the weekend, I don't believe that TCU and Texas Tech are a part of that tier anymore. TCU's offense mustered just three points on the road and Josh Hoover looked totally inept in running the Horned Frogs offense against Kansas State. Meanwhile, Texas Tech went to Provo as a three-point favorite and went back to Lubbock with its tail between its legs after a 27-14 loss to the Cougars. Now after their losses this weekend, Texas Tech and TCU are both 2-3 in conference play and virtually out of the Big 12 race. After making a run to the National Championship in 2022-23, Sonny Dykes and TCU will have a fight on their hands just to get to a bowl game. Meanwhile, Texas Tech came into the season with aspirations to make the Big 12 Championship but has fallen flat on its face in 2023 and is now plummeting down the conference standings by the week.
Joe Tillery
Biggest Winner: Chris Klieman
Chris Klieman looked like a genius against TCU successfully managing the two-quarterback split between Will Howard and Avery Johnson. The Wildcats routed TCU 41-3 at home on Saturday with the duo of quarterbacks combining for a total stat line of 15-26 for 244 passing yards and four scores through the air. The duo added an impressive 20 carries for 135 yards and cemented themselves as title contenders once again. Chris Klieman was able to pull off the impossible balance of a two-quarterback rotation and get his team back in contention for their second straight appearance in Arlington if things bounce their way.
Biggest Loser: Texas
Texas won, so let's address that right off the bat, but losing Quinn Ewers feels like the biggest loss of the season regardless of the timetable. Ewers led the Longhorns to a 6-1 record and performed as one of the best quarterbacks in the Big 12 Conference, well enough to earn some serious first-round NFL buzz. Now we have to witness the rebirth of Texas. The first question that needs to be answered is Ewers' timetable to return, but with a sprained AC joint in his throwing shoulder, it doesn't look like this will be a one-week injury. The Longhorns have capable players in Maalik Murphy and Arch Manning but with a date on November 4th to take on K-State, the path for Texas missing out on the title game once again is beginning to surface, and that is unfortunate after their hot start.
Derek Duke
Biggest Winner: Kansas State
If you look at the scores across the Big 12 this past weekend, one game sticks out. It's Kansas State/TCU. The Wildcats put a 41-3 beat down on the Horned Frogs at home and they made it look like they were playing a junior high team. The combination of Will Howard and Avery Johnson was dynamic and if this team can figure out a way to use both guys, watch out. Plus, their defense has been getting better each week. Don't sleep on this team as a Big 12 title contender.
Biggest Loser: TCU
To me, there was one clear loser this weekend and it was TCU. Three points is all they could score against Kansas State which is pathetic. Especially after putting up 40-plus against BYU a week ago. Josh Hoover was bad and the offense couldn't move the football. As bad as the offense was, the defense was worse. They gave up over 300 yards rushing and believe it or not, 400 yards at halftime. I know TCU lost some key players from last year but this performance was terrible.
Matthew Postins
Biggest Winner: Kansas State
I'll have to agree with Derek. The Wildcats did the most to help themselves this week. They proved the quarterback tandem of Will Howard and Avery Johnson could work. Their offensive line showed up in a big way. The defense played its best game of the season. Everything clicked. Also, there was something out of their control that could help them in two weeks. The injury to Quinn Ewers, should it keep him out longer than two weeks, takes him out of the K-State showdown. Plus, the Wildcats will have a solid game's worth of film of his replacement — either Maalik Murphy or Arch Manning — to prepare with. You hate to see Ewers get hurt, but there's no denying it helps the Wildcats. Speaking of …
Biggest Loser(s): Texas
Losing Ewers hurts for a team that has legitimate national title aspirations. I have no idea what Steve Sarkisian will do at quarterback. There isn't enough data on either Murphy or Manning to really get me to lean one way or the other. The defense looked a little vulnerable against Houston, as it squandered a big lead. With Texas, you can never quite trust them to be the team you think they'll be. But losing Ewers may require them to become a different team in the short term, which could ultimately hurt their Big 12 Championship Game chances. We'll see. But this week's game against BYU is a big one — and not just because BYU is coming off a big win of its own over Texas Tech.