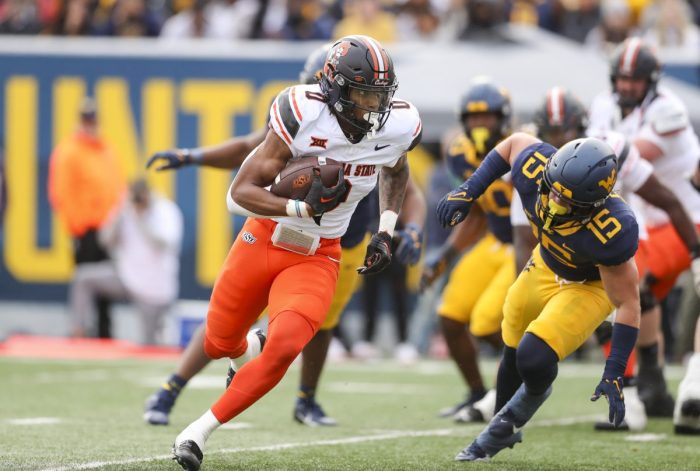 Oklahoma State running back Ollie Gordon has been referred to as a lot of different types of animals this week including a dog, a beast, and the most recent one by Mike Gundy himself, a horse.
Gundy took the stage at his recent press conference and spoke about a text conversation between himself and his brother Cade Gundy, who told Oklahoma State's head coach to, "Keep feeding that horse."
Gundy spoke about the increasing carries for the sophomore running back and detailed a text conversation between himself and his brother Cale Gundy, who sent a quick word of advice on managing Gordon's workload.
"I got a text from Cale when I was getting on the plane to fly home on Saturday night and he said 'You need to clear two rows of people out of the back and let that horse lay down and put hay on one side… let him sleep and just keep feeding him' That's the only comment he had for me."
Ollie Gordon finished Oklahoma State's Week 8 win over West Virginia with nearly 300 yards on the ground helping secure his team a 48-34 win. Gordon carried the ball 29 times for 282 yards and four scores, both career-highs for the young running back. Gordon's 282 yards became the most rushing yards of any FBS player this season and the most for OSU since Chuba Hubbard's 296 against Kansas State back in 2019.
Gordon has quickly earned the right to stake his claim as the best player in the Big 12 Conference, or at least through the first eight weeks, as he has singlehandedly turned around the season for Oklahoma State.
The Cowboys take the field in Week 9 against Cincinnati on October 28th, at 7:00 PM CT in Stillwater.