Big 12 Basketball
Oklahoma State Men's Basketball 2023-24 Basketball Schedule Analysis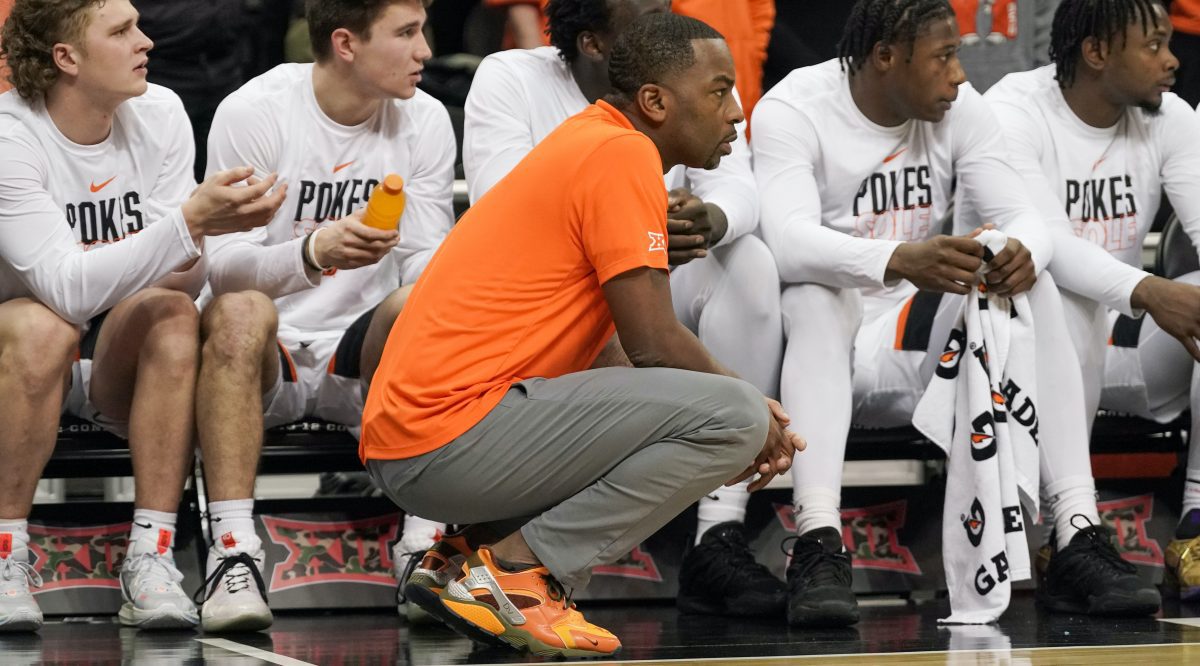 The 2023-24 Oklahoma State Cowboys men's basketball schedule is complete and here is an analysis of the entire schedule as Big 12 basketball season nears.
Season Opener
The Abilene Christian Wildcats visit Stillwater, Okla., for the season opener for both teams in Nov. 6. ACU play out of the Western Athletic Conference and is one of the better programs in that conference.
Welcome Home, Mike
The Cowboys and their head coach, Brooklyn native Mike Boynton Jr., will be in his borough for the Legends Classic at the Barclays Center, which just happens to be the old stomping grounds of Big 12 commissioner Brett Yormark. The Cowboys will first face St. Bonaventure on Nov. 16, followed by a game against either Auburn or Notre Dame the next day.
Best Non-Con Game
Oklahoma State's best non-conference game is likely to be a game that we're not entirely certain the Cowboys will get. But let's say they beat the Bonnies and Auburn wins, then the Cowboys get to test themselves against a Top 25 program in the Tigers, who have been in the last three NCAA Tournaments under coach Bruce Pearl.
Big EAST/Big 12 Battle
The Cowboys wrap up a three-game homestand on Nov. 30 when the host Creighton. The Bluejays have been a consistently good program under coach Greg McDermott and it would be no surprise for this game to be a close one.
Mid-Major Danger Game
Give Boynton and his basketball staff credit — they're not afraid to play mid-majors. The road trip to Southern Illinois sticks out, as does a neutral site game with Tulsa. But Oral Roberts on Dec. 17 at home should be an interesting test. The Golden Eagles won 30 games last season, but how good will they be with Max Abmas, who is now at Texas?
Big 12 Opener
Oklahoma State will begin its Big 12 slate at home in Gallagher-Iba against the Baylor Bears on Jan. 6. There should be plenty of really good freshmen on the floor for this game, as both programs recruited well in the last cycle.
Big 12 Road Opener
The Cowboys get a tough one right out of the gate, as they head to Lubbock on Jan. 9 to face Texas Tech and new coach Grant McCasland.
Brutal Big 12 Stretch
Um, that's easy to find. Starting Jan. 16 the Cowboys have to face Kansas, Kansas State, TCU, West Virginia, Kansas and Kansas State. Yep, that's Kansas and Kansas State in a three-week stretch. And then after that the Cowboys get Houston on the road. It's enough to make one thing someone at OSU offended someone in the league office. That's rough.
What Should Happen?
The Cowboys have struggled to get back into the upper echelon of the conference the past few seasons. Scholarship limits, a postseason ban and losses in the transfer portal have all contributed to that. But this team has the potential to be the best one Boynton has fielded. The freshman class is filled with talent. He replaced the height he lost in the portal and to graduation with more height. He has skill on the perimeter. The question is whether he can put it all together … finally.
Oklahoma State Cowboys 2023-24 Men's Basketball Schedule
Nov. 6 vs. Abilene Christian, 8 p.m.
Nov. 12 vs. Sam Houston, 2 p.m.
Nov. 16 vs. St. Bonaventure$, 5:30 p.m.
Nov. 17 vs. Auburn or Notre Dame$, 3:30 or 6 p.m.
Nov. 20 vs. New Orleans, 7 p.m.
Nov. 24 vs. Houston Christian, 7 p.m.
Nov. 30 vs. Creighton#, 8 p.m.
Dec. 5 at Southern Illinois, 8 p.m.
Dec. 10 vs. Tulsa@, 5:30 p.m.
Dec. 17 vs. Oral Roberts, 4 p.m.
Dec. 20 vs. Wofford, 2 p.m.
Dec. 31 vs. South Carolina State, 2 p.m.
Jan. 3 vs. Chicago State*, 6 p.m.
Jan. 6 vs. Baylor*, 2 p.m.
Jan. 9 at Texas Tech*, 7 p.m.
Jan. 13 at Iowa State*, 5 p.m.
Jan. 16 vs. Kansas*, 8 p.m.
Jan. 20 at Kansas State*, 6 p.m.
Jan. 23 vs. TCU*, 8 p.m.
Jan. 27 vs. West Virginia*, 1 p.m.
Jan. 30 at Kansas*, 8 p.m.
Feb. 3 vs. Kansas State*, 1 p.m.
Feb. 6 at Houston*, 6 p.m.
Feb. 10 at Oklahoma*, 6 p.m.
Feb. 17 vs. BYU*, 1 p.m.
Feb. 21 at Cincinnati*, 6 p.m.
Feb. 24 vs. Oklahoma*, 3 p.m.
Feb. 28 vs. UCF*, 7 p.m.
March 2 at Texas*, 1 p.m.
March 5 vs. Texas Tech*, 7 p.m.
March 9 at BYU*, 8 p.m.
Bold denotes home games; @-at Oklahoma City, Okla.; #-Big 12-Big EAST Battle; $- Legends Classic, Brooklyn, N.Y.; *-Big 12 games; Home games played at Gallagher-Iba Arena, Stillwater, Okla. Game times local to Oklahoma State (central). Big 12 Tournament, March 12-16, Kansas City, Mo.