featured
Overreaction Monday: The Gap Between OU, Texas, and Rest Of Big 12, K-State And Oklahoma State Primed For Runs To Arlington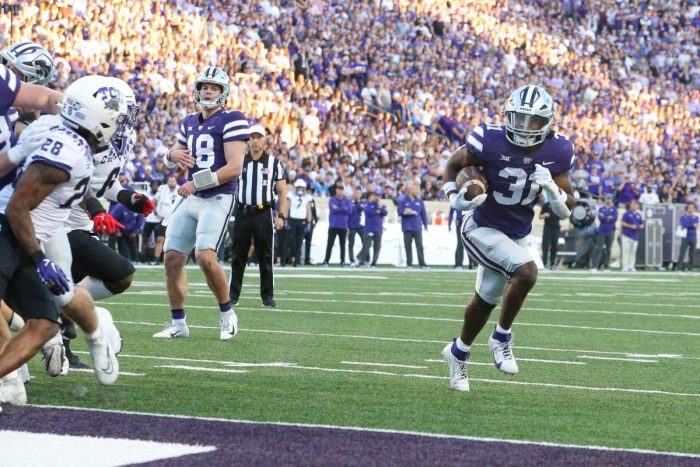 Week 8 is over, and my goodness, was it an interesting weekend. Oklahoma and Texas are lucky to have gotten out of the weekend with victories as UCF and Houston gave the Big 12 frontrunners everything they wanted and more on Saturday.
Heading into Week 9, it's clear that the Big 12 is nothing if not enigmatic, as it's been almost impossible to know how things are going to break out from week to week.
There are a lot of questions that still need to be answered, but right now isn't the time to think logically.
Let's overreact to what we saw in Week 8.
There's Not Much of a Gap Between OU, Texas, and Everyone Else
Overreaction
While I'm not ready to say this is the case, I will admit that Saturday's outcomes were concerning. However, there were all kinds of reasons for that to be the case and I'll need to see more proof in the coming weeks before I'm ready to say that there are more than two teams in the Big 12's top tier.
The fact of the matter is that Oklahoma and Texas both had a bye week after playing in the biggest game of their seasons and looked flat against teams that they should've beaten soundly. Both of them ended up finding ways to win, which can be tough when they faced the kind of adversity that they did.
Oklahoma's first four offensive drives started at the -45-yard line or better against UCF, but failed to get more than seven points out of those drives after stalling out and missing two field goal tries. The Sooners' offense was inconsistent for three and half quarters, but their defense kept them in it long enough for Dillon Gabriel to secure the win.
Texas jumped out to a 21-point lead before Houston came storming back, riding the arm of Donovan Smith to tie the game up at 21-21. In the end, Texas outlasted the Cougars and punched in a late fourth-quarter touchdown to get the win. Houston outgained the Longhorns (392-360) but lost the turnover battle, which is costly in games like this one. Perhaps the biggest story coming out of this game is Quinn Ewers' health, as it appears he will miss some time with a shoulder injury.
K-State is Primed for a Big 12 Championship Run
Not an Overreaction
Kansas State introduced a two-quarterback system against Texas Tech in Week 7, and since then, they've scored 38 and 41 points, respectively. The addition of Avery Johnson to the offensive game plan has made defending both him and Will Howard much more difficult, as was on display in their 41-3 win over TCU.
Both quarterbacks have the ability to hurt defenses with their legs, although Johnson is a legitimate game-breaker as a ball carrier, but their combined performance through the air against TCU was impressive. With a combined 244 yards, four touchdowns, and no interceptions, the Wildcat's offense showed the ability to have balance, and their 343 yards rushing (6.6 ypc) was still the main cog that kept things moving.
Defensively, K-State faced a freshman making his first career road start, and it went about as well as one could expect. Nonetheless, holding the Horned Frogs to just three points is something that this team can build on, and if they do that, there's no telling what the Wildcats might be capable of.
K-State will host Houston this weekend, and in Week 10, they'll hit the road to take on Texas in a pivotal matchup. If they can capitalize on the opportunity and find a way to win that game, they'll have an inside track to the Big 12 Championship game, provided someone finds a way to knock off Oklahoma State.
Ollie Gordon Can Carry Oklahoma State to Arlington
Not an Overreaction
We are witnessing one of the all-time heaters in Big 12 football history, and Oklahoma State running back Ollie Gordon is the man with all the cards. Here's a look at his stats over the last four games:
at Iowa State: 18 car, 121 yds (6.7 ypc)
vs. Kansas State: 21 car, 136 yds (6.5 ypc), 1 TD
vs. Kansas: 29 car, 168 yds (5.8 ypc), 1 TD; 6 rec, 116 yds, 1 TD
at West Virginia: 29 car, 282 yds (9.7 ypc), 4 TD
Over the last four weekends, Gordon has amassed 97 carries for 707 yards (7.3 ypc) and six touchdowns on the ground. What's even crazier about this run is that it's come against relatively formidable rush defenses, with K-State (No. 3), Iowa State (No. 5), and West Virginia (No. 6) all being near the top of the Big 12 against the run.
His performance against West Virginia was the best performances in recent history, as he is the first Cowboy with four rushing touchdowns in a single game since 2016.
When looking at the Pokes' remaining schedule, there's a clear path to Arlington if they can take care of business. The November 4 matchup against Oklahoma is the toughest game left by quite a wide margin, as they'll face Cincinnati (10/28), travel to UCF (11/11) and Houston (11/18), and then finish the season against BYU (1/25) at home. While Cincy is one of the best teams in the country against the run, BYU, Houston, and UCF are not.
Even if they aren't able to pull off the upset over OU, Oklahoma State is in position to finish the year 9-3 and 7-2 in Big 12 play. If Iowa State or Kansas State don't go undefeated the rest of the way, they'll have a shot at getting in with a tiebreaker at the very least.