Big 12 Previews
Kansas State vs. Houston: Preview, Prediction, and Game Odds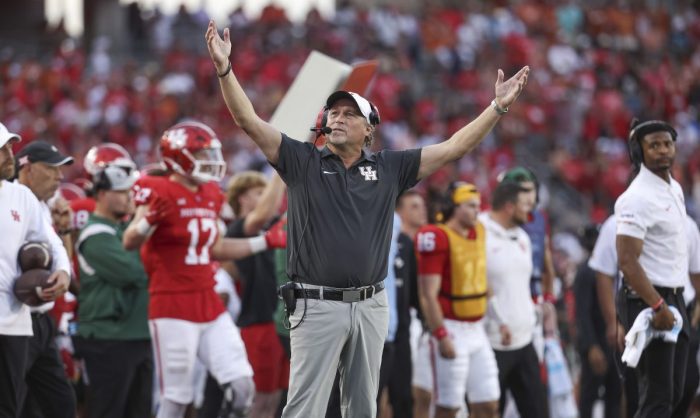 Here is everything you need to know ahead of the matchup between the Kansas State Wildcats and the Houston Cougars.
GAME INFO
Saturday, October 28; 11:00 AM CT; Bill Snyder Family Stadium; Manhattan, Kansas
TV: ESPN2
Radio: K-State Sports Network (Wyatt Thompson, Stan Webber); Radio: KPRC 950 AM (Kevin Eschenfelder, Ted Pardee, Jeremy Branham)
Record: Kansas State (5-2); Houston (4-3)
Rankings: N/A
Series History: First meeting between programs.
Last Meeting: N/A
Line: Kansas State (-17)
Fun Fact: Kansas State has totaled the second-most points scored in the Big 12 this year with 258, while Houston has given up the most points in the league this year with 219 points.
KEY PLAYERS
KANSAS STATE WILDCATS
RB DJ GIDDENS
The forecast for Saturday's matchup between Houston and Kansas State is a cold, rainy one, which leads me to believe DJ Giddens is going to be a serious threat against Houston. The Wildcats have run a split backfield between DJ Giddens and Treshaun Ward but Giddens has been more of the physical downhill runner, and that bodes well for some bad weather. Giddens is averaging 6.1 yards per carry with five touchdowns on the season and the Cougars will have an attempt to shut down the top rushing attack in the country with Giddens and Kansas State.
LB AUSTIN ROMAINE
True freshman linebacker Austin Romaine stepped into eh starting lineup this season in place of the injured Daniel Green and has played some valuable minutes in the middle of the field for Joe Klanderman's defense. Romaine played the Wildcats' Week 7 matchup against Texas Tech with a club on his hand after breaking his wrist and will likely have a similar setup in the event he is cleared to play in Week 9. Romaine has 16 tackles and one sack this season and will likely see some big minutes if he can get back into playing shape.
HOUSTON COUGARS
QB DONOVAN SMITH
Donovan Smith has quietly changed the narrative surrounding himself this year as he continues to impress as a passer. Smith has the second most passing yards in the Big 12 Conference this season behind only Oklahoma's Dillon Gabriel. Smith has thrown for 1,979 passing yards this season with an impressive 66.8% completion percentage and a touchdown to interception ratio of 16-4. Things are starting to bloom for Smith and if he can continue to develop, things could turn around in Houston.
DL NELSON CEASER
The Big 12's second-place sack artist is junior defensive lineman Nelson Ceaser. Ceaser is an absolute load to deal with on the outside, continually making plays against some of the best linemen in the league. The Texas native is currently 0.5 sacks behind the leader, UCF's Tre'Mon Morris Brash, who controls the league with six sacks this season. Ceaser recorded a sack against Texas offensive lineman Kelvin Banks who many scouts view as a top two-round NFL talent. Houston has an absolute monster on their defensive line and he will be needed to help slow down Kansas State.
KEY STORYLINES
KANSAS STATE WILDCATS
Will Kansas State look ahead? Houston should not be taken lightly in this game as they were a legit spot away from having a serious chance of upsetting Texas in Week 8. Kansas State heads to Austin in Week 10, a game that likely decides which team will be heading to Arlington if they can avoid any hiccups in the last few weeks. Houston has a talented team and a coach that knows Big 12 football well. The Wildcats will need to show up and take care of business, even as 17-point favorites.
HOUSTON COUGARS
What kind of a season is this for Houston? The team has been vastly inconsistent this year with massive wins and massive losses and a good reason why is likely due to the team's habit of starting slow. In back-to-back weeks Houston has struggled to get things going early before one big play sparks things and the Cougars find their way back into the game. Kansas State is a fast-paced team that will slam the door shut if Houston starts off slow. What kind of a game will see on Saturday?
PREDICTION: KANSAS STATE 37, HOUSTON 17
Kansas State is the best rushing team in the country this year and that's following the loss of All-American running back Deuce Vaughn. Houston will have to throw the football to win the game and with K-State's secondary starting to step up their game, I don't expect Holgorsen's group to leave with a win. The game will be closer than the TCU game last week but I fully expect the trio of DJ Giddens, Treshaun Ward, and Avery Johnson to dominate the Cougars on the ground.