Big 12 News
Two Big 12 OL Named Finalists for 2023 William V. Campbell Trophy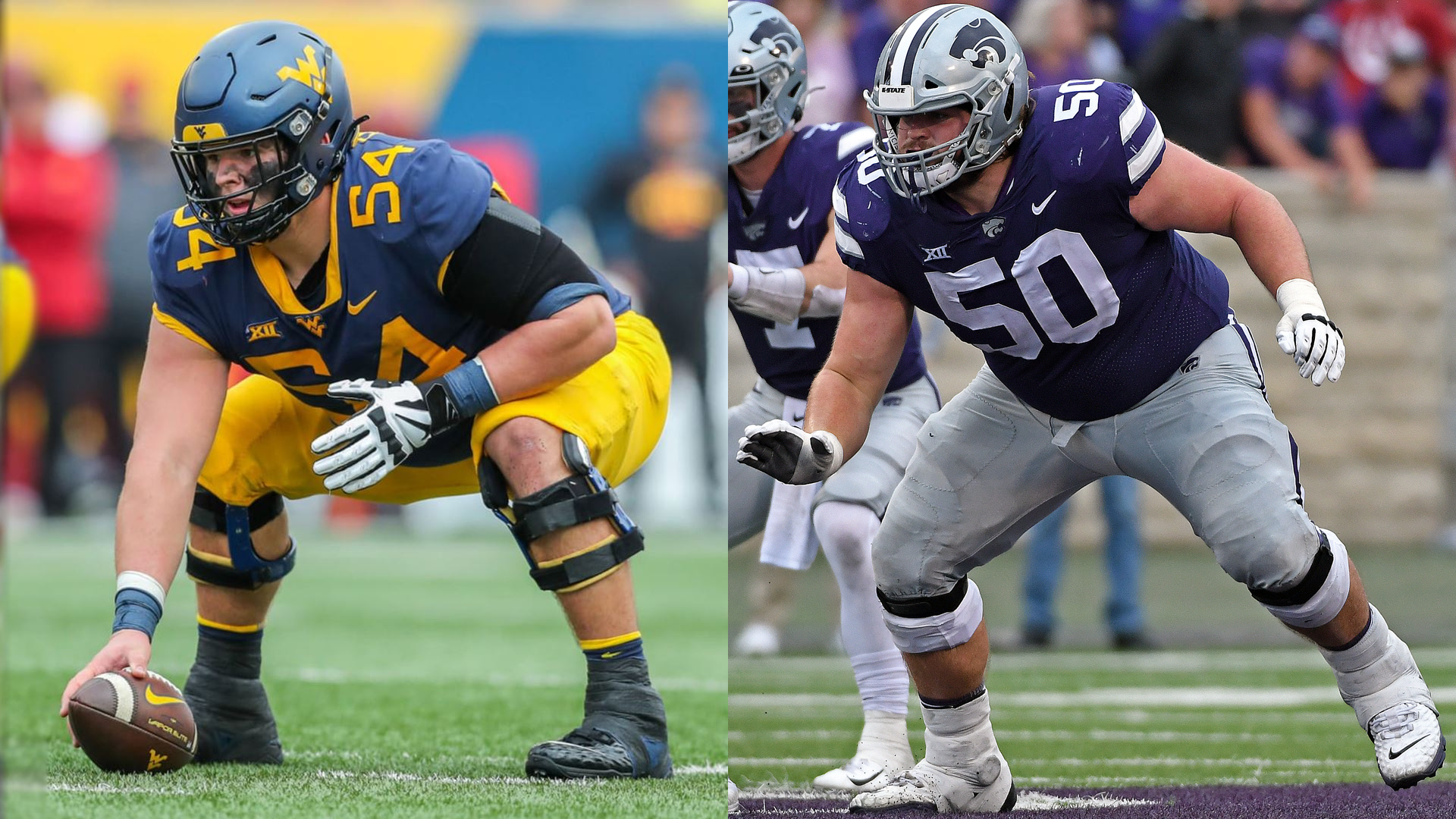 Kansas State's Cooper Beebe and West Virginia's Zach Frazier are not just two of the best interior offensive linemen in the Big 12, but in all of college football.
As the prospective leaders of their units, these two gentlemen are among the most important players in this conference, and they've earned an immense amount of respect from not just the coaches and players around them, but from their opponents as well.
It appears that the impact they have extends beyond the football field though, as both Beebe and Frazier were named finalists for the 2023 William V. Campbell Trophy, college football's premier scholar-athlete award that annually recognizes an individual as the absolute best in the nation for his combined academic success, football performance and exemplary leadership.
According to a Big 12 press release, the 16 finalists will each receive an $18,000 postgraduate scholarship as a member of the 2023 NFF National Scholar-Athlete Class Presented by Fidelity Investments. Submitted by their schools, which are limited to one nominee each, candidates for the Campbell Trophy must be either a senior player who will complete his final year of eligibility during the 2023 season or be a graduated player who has been enrolled in school at least three (3) years (even if he has remaining eligibility); must have minimum cumulative GPA of 3.2 on a 4.0 scale; must have outstanding football ability as a starter/significant contributor; and must have exhibited exemplary leadership on the field, in the classroom and within the community.
Here's what the press release had to say about each of the Big 12's finalists for the Campbell Trophy.
Cooper Beebe, OL – Kansas State University
3.84 GPA – Social Studies Education
Recipient of National Football League Scholar-Athlete Award
A massive offensive lineman at 6-foot-4 and 335 pounds, with perfect technique, agile feet and nicknamed the "Dancing Bear," Cooper Beebe has flawlessly protected the blindside for the Wildcats during his time in Manhattan, earning All-America honors and notching a 3.84 GPA. The Kansas City, Kansas, native now becomes K-State's ninth NFF National Scholar-Athlete, following Adrian Martinez last year and marking the third time the Wildcats have had back-to-back honorees.
A 2022 CSC Academic All-District Team selection and a three-time First Team Academic All-Big 12 pick, Beebe graduated in May with a degree in social studies education. A likely NFL Draft pick last year, Beebe decided to return to play with his younger brother Camden, a freshman on the K-State offensive line, and pursue his master's degree with aspirations of being a teacher in the future.
A two-year captain, Beebe ranks among the top offensive lineman in the nation, having earned First Team All-America laurels last year from the Sporting News and Second Team from the Associated Press. Beebe was also named the 2022 Big 12 Offensive Lineman of the Year, and he has twice earned First All-Big 12 honors.
Having not allowed a sack since 2020, Beebe led an offensive unit last year that averaged 208.3 rushing yards per game in 2022, ranking 15th nationally. The 2022 Wildcat offense amassed 5,863 yards of total offense, the second most in school history, and the team finished the season as Big 12 Champions after beating No. 3 TCU in the Big 12 title game.
In 2023, the team is averaging 232.7 rushing yards per game at No. 3 nationally and 474.7 yards of total offense per game or No. 13 nationally. Having played every spot on the offensive line, except center, Beebe has proven himself versatile and dependable with 42 starts during his career, he should rank among the top five Wildcat offensive linemen (since 1990) in career starts by the end of the season.
Off the field, Beebe taught high school social studies last spring. His extensive volunteer work includes the Special Olympics, Big Brothers Big Sisters Field Day, St. Patrick's Day and Earth Day events, the Hope Ranch Therapeutic Riding Center, Cats in the Classroom, and the Be the Match (bone marrow) Registry. He is a three-year member of the football team's Leadership Council.
Zach Frazier, C – West Virginia University
3.88 GPA – Sport Management
Recipient of the Robert A. Simms Scholar-Athlete Award
Known for his integrity and a relentless desire to improve, Zach Frazier has excelled at the highest levels in everything he does, earning All-Big 12 honors in the classroom and All-America laurels on the field. The Fairmont, West Virginia, native becomes the Mountaineers' eighth NFF National Scholar-Athlete.
On pace to graduate summa cum laude this fall in three and half years, Frazier has amassed an impressive 3.88 GPA in sport management. A two-time First Team Academic All-Big 12 honoree, Frazier has been named to the Big 12 Commissioner's Honor Roll and the WVU's Garrett Ford Academic Honor Roll multiple times. He has also made the President's List, for carrying a perfect 4.0 GPA, and the Dean's List.
A three-year captain, Frazier was recognized as a Second Team All-American by both the Walter Camp Foundation and the American Football Coaches Association in 2021. A three-time All-Big 12 pick, Frazier is a two-time Iron Mountaineer Award recipient and was West Virginia's 2021-22 nominee for the Big 12 Athlete of the Year. He was also named a 2020 Freshman All-American by ESPN and 247 Sports.
The first true freshman to start at WVU on the offensive line since 1980, Frazier has started 41 of the 42 games in which he has appeared, and he only allowed four sacks over the last two years, including 12-straight games without a sack. Leading the team in knockdowns the past three seasons, Frazier's efforts helped the team record 412.6 ypg of total offense in 2020, 371.3 ypg in 2021 and 399.0 ypg last season. The 2023 team is averaging 394 ypg of total offense, including a rushing average of 191.4 ypg, which ranks fifth in the Big 12. He has been named WVU offensive lineman of the week three times in 2023.
Frazier has been a strong presence in the Morgantown community. His volunteer work includes the Special Olympics, WVU Big Brother, WVU Education Day, Fairmont Senior High School Kids Camp, Polar Plunge, Black History Month Community Fun Day. He has visited the WVU Children's Hospital more than a dozen times, and he has participated in local school visits and high school football camps. Frazier married Stephanie Vincent on May 6, 2023.