Baylor Bears
Five Big 12 Football Storylines to Follow in Week 9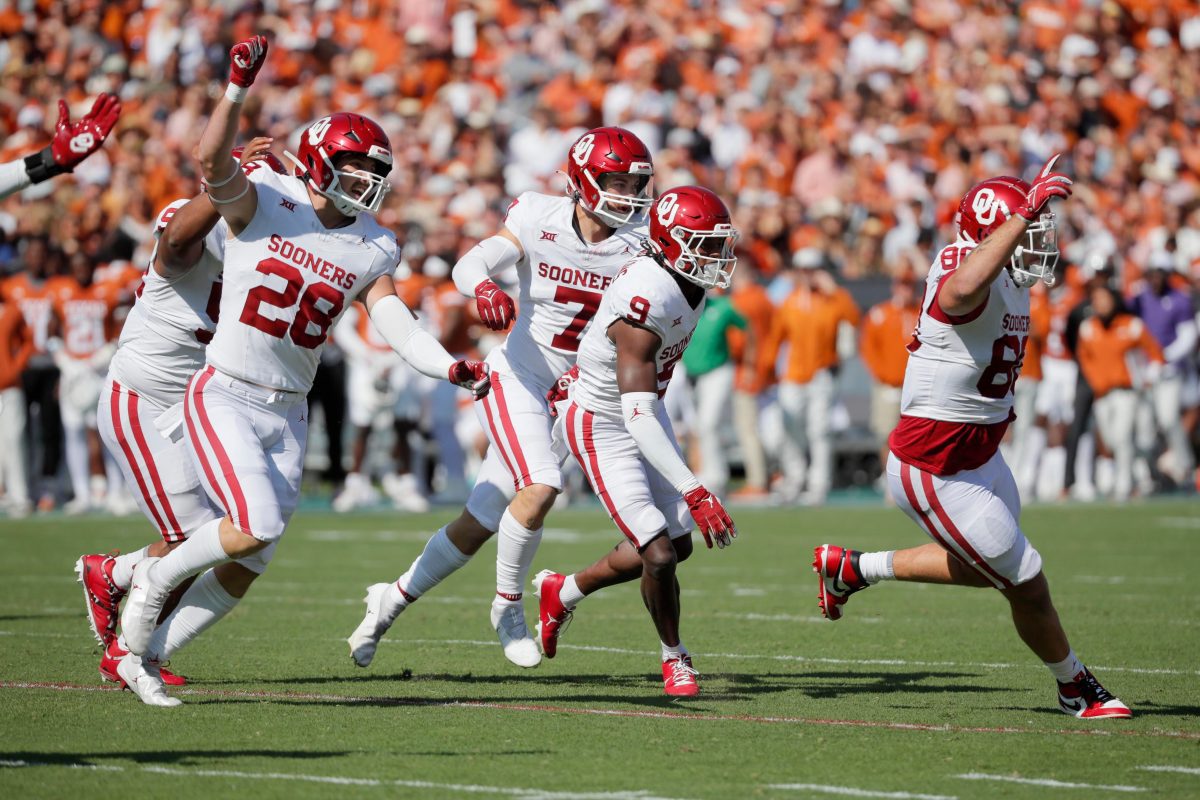 We've got six games on deck this weekend as the Big 12 heads into Week 9 of the 2023 college football season.
The Big 12 race has gotten very interesting over the past couple of weeks as we've watched Kansas State and Oklahoma State emerge as legitimate contenders sitting at 3-1 in conference play. Iowa State is back after a bye and despite a 4-3 overall record, the Cyclones are also tied for second place in the conference at 3-1.
Oklahoma remains the only undefeated team in the conference after a scare last weekend, but will face its biggest road test yet with a trip to Lawrence to take on Kansas, who is coming off a bye week.
Here are the top five storylines that you should be keeping up with heading into the ninth week of the season.
Big Noon Showdown in Lawrence
FOX's Big Noon Kickoff will be in Lawrence for the first time as No. 6 Oklahoma (7-0) comes to town to take on Lance Leipold and the Kansas Jayhawks (5-2) Ahead of Saturday's game, Kansas is coming off a bye week, while the Sooners are coming off a 31-29 scare from UCF, who has yet to win a Big 12 contest this season.
After defending a two-point conversion try and securing an onside kick with just over a minute to go, OU found a way to keep its undefeated season alive, but this weekend's test will be much stiffer. After all, Kansas beat UCF 51-22 (minus John Rhys Plumlee) in Lawrence just a few weeks ago.
The forecast calls for an 80% chance of rain and 38 degrees at kickoff, but the fans in Lawrence don't seem to care as KU announced on Thursday morning that the game had officially sold out.
Can Oklahoma regroup and play like the team we saw before their bye week, or will Kansas grab the early momentum and set the stage for a high-scoring affair like we saw in 2022? Who knows, but this game figures to be the best of the weekend for Big 12 fans.
Maalik Murphy's Time to Shine
Despite having the opportunity to leave Austin when several schools came calling after his standout showing in the spring game, Maalik Murphy opted to remain a Longhorn and sit behind Quinn Ewers.
Now, after biding his time for the first eight weeks of the season Murphy's chance to shine has come, but at the cost of an injury to Ewers' throwing shoulder. In his first collegiate start, Murphy will lead Texas (6-1) into battle against BYU (5-2) inside the confines of Darrell K. Royal Stadium.
An incredibly gifted athlete, Murphy has all the intangibles of a star quarterback. With a rocket launcher of an arm, great mobility, and listed at 6-foot-5, 238 pounds, Murphy has an opportunity to Wally Pip the highest-rated quarterback prospect ever, and is also just one bad game from being listed behind another "perfect" quarterback prospect in Arch Manning.
With immense pressure to perform in his first start, the world will be watching to see how Murphy looks. No matter how good (or bad) he looks on Saturday, he'd better get all the experience he can, because there's a massive meeting with Kansas State on deck in Week 10.
Ollie Gordon vs. Cincy Run D
Over the past four games, there hasn't been a better running back in the nation than Oklahoma State's Ollie Gordon. Since the start of conference play, Gordon has amassed 707 yards and six touchdowns on the ground while averaging 7.3 yards per carry. Against Kansas in Week 7, he also added six catches for 116 yards and a score.
The pinnacle of his performances though came last week in Morgantown, as the sophomore ran wild against West Virginia, turning 29 carries into 282 yards (9.7 ypc) and four touchdowns to lift the Cowboys (5-2) over the Mountaineers, 48-34.
Now, Gordon will face the stiffest test of the season thus far, with Cincinnati (2-5) coming to town. While the Bearcats haven't been able to come out on the winning side of many games this year, it hasn't been because of their rushing defense.
Cincinnati is allowing just 100.7 rushing yards per game this year, ranking 18th nationally and second in the Big 12 (behind Texas, 98.3 ypg). Will we see Gordon turn in his fifth-straight game over 120 yards, or will Cincy make Alan Bowman win this game with his arm?
Can John Rhys Plumlee Lead UCF to a Big 12 Win?
As mentioned earlier, UCF (3-4) came oh-so-close to pulling off the upset of the season over Oklahoma last weekend but fell just short of its first Big 12 win.
Now, the Knights will regroup back in Orlando and prepare to welcome West Virginia, who has suddenly dropped two straight games after starting the year 4-1. This is the perfect opportunity for Gus Malzahn to rally the troops and turn this season around, and if they can, the schedule looks fairly manageable from here.
After West Virginia, UCF goes to Cincinnati, hosts Oklahoma State, goes to Texas Tech, and hosts Houston to finish the year. There's a good shot at a bowl game there if the Knights can rally, but it all has to start this week at home.
West Virginia feels a bit vulnerable right now and UCF is currently favored by 7.0 points. Get a win, get to .500, and building off of it could go a long, long way in helping Malzahn and the Knights springboard into 2024 with some confidence.
Can Iowa State Keep Pace?
Iowa State is currently tied for second place in the Big 12 standings at 3-1 and is joined by Texas, Kansas State, and Oklahoma State. The Cyclones already have a win over the Cowboys and face both Texas and Kansas State further down the road this year.
However, they can't afford to be peaking ahead this week, even if Baylor has looked like one of the worst teams in the conference so far.
Las Vegas didn't build all of those incredible hotels and casinos by being wrong all the time, and their line on the Iowa State-Baylor game opened up with the Cyclones being favored by just 1.5 points. Although it currently sits at 2.5, the still doesn't seem to be much separation between these two in Vegas' eyes, and a loss for Matt Campbell's team could tank the season here.
There is a big difference in coming out of this weekend 5-3 (4-1) and 4-4 (3-2), and I'm sure everyone in Ames is fully aware of that.
The Iowa State team that we've seen over the past several weeks is good enough to walk into McLane Stadium and trounce the Bears, but being able to do something and doing it are two totally different things.