Big 12 News
No. 6 Oklahoma vs. Kansas Matchup Officially Sold Out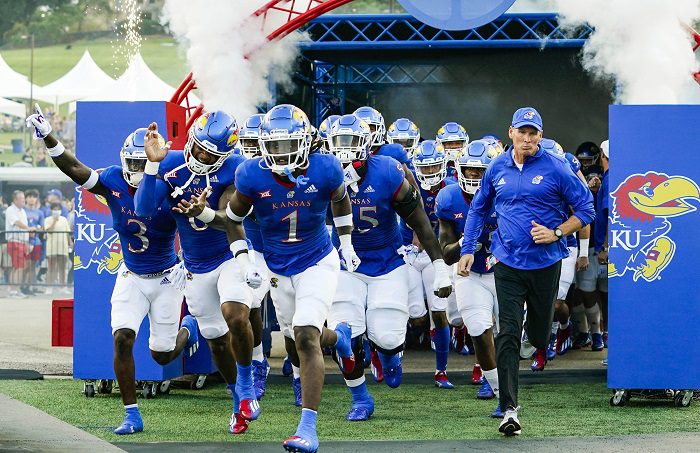 No. 6 Oklahoma (7-0, 4-0) will hit the road this weekend to take on the Kansas Jayhawks (5-2, 2-2) after narrowly escaping UCF last week in a 31-29 nailbiter.
Meanwhile, Kansas got the chance to rest up during their bye week and will hope to play spoiler to the Sooners' perfect season.
The last time that Oklahoma went to Lawrence, they were 7-0 and ranked No. 3 in the country under head coach Lincoln Riley. It was a chilly morning in Lawrence and David Booth Kansas Memorial Stadium wasn't even at half capacity at kickoff. However, when Kansas was up 10-0 at halftime, students and fans started to pour in the gates, for free, to see if KU could hold on to beat the Sooners for the first time since 1997.
It was not to be though, as Caleb Williams found a way to put up 35 points in the second half to pull away, 35-23. Don't feel too bad for the Jayhawks though, as just a few weeks later Jalon Daniels would lead Kansas to a 57-56 OT win over Texas in Austin to officially kickoff the turnaround under Lance Leipold.
When Oklahoma arrives to "The Booth" this time, however, the scene is going to look much different. FOX's Big Noon Kickoff will be in town and there will be 47,000 packed into the stadium to watch a resurgent program take on one of the nation's blue bloods.
Despite starting quarterback Jalon Daniels not being expected to play, the Jayhawks' offense has been formidable this season and will present a major test for and Oklahoma team that looked dazed for much of their game last week.
If the Sooners aren't refocused and ready to go for this one, there could be a lot of blue shirts on the field following the game.
Kickoff is scheduled for 11:00 a.m. CT (FOX) directly following the events of FOX's Big Noon Kickoff, with Oklahoma favored by 9.0 points as of Thursday morning.