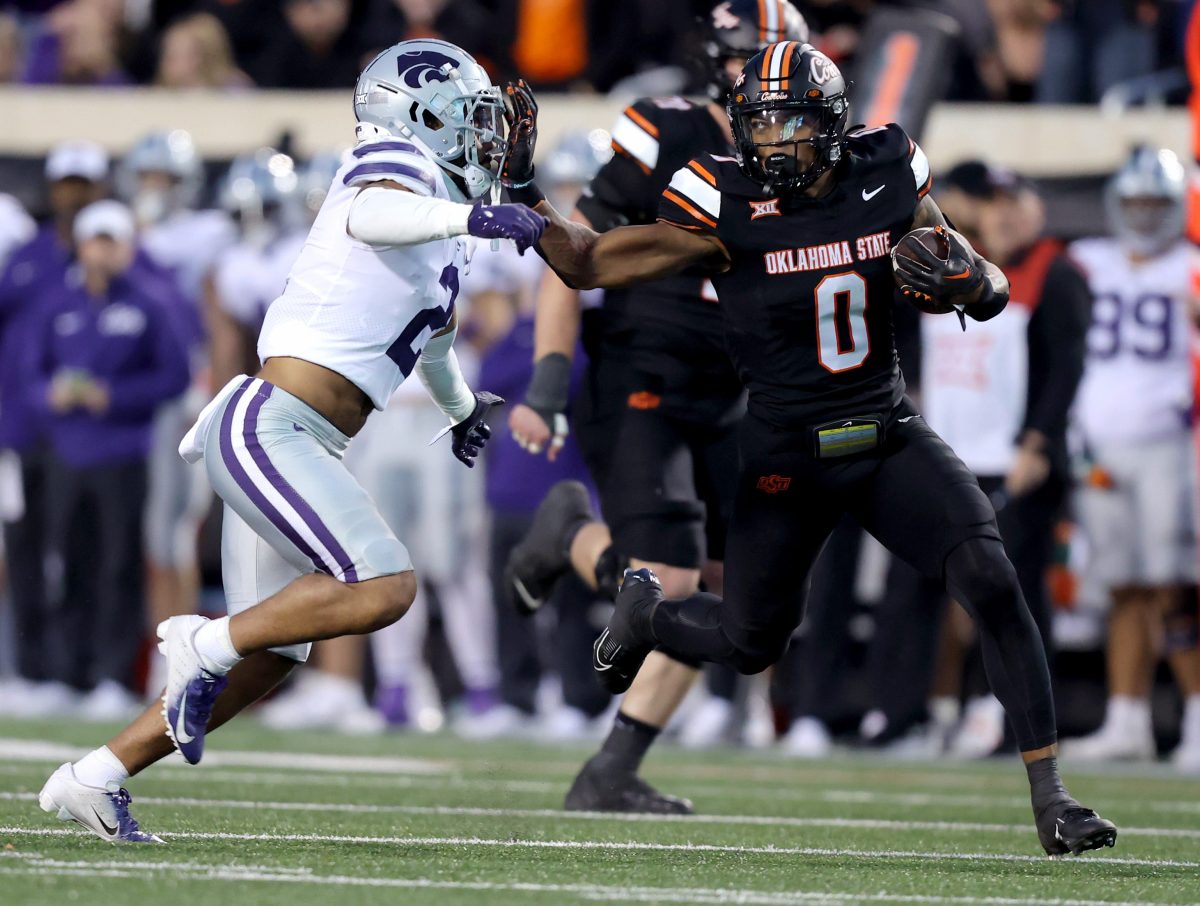 It seems like only yesterday that the 2023 college football season was still a month away, and here we are heading into Week 9.
The Big 12 race may've seemed like a two-horse race out the gate, but it's getting more and more interesting as the weeks pass by. With four teams sitting at 3-1, and Texas now without Quinn Ewers, there's a legitimate question that needs to be addressed.
With Texas, Kansas State, Oklahoma State and Iowa State all sitting at 3-1, who is the best?
Here's what the Heartland College Sports staff has to say on the matter.
Pete Mundo
Best 3-1 Big 12 Team: Kansas State
The Kansas State Wildcats are playing the best football in the Big 12 right now, in large part thanks to their QB duo of Will Howard and Avery Johnson. Plus, the defense continues to come along. A month ago, I would've said Texas, but with Quinn Ewers out, it's not clear how the team will handle this going forward. So when you factor in the direction of each of these teams, K-State would be the stock I am buying right now, while Texas is the one I'm selling, especially after the Houston game last week. I'm rolling with the Cats.
Bryan Clinton
Best 3-1 Big 12 Team: Texas
I love what I've seen from Kansas State and I wanted to take the Wildcats here, but I'm still rolling with Steve Sarkisian and the Texas Longhorns. I know that Quinn Ewers is out and that Texas will be starting Maalik Murphy for the first time on Saturday, but I've got a little secret for you: I like Murphy better for the Texas offense than I do Ewers. Sure, he's got quite a bit of experience to make up before he knows the system as well as the incumbent, especially in the heat of battle, but once he gets caught up, I think he could elevate what Sark wants to do in Austin. And let's not forget what makes this Longhorns team different from those in the past. The defensive side of the ball isn't just improved, it's formidable and will be good enough to keep them in games regardless of who's at quarterback. A massive game between K-State and Texas awaits in Week 10, and I might have to eat crow after the dust settles there, but for now, I'm taking the Longhorns.
Matthew Postins
Best 3-1 Big 12 Team: Kansas State
Do you have an easier question? Saw, who's going to win the World Series, perhaps? At least there are only two options there. I've seen all of of these teams at some point this season, and if we're grading on pure talent it's Texas. But, the injury to Quinn Ewers throws a bit of a wrench into that. Kansas State's quarterback tandem of Will Howard and Avery Johnson, at least in the short term, is working. But is that sustainable? I think I Iowa State has an interesting road to remain in the Big 12 race, as I've outlined in a previous roundtable. The same goes for Oklahoma State, which outside of the Oklahoma game plays all four of the new schools in the conference in its remaining games.
But this isn't about a path to winning and getting to Arlington, it's about the best team. Talent is important, but so is the overall play. Going into this weekend, I think it's Kansas State by a nose. But there isn't much separating this quartet of teams right now.
Joe Tillery
Best 3-1 Big 12 Team: Kansas State
I'll jump the gun here a bit and say Kansas State. In my mind, the only two justifiable options of which 3-1 team deserves the top spot come down to Texas and K-State. My algorithm for deciding which one to side with boils down to this: Which team has more question marks that worry me? Texas has more question marks in my eyes after losing starting quarterback Quinn Ewers and their defense giving up a chunk of yards through the air to Donovan Smith and Houston last week. Kansas State has some incredible quarterback play between Will Howard and Avery Johnson, the second-best red zone defense of anyone in the country (Michigan is No. 1 lol), and who I believe is the best coach in the Big 12 Conference in Chris Klieman. The Wildcats edge past the Longhorns in my book.
Derek Duke
Best 3-1 Big 12 Team: Kansas State
I know Texas may be the popular choice here, but I think the gap has closed between them and some of the other teams in the Big 12. With Quinn Ewers out for some time, that makes me a little nervous about this Texas team. Before the season started, I had Kansas State going to Arlington and I am still going to stick with that. Yes, they lost to Oklahoma State which was a bad loss at the time but maybe Oklahoma State is actually good.
Since then, Kansas State has looked dominant. They unleashed freshman quarterback Avery Johnson who looks like the real deal and they still have Will Howard as well. That one-two punch at quarterback is interesting and I love the way their offensive line has been playing as of late. When you combine that with a veteran defense that makes this team dangerous and a serious threat to get to Jerry World.