Trending Now
Watch: Former WVU Player, Now High School Ref Punches Coach and Sparks Brawl After Verbal Altercation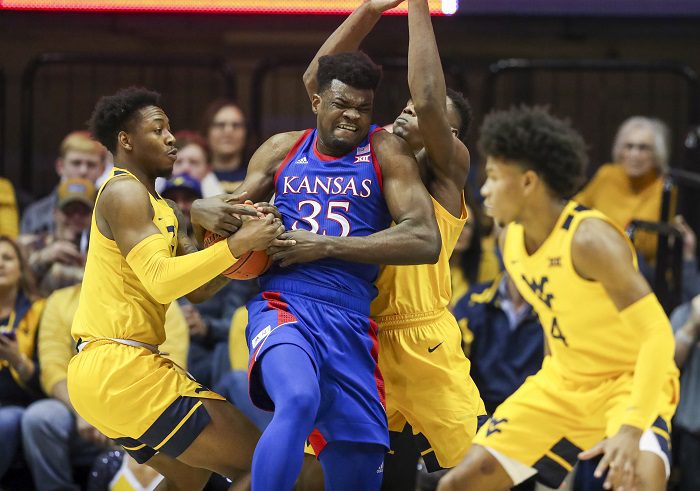 In any competitive sport, there comes a time when things get heated between players, coaches, and sometimes even officials. That's just part of the competitive nature of sports and the intensity of the moment can spark all kinds of emotions.
However, coaches and officials are held to a higher standard, as they should be especially at the high school level. High school athletes look to coaches as role models and the officials calling their games as authoritative figures. There's a certain amount of responsibility that comes with that.
Perhaps that's why it is so shocking to see things go awry in a situation like the one at hand.
Brandon Knapper, a former West Virginia basketball player turned high school referee, is in a world of trouble after an incident that took place at a basketball game at Santiago High School in Corona, California.
In a video from TMZ Sports, Knapper can be seen getting in a verbal altercation with Oak Hills High School head coach Rob Alexander. During the argument, Knapper punches Alexander, sparking an all-out brawl on the court.
According to TMZ, police responded to the altercation and Alexander was taken to the hospital before requesting prosecution against Knapper for what transpired. Knapper has since turned himself in and has been charged with battery causing serious bodily injury and assault by means likely to produce great bodily injury — both felonies.
Knapper was booked into Riverside County Jail on Sunday, with his bail set at $25,000. According to the report he was released on Wednesday.
"The District is thankful for the swift and decisive action taken by the event promoters and local law enforcement," Oak Hills' Hesperia Unified School District said in a statement. "We are also happy to report that Coach Alexander is in good spirits and looking forward to returning to coaching and teaching as soon as possible.
"We have the utmost confidence that law enforcement, CIF, and Oak Hills High School, with the support of the District, will investigate the incident thoroughly and handle it appropriately."
Knapper is due to court on Friday, November 3.
Knapper played at West Virginia for two seasons from 2018-20 and appeared in 60 games for the Mountaineers. With an average of 11.1 minutes played per game, he averaged 3.8 points, 1.1 assists, and 1.3 rebounds during his time in Morgantown. He spent his final year of eligibility at Cal State San Bernardino in 2022-23, where he was an NABC First Team All-American among several other distinguishments, averaging 19.5 points, 4.3 rebounds, and 3.9 assists.