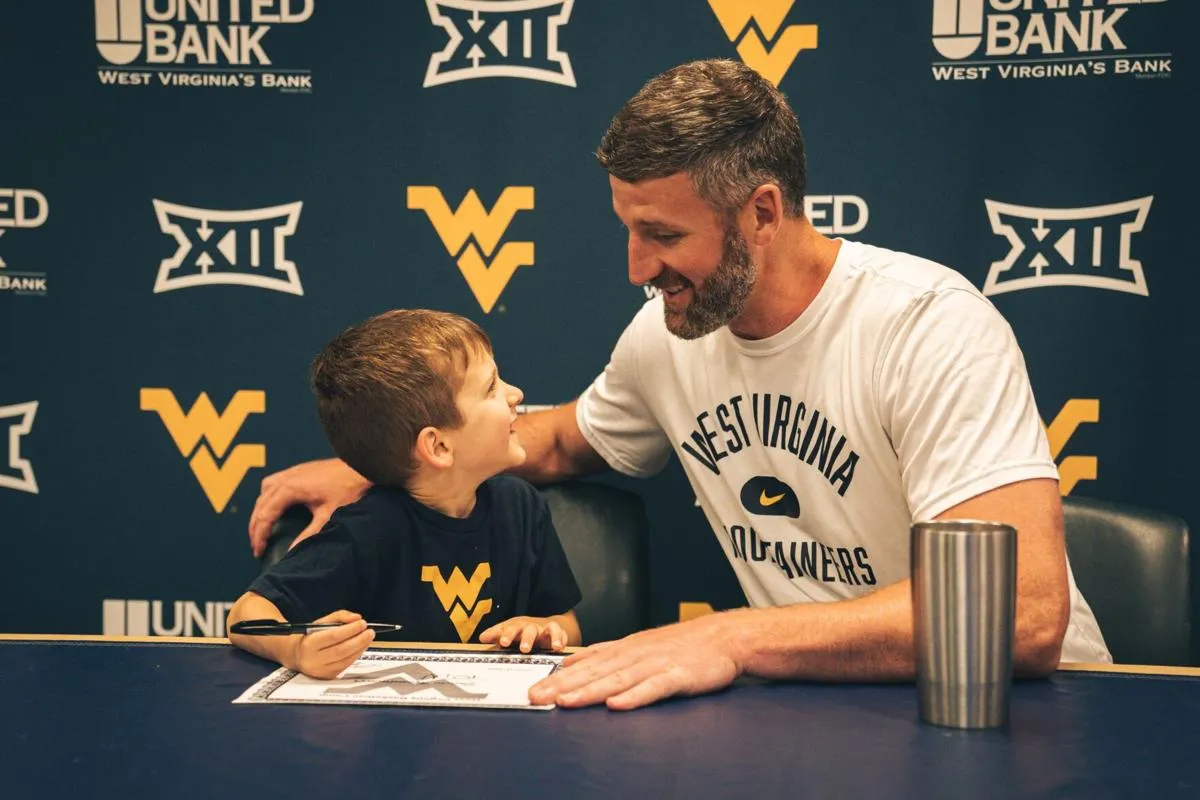 The 2023-24 West Virginia Mountaineers men's basketball schedule is complete and here is an analysis of the entire schedule as basketball season nears.
Season Opener
West Virginia will host Missouri State on Nov. 6, part of a three-game homestand to start the season. The Bears were 17-15 and in the middle of the standings in the Missouri Valley Conference.
Fun in the Sun
The Mountaineers will head to the Fort Myers Tip-off in Fort Myers, Fla., for their multi-team event. There are two guaranteed games for WVU, starting with SMU on Nov. 22. After a day off, the Mountaineers will face either Virginia or Wisconsin, depending upon the outcomes of the first games.
Best Non-Con Game
Set aside the possibility of playing either UVA or Wisconsin in Fort Myers and the Mountaineers have a great one in their yearly 'Backyard Brawl' with Pitt on Dec. 6 at WVU Coliseum. The Panthers won 24 games last season under coach Jeff Capel. This should be another great contest.
Big EAST/Big 12 Battle
The Mountaineers will travel to New York City to face St. John's on Dec. 1. The Red Storm have struggled of late and are coming off an 18-15 season. But there's a new coach in town — Rick Pitino. For a New York guy like Pitino, you don't get much better than Lou Carnesecca's old program.
Mid-Major Danger Game
Oh it's gonna be Toledo on Dec. 23 in Morgantown. First, it's right before the holidays and you have to make sure the kids haven't mentally checked out. Once you get that settled, you have to play a Rockets team that won the MAC regular-season title a year ago with 27 wins. They're smarting from losing the MAC Tournament and losing to Michigan in the first round of the NIT.
Big 12 Opener
The Mountaineers will be on the road to open the Big 12 slate and the schedule-makers did them no favors in pitting them against the Top 25-ranked Houston Cougars on Jan. 6
Big 12 Home Opener
West Virginia returns home for a Jan. 9 contest against Kansas State, which reached the Elite Eight of last year's NCAA Tournament.
Brutal Big 12 Stretch
For a team with a new coach, new personnel and some changes right before the season started, the beginning of Big 12 play should really test the Mountaineers. After facing Houston and Kansas State, they host Texas, travel to Oklahoma and then host Kansas. That's four games against NCAA Tournament teams from last season, three of which played in the second weekend of the tournament.
What Should Happen?
Honestly? Your guess is as good as mine. The Mountaineers lost their beloved head coach, Bob Huggins, after a summer in which he used anti-gay slurs on the radio and then was arrested for a DUI in Pittsburgh. He resigned. Josh Eliert is the head coach but is on a one-year deal and has never led a Division I program before. The Mountaineers attracted one of the best transfer classes in the country, but not all of them have made it to the finish line (Jose Perez and Omar Silviero are gone, while RaeQuan Battle has his waiver denied). If West Virginia had everything it procured in the offseason, they would be an NCAA Tournament team. Now? You guess is as good as ours.
2023-24 West Virginia Men's Basketball Schedule
Nov. 6 vs. Missouri State, 7 p.m.
Nov. 10 vs. Monmouth (NJ), 7 p.m.
Nov. 14 vs. Jacksonville State 7 p.m.
Nov. 20 vs. SMU@, 8:30 p.m.
Nov. 22 vs. Virginia or Wisconsin@, 6/8:30 p.m.
Nov. 26 vs. Bellarmine, 5 p.m.
Dec. 1 vs. St. John's#, 7 p.m.
Dec. 6 vs. Pitt, 9 p.m.
Dec. 9 vs. Drexel
Dec. 16 vs. UMass$, 4 p.m.
Dec. 20 vs. Radford, 7 p.m.
Dec. 23 vs. Toledo, 1 p.m.
Dec. 30 vs. Ohio State%, 7 p.m.
Jan. 6 at Houston*, 2 p.m.
Jan. 9 vs. Kansas State*
Jan. 13 vs. Texas*, 6 p.m.
Jan. 17 at Oklahoma*, 8 p.m.
Jan. 20 vs. Kanas*, 4 p.m.
Jan. 23 at UCF*, 7 p.m.
Jan. 27 at Oklahoma State*, 2 p.m.
Jan. 31 vs. Cincinnati*, 7 p.m.
Feb. 3 vs. BYU*, 6 p.m.
Feb. 10 at Texas*, 3 p.m.
Feb. 12 at TCU*, 8 p.m.
Feb. 17 vs. Baylor*, 6 p.m.
Feb. 20 vs. UCF*, 7 p.m.
Feb. 24 at Iowa State*, 2 p.m.
Feb. 26 at Kansas State*, 7 p.m.
March 2 vs. Texas Tech*, 6 p.m.
March 6 vs. TCU*, 9 p.m.
March 9 at Cincinnati*, 2 p.m.
Bold denotes home games; @-Fort Myers Tip-Off, Fort Myers, Fla.; #-Big East/Big 12 Battle; $-Basketball Hall of Fame Classic, Springfield, Mass; %-at Cleveland, Ohio; *-Big 12 games; Home games played at WVU Coliseum, Morgantown, West Virginia. Game times local to West Virginia (eastern); Big 12 Tournament, Match 12-16, Kansas City, Mo.