Baylor Bears
Five Biggest Takeaways From Week 9 of the Big 12 Football Season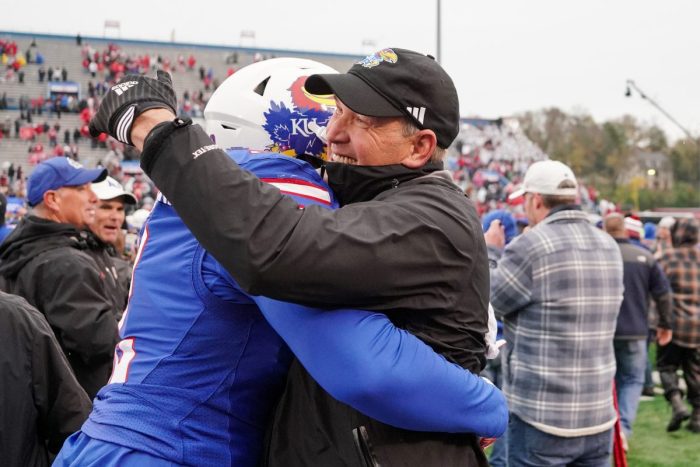 Week 9 of the Big 12 football season is in the books as the college football season wraps up the month of October. How?! There were six games on the docket, as the final bye weeks in the league were on Saturday. And there was certainly chaos that impacts not just the Big 12 race, but the College Football Playoff race ahead of the first rankings release on Tuesday.
So with another great week in the books, here are the five biggest takeaways from Week 9 in the Big 12 Conference.
Oklahoma Goes Down
The Kansas Jayhawks beat the Oklahoma Sooners for the first time since 1997, snapping an 18-game losing streak in the series. It was KU's first AP Top 10 home win since 1984 and punches KU a bowl ticket for the second-straight year.
Kansas pulled off another program-defining win on Saturday. But here's the interesting part: They didn't really need one of those. They've had multiple under Lance Leipold. But this one confirmed what we all have known since the Texas win two years ago: This program is in a far different place than it's been in at least 15 years.
To do what they did against Oklahoma, and with a back up quarterback, to boot, makes it that much more impressive. Jason Bean wasn't great, but he was good enough when it mattered. He finished 15/32 for 218 yards, with two interceptions, along with four carries for 62 yards and a score. He had himself a couple of clutch plays, most notably his 4th-and-6 completion in the game-winning drive. Meantime, KU's defense held Dillon Gabriel in check with only 171 passing yards, while forcing three turnovers. What a game, and what a moment, in Lawrence, including the goalposts going down.
Hello, Kansas State
The Kansas State Wildcats are not just playing some of the best football in the Big 12, but in the country. After beating Houston 41-0 on Saturday, the Wildcats have won their last two games by a combined score of 82-3. In their last 10 quarters of football, Kansas State has outscored its opponents 103-10.
Against the Cougars, Kansas State didn't allow a drive longer than 31 yards. The defense is really clicking and the offense is continuing to roll, even though the unit didn't really use the two-QB system in this game.
The Kansas State Wildcats have gone about their business with a 1-2 punch of Will Howard and Avery Johnson the last two weeks with great success. But on Saturday, it was all Will Howard, who completed his first 12 passes for 140 yards and two scores. Avery Johnson did see action on the third drive of the game, but his fumble resulted in Houston getting the ball back. That was his only serious action until the game was ultimately out of reach.
But, if Chris Klieman's approach is to just ride the hot hand, it seems to be working. Now, it's time for Texas in Week 10.
Texas Gets Back on Track
Speaking of Texas, after nearly blowing its game last week against Houston, the Longhorns steamrolled BYU 35-6 behind back up quarterback Maalik Murphy. The redshirt freshman certainly had his freshman moments, but the California native went 16-25 for 170 yards, two scores and a pick.
But it was the Longhorns defense that won the day, holding BYU to under 300 total yards and forcing three turnovers to lead the way in Austin. Texas was all over the BYU backfield as well, with a pair of sacks and 12 tackles for loss. UT needed this game following their sluggish performance last week on the road against the Cougars.
And thanks to Oklahoma's loss, Texas is in a five-way tie for first place in the Big 12 Conference. Here we go.
You Can't Stop Ollie Gordon
By his standards of late, Ollie Gordon had a fairly quiet first half for Oklahoma State, with "just" 60 rushing yards on 13 carries. But then he exploded for 92 rushing yards in his first four carries of the second half. Gordon finished with 25 carries for 271 yards, including 211 in the second half, as Oklahoma State rolled Cincinnati at home 45-13.
Gordon continues to be not just the best offensive player in the Big 12 the last month of the season, but the best, and most valuable, overall player in the conference since league play began. In conference play, Ollie Gordon is averaging 195.2 rushing yards per game. He's the Big 12's leading rusher and has been the leading reason Oklahoma State is now part of this five-way tie atop the Big 12 standings heading into the final month of the season.
Dave Aranda's Warming Seat?
Baylor AD Mack Rhoades continues to insist this isn't the case, but clearly the patience is wearing thin amongst the Bears faithful after another loss on Saturday to Iowa State. The Bears fell 30-18, but the game wasn't even that close. It was Iowa State from start to finish. If not for a miracle comeback against UCF and a win against Cincinnati, two teams who are brand new Big 12 teams and a combined 0-10 in league play, then this Baylor season would be an even bigger disaster than it already is.
They're 2-3 in league play and 3-5 overall, and with Houston, K-State, TCU and West Virginia to close out the season, do you see a 3-1 finish to reach a bowl game? I don't.
Not making a bowl game should in a no way cost Dave Aranda his job, remember he did win the Big 12 two years ago, but that conference championship continues to feel like a decade ago, not less than 700 days ago.